Bradley Wiggins, Myleene Klass and rugby league legends are spicing up Dubai, says Bill Arthur
Bill Arthur blogs from the rugby sevens in Dubai, where Bradley Wiggins is acting as water carrier...
Last Updated: 29/11/12 10:34pm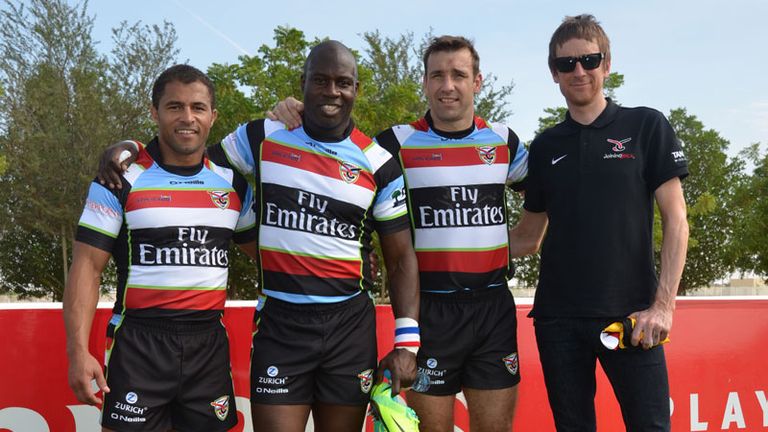 Like seeing England league legend Adrian Morley practicing line out jumping, Kris Radlinski perfecting his mauling technique and Mick Cassidy learning how to throw the ball in at a line-out.
Plus, Myleene Klass giving the try celebration sign associated with Super League stars like Sam Tomkins, and Tour de France winner and Olympic champion Bradley Wiggins running around with water bottles.
The connection is the charity Joining Jack who have a team competing in the International Veterans section of the Dubai Sevens. And what a team it is.
As well as Morley, Radlinski and Cassidy there are other stars such as Jason Robinson, still looking lightening sharp, bearded swashbuckler Brian Carney and the elegant and (still) elusive Martin Offiah.
They're part of a side put together to represent Joining Jack, the charity set up by former Wigan player Andy Johnson, whose young son Jack suffers from Duchenne Muscular Dystrophy.
It's a muscle wasting condition for which, at the moment, there's no known cure but Joining Jack's aim is to raise awareness of the condition and funds for research into it, in the hope that a cure can be found.
Profile
And Dubai is a great place to come to increase the charity's profile, with over 200 sides from all over the world competing in the Sevens tournament.
Robinson's presence is a big draw to the largely rugby union focussed crowd, but having Wiggins involved is a master stroke by Joining Jack.
The Team Sky rider has taken a break from training in Spain to show his support for the charity and Dubai is buzzing at his presence. The local cycling community has really got its lycra in a twist over his arrival and they're waiting to meet him at a big do Joining Jack has organised in downtown Dubai.
The glamorous Klass (second from the left) has already done her bit for the charity. She was guest of honour at a major gala dinner in the city this week and, to the surprise of local photographers, gave the Joining Jack salute as she posed for pictures. The guys behind this amazing charity venture don't miss a trick.
Which is how they've got Wigan Warriors supporter Wiggins involved. Mind you, he does get to wear a yellow jersey again - this one says water carrier on the back. He's got plenty of work to do as well as the sun beats down on the JJ team as they get to grips with the complexities of sevens rugby.
It might be faster than the 15-a-side game but, being union, there's still time for penalties to be awarded for mystifying reasons and for scrums to be reset again. And again.
I never thought I'd hear Chris Joynt shout "crouch, touch,engage" but he's there in the front row for Joining Jack! The good news for the former league stars is that, while it's sevens rugby, they're actually allowed to have 10 players on the pitch for a game. That's a real bonus in temperatures of 30 degrees plus.
Rivals
And the team are in it to win it. They got off to a shaky start, conceding a number of penalties in their first game against the Gulf Legends and even conceding a try but they've got better as they've gone on as Carney, Robinson, Offiah and Long still have the pace to outflank their opponents.
Their rivals might include teams such as the Watembezi Potbellies from Kenya and the Flying Muppets from here in Dubai but there as some class sides in the International Veterans section, in particular another of the charity sides, Christina Noble.
The two sides bumped into each other at a training ground earlier in the week. There were handshakes and shoulder bumps with Henry and Robbie Paul, Freddie Tuilangi, Apollo Perilini and Tevita Vaikona but the bumps won't be so friendly if - as expected - Joining Jack and Christina Noble meet in Saturday's final.
The CN side won the International Vets title last year without conceding a point and, with other stars such as Percy Montgomery in their squad, they don't look too willing to relinquish that title. Apollo's even had a menacing game-day haircut. And, even though he's now Head of Sport at a swish local school, the former Saints man is still has plenty of menace. But so does the Joining Jack team.
For several members of the side the last experience of sevens rugby was at Twickenham back in 1996 when they won the Middlesex Sevens with Wigan.
It's going to be a lot tougher in this stadium in the desert (another surreal aspect) but Joining Jack has already achieved wonders, so why not another here in Dubai?
For more on this story, hit the video below...