Joining Jack squad exit rugby sevens at semi-final stage but raise plenty of money along the way, says Bill Arthur
Joining Jack's semi-final exit and a successful auction... Read part two of Bill Arthur's rugby sevens blog.
Last Updated: 02/12/12 11:58am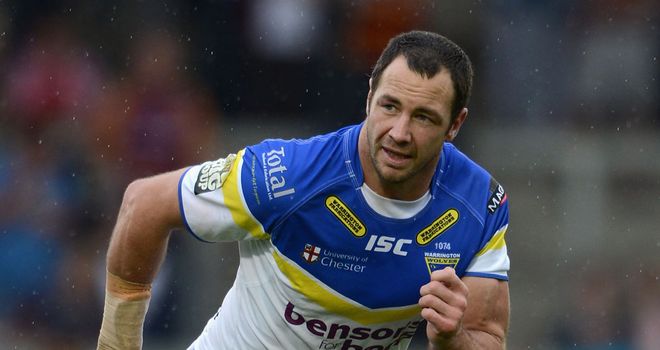 In fact, he's been sin-binned twice playing for the Joining Jack team at the Emirates Airline Dubai Rugby Sevens and that's believed to be some sort of record for this tournament.
The latest incident came during a bruising quarter-final against the B.A.R.L.A Legends team but, as Adrian quickly and, I have to say, forcibly pointed out to me afterwards, it was not for foul play but for a breach of the technical rules.
Something like entering a ruck from a south westerly direction on the last Friday in November. That followed a similar interpretational problem for the Warrington skipper in one of the team's earlier games.
Anyway, today's incident saw him banished to the bin for two minutes but, despite his absence, the Joining Jack side came back from 5-0 down against their rugby league opponents to win 15-5 with Steve Blakeley scoring two cracking second half tries.
Injuries
It was one of the games of the tournament and the British Amateur Rugby League side, including players like Mark Forster and Sean Richardson, really made the Joining Jack side work for their win.
But they got there in the end and that sent them through to the last four and a game against the much fancied Xodus Steelers, a Scottish side who've been finalists for the last two years.
Their union experience plus a crop of injuries in the Joining Jack camp proved decisive. With Jason Robinson and Gary Connolly suffering from hamstring strains and Paul Sculthorpe crocked, too, they ran out of numbers and went down to the Steelers in their semi-final.
Some of the lads from the Bali Legends side - out here raising funds for victims of the bombings 10 years ago - stepped in to help out Joining Jack but the Steelers lived up to their name.
It was a disappointing way to end the journey but at least Joining Jack went out with heads held high. Off the field, though, the trip to Dubai has been a huge success for the Joining Jack charity.
Andy Johnson and his wife Alex, whose son Jack is the focus of the campaign, have been overwhelmed by the response from the local community with the latest display a big turnout at a fund-raising barbecue at the Media One Hotel down near Jumeirah Beach.
Goodies
Over four hundred people turned out for the event, with representatives of local businesses and plenty of expats. They mingled with the players and clamoured to have their pictures taken, particularly with the Joining Jack waterboy Bradley Wiggins.
Then they got their hands in their pockets and showed their support for the charity in the auction, bidding for a whole variety of goodies such as Jason Robinson's boots, a shirt from a Wigan v St Helens game and the prized lot, one of the yellow jerseys worn by Bradley Wiggins on his cycling tour of France this summer. By the end of the night around £21,000 had been raised.
That's crucial for Joining Jack as the charity looks to raise funds for research into a cure for Duchenne Muscular Dystrophy, the incurable muscle-wasting condition which afflicts little Jack Johnson.
His plight is documented in a superb DVD which was shown to the audience at the barbecue. When it ended there was stunned silence and more than a few tears before the whole crowd burst into applause.
That's the effect Joining Jack has. That's why these ex, and in Morley's case, current legends of rugby league have been out here playing in the Dubai Sevens when they could be back home with their feet up.
Their appearance here has really caused a stir. The main man from the sponsoring airline has been taking a close interest in the Joining Jack squad's progress and one of their games was watched by the former All Black legend Sir Brian Lochore.
Her Majesty's Consul General of Dubai, Edward Hobart, also wandered over to meet the Joining Jack side having been pointed in their direction by his brother John, who just happens to be over here visiting. And John is coach of the Oxford University Rugby League team. And a Wigan Warriors fan.
That's networking for you and that's why the bold move to come out here has been such a great trip for the Joining Jack charity and, we all sincerely hope, for little Jack Johnson.
Click here to read part one of Bill's blog...