Where Eagles dare
A bleary eyed didn't expect to bump into the Sheffield Eagles on his way to France, but is glad he did!
Last Updated: 17/01/13 2:33pm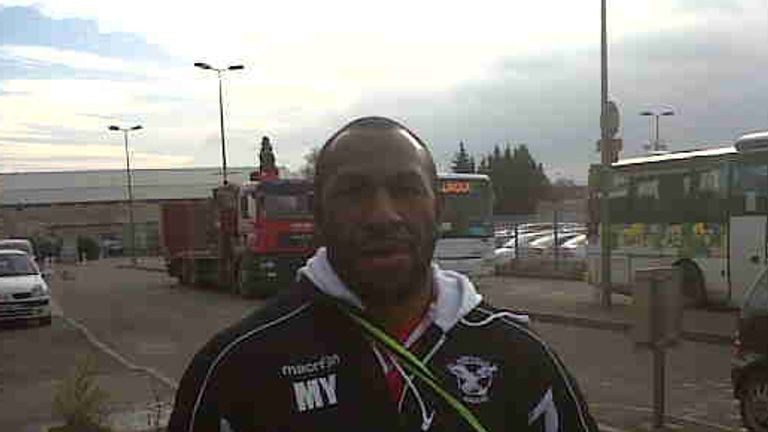 So there we were, me, Katie the producer and Kris the cameraman, 4.55 in the morning, bleary eyed and cold at Liverpool Airport.
"Hang on", says I, "isn't that The Jukebox over there? The man given that title by the Aussie press during the last world cup because he came up with so many big hits?"
"And yes, that has to be Tubby with him?"
I didn't put it quite so eloquently, not at that time of the day, but sure enough it was Papua New Guinea international Menzies Yere, his coach Mark Aston and the Sheffield Eagles squad, all in their club track suits and on parade.
Turns out Aston and his Championship Grand Final winners were on their way to Carcassonne like us. They were off for some warm weather training in Limoux while we were heading for Perpignan to interview the new Catalan Dragons coach Laurent Frayssinous and do some filming with his team as they prepare for the new Super League season.
The Eagles were planning to take on the Grizzlies while in France. Not a wildlife showdown for a David Attenborough nature programme but a run out against the orsine nicknamed Limoux team, which this year features Iafeta Paleasina and Karl Temata. Plus former Catalan enforcer David Ferriol. That'll be a pretty formidable pack, not one to mess with which is just how they like it in the French competition.
Partnership
Now a lot of people will be wondering how little Sheffield Eagles can afford a three day camp in France while some Super League sides are having to make do with pre-season training closer to home in England. Well,always thinking outside the box, the Eagles have formed a partnership with Limoux which will see the two clubs exchange players, share coaching expertise and, in this case, provide accommodation, food, transport and training facilities for the three day stay in south west France. All Sheffield had to do was book themselves on a budget airline and make sure they travelled as baggage-light as possible to minimise their costs.
The Eagles are aiming for another big season to follow up their 2012 success and Aston's hoping the trip to Limoux will provide a bit of team bonding as well as give them a run out against one of the strongest sides in the French Elite competiton.
He's an irrepressible and infectious character the Eagles coach and, even at 5 in the morning in an airport departure lounge, he's offering opinions on the state of the game, the need for a return of promotion and relegation and how his club hope to have their own ground in Sheffield before too long.
Don Valley stadium, the soulless bowl that has been the Eagles home for so many years, might soon be flattened. Sheffield city council are reported to be considering raising the place to the ground. And if that happens Aston wants to see a new stadium built that will give his club the home they have been seeking for so long. How that happens is another matter, it might never happen but Aston, like the player he was, will be harrying and needling to try and get the thing moving. It's what the Eagles really need, even though they now have a home at Bramall Lane as well. Having their own ground would strengthen Sheffield's case for a Super League licence and then perhaps the crowds would turn up, because the Eagles' success still don't seem to be appreciated in the Steel City.
Another big season is Aston's plan, which is why he, the Jukebox, Andy Henderson and the rest of the Eagles squad are in southern France.
There's just one problem with the whole warm weather training plan. When the Eagles reach Carcassonne to be met by Limoux coach Fred Texeido there's snow on the ground, it's minus 1 degree and the Limoux pitch is frozen. Not quite what was planned but you can bet Aston will ensure Sheffield make the most of the situation. It's how the Eagles have come back from the brink of extinction.
And anyway, Fred and the Limoux directors have another plan, the French solution. Go and discuss the options over lunch.