Challenge Cup: We look back at some of the biggest upsets
By Tom Mordey
Last Updated: 14/05/15 3:36pm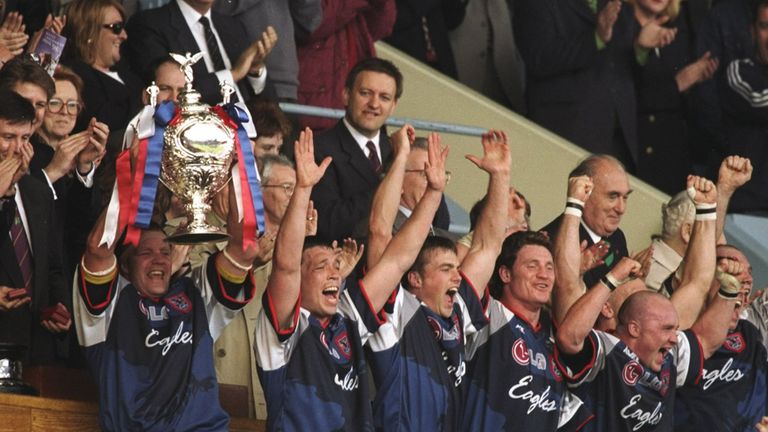 The Challenge Cup is back this weekend and this time, the heavyweights are in the draw.
Three all-Super League ties are top of the agenda, with Leeds' battle with Huddersfield the stand-out fixture. But that means five lower league sides will get a crack at claiming a Super League scalp.
Paul Rowley's Leigh already have the appetite for an upset, having knocked out Salford in the last round. And with a tasty tie against Super League strugglers Wakefield in Round Six, they'll be looking for a repeat.
Can the Centurions' class of 2015 match some of the Challenge Cup's more famous giant-killers?
We look at six of the previous best in the Super League era...
Salford 26-16 Wigan - Fifth Round, 1996
When people think Challenge Cup, they think Wigan. They think invincible. They think eight in a row. They think of Martin Offiah's 1994 wonder try, of Jason Robinson's double in 1995 and of Andy Gregory's two Lance Todd trophies in that period. So imagine the shock when Gregory became the man to mastermind the end of that run. The club legend was coach of Salford when they hosted the defending cup winners in 1996. The same Wigan team unbeaten in 43 Challenge Cup games. But with the new breeze of Super League came a change of the winds in the knock-out competition too. Two tries from former Cherry-and-White Scott Naylor and a man-of-the-match performance from another ex-Wiganer Steve Blakeley helped Gregory's side to a 26-16 victory and to one of Rugby League's most famous victories. And there ended THE great Challenge Cup legacy.
Sheffield 17-8 Wigan - Final, 1998
Wigan had failed to reach the final since their 1995 triumph, but the 1998 brand of Warriors were odds-on favourites to notch their name on the famous trophy once again. John Kear's Sheffield Eagles were the opposition at Wembley, but not many outside South Yorkshire gave them a prayer. But five minutes in, and it was the Wigan fans looking to the heavens. Lance Todd trophy winner Mark Aston's bomb eluded Jason Robinson, allowing Nick Pinkney to touch down. Then, a Matt Crowther try and an Aston drop goal put Kear's side 11-2 up at half time. And the Eagles started to believe when Darren Turner went over from dummy half in the second half. With 20 minutes to go, the expected fightback began. Mark Bell's score cut the lead, but the Eagles held on to complete a stunning Wembley upset.
Leigh 16-12 Salford - Fourth Round, 2001
Salford's fifth-round defeat to Leigh this year might have hurt, but for those Salford fans with longer memories, there was surely a sense of deja vu. Rewind 14 years, and Leigh were a part-time club in the Northern Ford Premiership. Super League Salford arrived at Hilton Park confident, but the heavy pitch should have given them clues as to what might be to come. Still, no sign of an upset as Salford debutant Warren Jowitt crashed over for two tries early on to give his side a 12-0 lead. But as the pitch cut up, Leigh grew more confident. After half-time, the comeback started. Paul Anderson went over in the corner before a kick caused confusion in the Salford defence allowing Neil Turley to pounce. And the upset was complete nine minutes from time, Adam Bristow going over as Leigh became the first side in four years to prey on Super League opponents.
Toulouse 40-24 Widnes - Quarter Final, 2005
The idea of French Rugby League was still an alien concept to Super League fans, still a year away from the Catalan Dragons' competition entrance. But in the Challenge Cup in 2005, their southern France counterparts gave a clue of the Gallic flair to come. The part-timers were up against Super League Widnes, with Frank Endacott's men expected to progress to the semi-finals comfortably. But Toulouse had other ideas. 25 minutes gone - and the home side were 20-0 up thanks to tries from Sam Murphy, Fabrice Estebanez and Cedric Guy. And Widnes never recovered, always struggling right until the moment Tommy Gallagher's 72nd-minute try put the nail in the coffin. Justin Morgan's side went on to lose to Leeds in the semi-final, but Morgan himself had bigger things planned...
Hull KR 40-36 Warrington - Quarter Final, 2006
Just a year later and Justin Morgan had a new job - as Head Coach of Hull KR. And at the quarter-final stage of the competition in 2006, Morgan was at it again, this time against Warrington. The Wolves took the lead early on, Logan Swann with an early double, but Hull KR produced a stunning turnaround thanks to tries from Ben Cockayne, Jon Goddard, Makali Aizue and Byron Ford to lead at half-time. The sides traded further scores after the break, but Hull KR then took control. Ford went over twice more in four minutes to complete a hat-trick and Dwayne Barker also grabbed a four-pointer. Warrington ensured a nervy finish, Michael Sullivan and Henry Fa'afili's tries closing the gap to four, but Rovers held on to become the first National League side to reach the semi-finals in a decade.
Featherstone 23-16 Castleford - Fourth Round, 2012
Just under four miles separate Yorkshire rivals Castleford and Featherstone, but since the Super League era, the bitter rivals have often been kept apart in the league standings. Rovers got a crack at the Tigers in the 2012 competition though. When Daryl Clark went over early, a routine win for the Super League outfit seemed likely - but Tangi Ropati, Kyle Briggs, Ian Hardman and Greg Worthington all crossed to put the hosts 14 points in front. Castleford had been semi-finalists the year before and they kept fighting thanks to Nick Youngquest's try. But Liam Finn's drop goal sealed the win and started a great night of celebrations for the Championship side.