Eorl Crabtree ready for Huddersfield against Wigan on Sky Sports
In his opening blog, Eorl Crabtree looks ahead to Huddersfield's top-of the-table clash against Wigan.
Last Updated: 08/08/13 2:44pm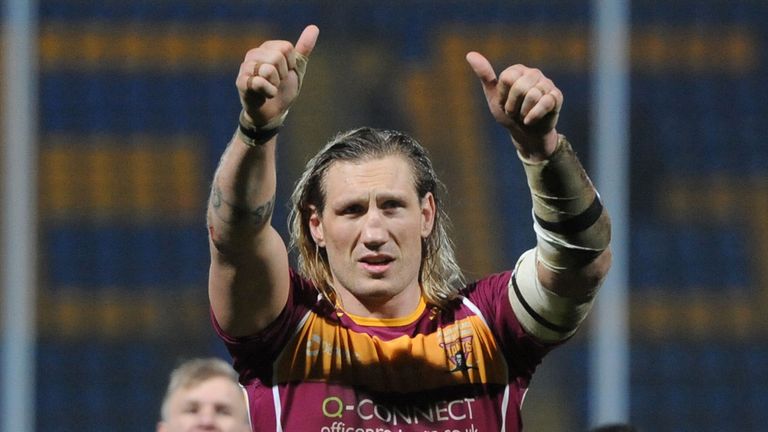 We know we have to put in a bigger performance than we have done in previous weeks to pull anything out of this game. Against Wigan you have to be at your best and lately we have been in good form in winning games but not really in terms of our performances overall. We know we have to step it up a level.
We were pleased with the win over Salford but we were a bit disappointed with our performance. It was one of those games when we tried a bit too hard to score too many points. There was no need for it. We didn't build pressure and we started doing things that we wouldn't normally try to do.
I only played 20 minutes as my back was pretty tight and I took a knock in the game as well. I was happy to play on but I was just told to have a rest and I'll be 100 per cent for the game against Wigan. All the troops are ready and it is now a headache for Paul Anderson to choose his team.
We've been concentrating on the simple things in training this week - not dropping the ball or forcing the pass, and building the pressure. If we do that we will stand a chance.
We know they have got some quality players but you can't put too much emphasis on that; you need to put the emphasis on yourself and working hard for each other.
Threats
But if we are talking about their threats, it is very hard to stop someone like Sam Tomkins if he has space around him.
You need to nullify his threat by making sure there is no space for him to utilise. If you do that then it is a lot easier.
If he has nowhere to run apart from into two players then he is not going to do too much! But then there are a lot of other threats around the field as well so you can't just focus on him.
For us Danny Brough is in fantastic form and getting a lot of plaudits - quite rightly so. Brett Ferres is looking really good and you could go through most of the side and say they are playing some really good stuff. Our pack will also need to be really, really good against Wigan.
It's always tough with the short turnaround of playing on Sunday and then Friday and it is even tougher if you have had a really big physical game. For us against Salford - no disrespect - it was not the toughest game in the world because they had a lot of injuries. It is probably good that we don't have to wait too long to rip in again!
Beating Wigan would certainly be good for our confidence - reinforcing the knowledge that we can back ourselves against the biggest teams under pressure. The games under pressure are probably the ones we have lost in the past and we are trying to learn from that.
Psychological
Personally, it is about the psychological battle. Going into big games you know that getting the win over the opposition will give you confidence playing against them later on. I don't think a lot has really been made of that mental side to the game.
If you have that confidence over a team and know that you can beat them, it just spurs you on a bit more, while a team that feels threatened by the opposition often goes on to lose.
Having said that, we have this game and then potentially we would not play them for another six to eight weeks. By then it could be a different team that you play, so you can't take too much out of it.
The League Leaders' Shield is ours to lose really now. Wigan are one point behind but so are Warrington as well. They have gone under the radar a bit and if either one of us or Wigan lose a game, I firmly believe that Warrington will take over and win it themselves.
I know it is a cliché but you have to take it one game at a time. If you focus further down the line that is when you get beaten. Each game is as important as the next. Often we have lost the games that we have expected to win and won the ones no one has given us a chance in.
We've got a lot more experience now and more continuity off the field as well with the coaching staff. We're a lot better prepared. This season has been totally different to last and it has been good for us, but at the same time we know we have a job to do.
For me fitness levels are not an issue and it is just whether my body is holding up. I have a few knocks and bruises like most of the players in Super League. You have got to get through them and make sure you give everything for your team. I intend to do that on Friday night.