Eorl Crabtree looks ahead to Huddersfield's game with Wakefield
Eorl Crabtree says winning the Super League Leaders' Shield would be a big personal achievement.
Last Updated: 28/08/13 5:18pm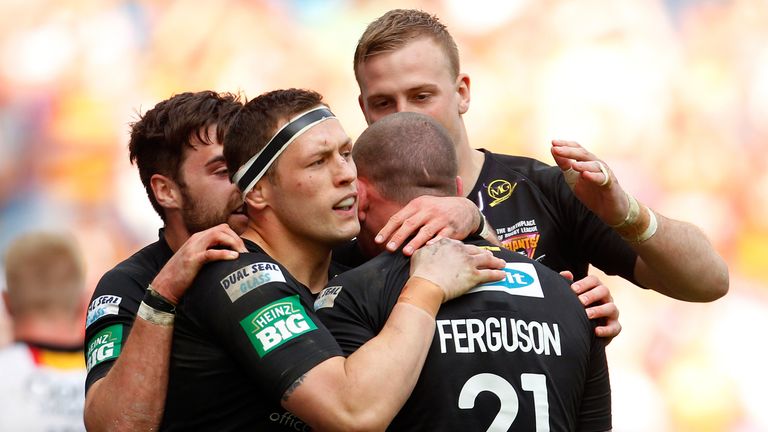 If we beat Wakefield this weekend we will secure the Leaders' Shield and it would be our first piece of silverware in 81 years.
I was relegated with the Giants, I was promoted with the Giants and now I am in a team that has risen to the summit of Super League; that is a big achievement for me, almost more than the actual silverware itself.
It will almost feel like I have gotten rid of something, a monkey off my back, and I won't have to worry about having to achieve something in my career. I can just enjoy trying to achieve more.
I have been at the Giants for 13 years so it will be a really good achievement and one to be proud of. It won't just be about winning something, but the way in which we have done it.
The players have been absolutely fantastic - a great set of lads this year - along with the great coaching staff and medical staff. Everyone has bought into it and worked as a team all year.
Going into this game we will focus on getting out the other side and it won't be a case of us going mad for a week and celebrating. It will be: 'Right job done'.
It is just one step closer to our ultimate goal which is to win one of the major trophies. A lot of credit has got to go to everybody at the club but we are still not quite there yet and we still have a job to do.
Everyone around the club is obviously very positive and we are enjoying the position we are in. It is a little bit different for us at this time of the year - we are not used to being in this position. It is definitely a lot more enjoyable but we still have a massive job to do at the weekend.
Flogged
We had a week off but have tried to hit the ground running this week.
We have been flogged in training and done some tough contact sessions as well. All to be as ready as we possibly can for the game against Wakefield because we know it is a big one.
There is always danger of complacency, no matter who you are playing. Sometimes you get a little bit confident and think you are going well, you do get complacent and we showed that may be against London Broncos.
We didn't intend on taking it easy and they gave us a tough ride. Against Wakefield it will be even tougher.
We are expecting them to come out trying to disrupt the party and trying to finish on a high. To stop us winning the league will be a high for them. We know we have a job to do and we are looking forward to the challenge.
They have nothing to lose and that makes them extra dangerous. It means they can do whatever they want, throw the ball around and offload more. That means they could be a little bit more unpredictable - and that is a danger.
They have the quality of players there that have been causing damage all year. So if they hit a bit of form on the day then they could cause us a heck of a lot of trouble.
We need to try to nullify that by being good ourselves. We need to start the game really well, at a good speed and be very physical as well. They have a decent pack so you are always challenged in the middle, we will need to match them.
We need to complete, hold the ball, kick to the corners and just do the simple things right. If we go in with the right attitude I think that will go a long way to winning the game.