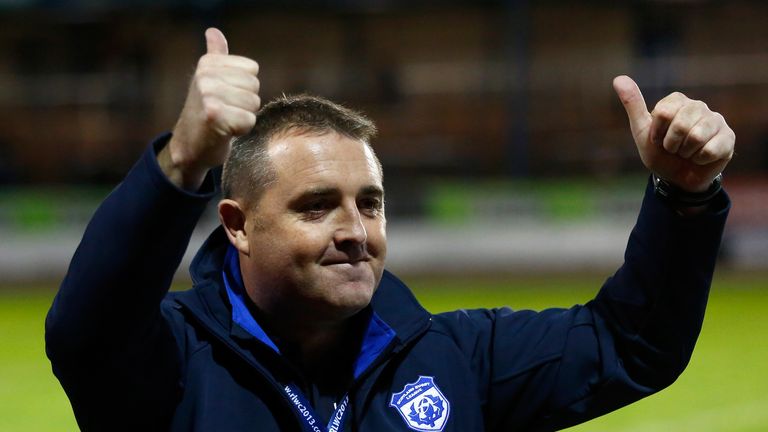 Scotland and Ireland have named their squads for the European Championship clash at Netherdale, Galashiels on Friday evening (kick-off 7.30pm).
Scotland, who lost 18-12 to Wales in their opening game last weekend, have included three uncapped players, two of whom will be hoping to debut in front of their home fans.
Half-back Lewis Clarke and winger Craig Robertson both play league for Edinburgh Eagles and union for top-flight Scottish club Gala RFC.
The third uncapped player is Clarke's Scotland U19 team-mate Shane Toal, the Barrow winger replacing Hull KR forward Adam Walker in the 19.
With backs Richard Harris (Warrington Wolves), Alex Walker (London Broncos) and Glaswegian Scott Plumridge - who are all 20 or younger - all making their debuts against Wales, Bravehearts head coach Steve McCormack is relying on youth, in a game the defending champions have to win to keep their title defence alive.
"We are going to have a really inexperienced backline on Friday night but that is the way lads get an opportunity," McCormack said.
"Last week David Scott was our best player and he's a perfect example for these kids to look to - about five years ago he came in from our U19s and got a game, took his chance and has been with us ever since and made a career in the sport. Lads like Alex Walker and Scott Plumridge could be part of the Scotland team for the next 10 years."
Ireland make only one change to the squad that was beaten 31-14 by France in their opening game in Albi, with Sean Hesketh replacing the injured Haydn Peacock.
Head coach Mark Aston said: "I was proud of the boys on Saturday. We had had a long journey to get to Albi and a good shot at the game, we were still in it with 10 minutes left at 14-20 down.
"The French had a lot more possession than us in the second half and we did tire towards the end but the score flattered them a little bit.
"We're still in this competition and all we can do now is win our games and hope that other results go for us. The Scots were the only team to beat us in last year's competition and we'll be keen to put that right."
Scotland squad: Danny Addy (Bradford Bulls), Danny Brough (Huddersfield Giants), Harvey Burnett (unattached), Lewis Clarke (Edinburgh Eagles), Sonny Esslemont (Hull KR), Dale Ferguson (Bradford Bulls), Richard Harris (Warrington Wolves), Ben Hellewell (London Broncos), Liam Hood (Salford Red Devils), Ben Kavanagh (Widnes Vikings), Corbyn Kilday (Central Queensland Capras), Joe McClean (Gloucs All Golds), Scott Plumridge (Edinburgh Eagles), Craig Robertson (Edinburgh Eagles), David Scott (Doncaster), Shane Toal (Barrow Raiders), Oscar Thomas (London Broncos), Alex Walker (London Broncos), Johnny Walker (Leigh Centurions).
Ireland squad: Gareth Gill (Ballynahinch Rabbitohs), Elliot Cosgrove, Sean Hesketh (Batley Bulldogs), James Mendeika, Oliver Roberts (Bradford Bulls), Liam Finn (Castleford Tigers), Callum Mulkeen, Graham O'Keeffe (Gloucester All Golds), Luke Ambler, Ben Johnston (Halifax RLFC), Scott Grix (Huddersfield Giants),  Bob Beswick (Leigh Centurions),  Joe Keyes (London Broncos), Casey Dunne (Longhorns RL), Will Hope (Oldham RLFC),  Brad Hargreaves, Danny Bridge, Matty Hadden (Rochdale Hornets).