Stuart Barnes reacts to the British & Irish Lions squad selection
Stuart Barnes says Jonny Wilkinson's omission from the British & Irish Lions squad is "utterly mystifying".
Last Updated: 30/04/13 1:56pm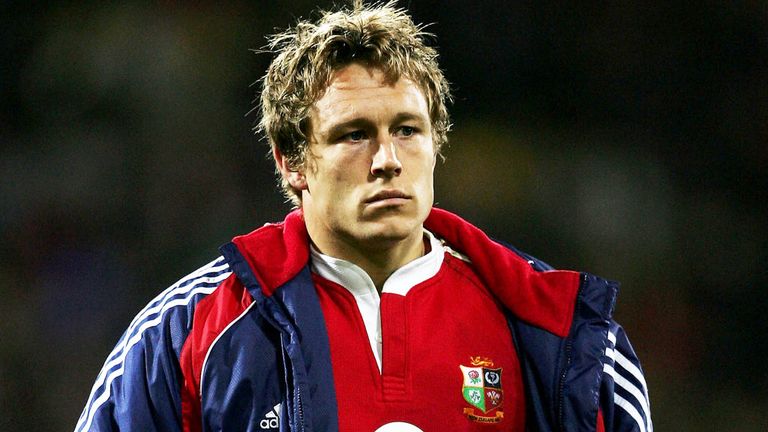 England captain Chris Robshaw and World Cup winner Jonny Wilkinson were among some high-profile omissions, with Ireland hooker Rory Best and England winger Chris Ashton also absent from list of players announced.
Scotland winger Sean Maitland, Ireland scrum-half Conor Murray and Saracens duo Mako Vunipola and Matt Stevens, who retired from England duty last year, all made the cut. Wales flanker Sam Warburton will lead the Lions on their 10-match, three-Test, tour.
Here Sky Sports expert Stuart Barnes delivers his reaction to Gatland's selection.
First impressions
"I probably would have had about three other changes there but Warren Gatland has clearly gone for one or two players who he puts great trust in. Dan Lydiate in particular has not played much competitive rugby this season. He has been thrown in there and I think he will be there or thereabouts for the test."
"A mystifying selection"...
"We need to know whether Wilkinson is available or not. If Wilkinson was available to join the party after the French final, if Toulon get there, then I find it utterly mystifying. Because as I said before Jonny Sexton is going to be the Lions fly-half barring accident. The next fly-half, his job will be to close out the game and Wilkinson is the best in the world at doing it. He has weaknesses but his weaknesses are the same as Owen Farrell's and his strengths are stronger than Owen Farrell's.
"So if Wilkinson was available I find that very disappointing and if it is 1-1 going into the third test and the Lions miss out because they can't drop a goal or kick a 50-metre penalty, then this will be the selection we will all be talking about in years to come."
Warburton on trust...
"There has not be a question mark but I think the way he performed in 2011 in New Zealand in the World Cup suggests that he can answer those questions. Sam Warburton is a fine player at his best. As with Lydiate, Gatland goes back and trusts players. The captaincy choice of Warburton is based on the fact that Gatland thought the last really big tournament was the World Cup and Warburton did a great job then."
The "unluckiest man in the British Isles"...
"It is amazing that three guys who captained their sides during the Six Nations - Scotland's Kelly Brown, Wales's Rory Best and England' Chris Robshaw - haven't made it. Robshaw has had a wonderful season. He has looked tired - not in the Welsh game in the Six Nations when I thought he played really well in adversity there - but since then he has looked a little bit flat. He has looked like a ghost opf his former self. But I look at that selection and think that Robshaw could do a job at seven and at six. I think there has been a negative media about him. People have never been certain about Chris Robshaw and I think he is paying the price for that.
"I personally think that Justin Tipuric is a little bit lucky to go. He does some great things. He is a headline No.7 and in time I think he will be wonderful. But is he really that much better than Robshaw over the ball, does he have that experience? I think the answer is no on both of those and I think Robshaw is unlucky to miss out. There has been a tide wave of media opinion that he wasn't going to go and that he shouldn't go and sometimes selectors are human as well and these factors come into it. I think if you asked: who is the unluckiest person in the British Isles and Ireland? I would say Chris Robshaw."
Vunipola's impact
"One has to say that Leicester took the Toulon front row to pieces in the Heineken Cup quarter final and the Toulon front row did a real number on Matt Stevens and Mako Vunipola. Vunipola hasn't been picked to scrummage for 80 minutes. He is one of these who you ask to make an impact coming off the bench. He will be the third-choice loose-head coming off the park but if he gets on early, then for all our talk about Australia being poor scrummagers, they will target Mako."
High hopes
"Richie Gray is an interesting one. He is a player of great potential and sometimes when you pick a team it is not just about who is playing well. It is about who can rise to the next level. In his first years of international rugby Gray looked as if he was about to become world class. He has been injured. He has had a hard time with Sale. But with five second rows, I like the call and I would not be at all surprised if Gray ends up being in the Test team."
Centre stage
"Manu Tuilagi is going to be absolutely fascinating. What are you going to do with a boy called O'Driscoll? Jamie Roberts will run through brick walls but when he plays against Australia he runs into brick walls not through them. I wonder if O'Driscoll may play 12 and then if there's a weakness in the Aussie wall it is one out at 13. So Tuilagi is a really interesting call."