Tim Horan says that Australia's backrow and their attacking systems will be the difference against England at Twickenham on Saturday.
Horan, who tasted World Cup success with Australia in 1991 and in 1999, believes that both sides are evenly matched but insisted that the dynamic back-row due of Michael Hooper and David Pocock will give Australia the ball they need to break down England's formidable defence.
"Watching the game last week [against Wales] I thought England's defensive pattern for 70 minutes of the match was the best I've seen," Horan told Sky Sports News.
"The Wallabies will try to move wide get David Pocock and Michael Hooper into the game early on. Chris Robshaw, whilst he wears No 7, is more accustomed to No 6, so Australia will try to stretch the England defence pattern out wide. It's the only way to break it down. Try and find one on one with some slower forwards."
Set-piece improvement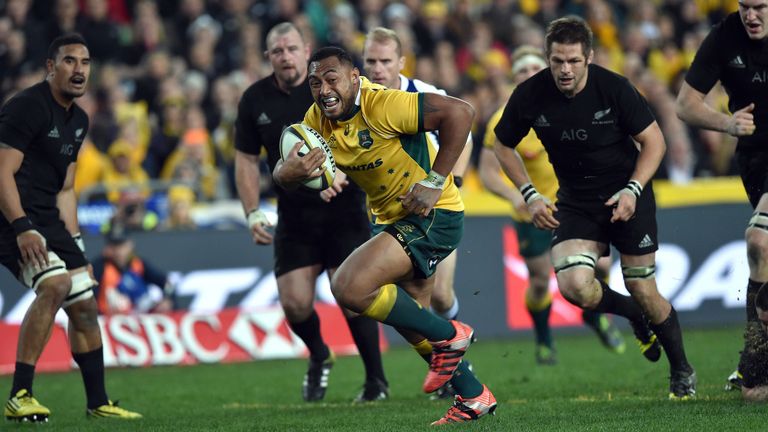 England may have had the better of recent exchanges at Twickenham where Australia's scrum has often crumbled under extreme pressure.
However, Horan thinks that Australia's winning momentum and new look set piece will hold them in good stead come Saturday.
"This Wallaby team through Michael Cheika have a really good culture and environment," Horan added. "To win a World Cup you have got to trust the guy next to you and this team do that. They respect England who have probably had the wood over the Wallabies at Twickenham over the last six years. So it's a massive opportunity for them to show how much they have improved.
"Their scrum has improved in the last 15 months or so and get that set piece scrum right and put fear into other teams.
"With Rob Simmons calling the lineout, they have a different structure, they can move into a five man or seven man line out, plus the driving maul off a lineout is our biggest strength off a set piece play.
"Our backline with Israel Folau and Adam Ashley-Cooper has plenty of experience and if they get good quality ball, then the Wallaby backs will be very hard to stop.
"Folau has to choose when to kick and when to run though. He loves to run with the ball, he's probably one of the best counter-attack players in world rugby but you also have to pick the right time."
Expansive game
For some, this game is seen as a contest between England's forwards and Australia's back, but Horan believes that England will play with more freedom and look to score tries.
"You would expect England to play a more expansive game because they have to win the match," added Horan.
"England have the ability to score a lot of points but they just have to believe in themselves. Look back at the Six Nations last year when England scored so many points -where did that come from? The pace of the game, the intensity of the game will be massive. The wallabies will really try and pick up the pace in the first 20 mins and England will certainly match them.  
"It's going to be very close. The Wallabies have got some momentum but with England's backs to the wall. 85000 at Twickenham and then 12 mill will be watching this game in the UK, so a lot of pressure for England.
"England certainly can do it but for me the Wallabies have some momentum, Michael Cheika will play an open expansive game and Pocock and Hooper will make the difference."