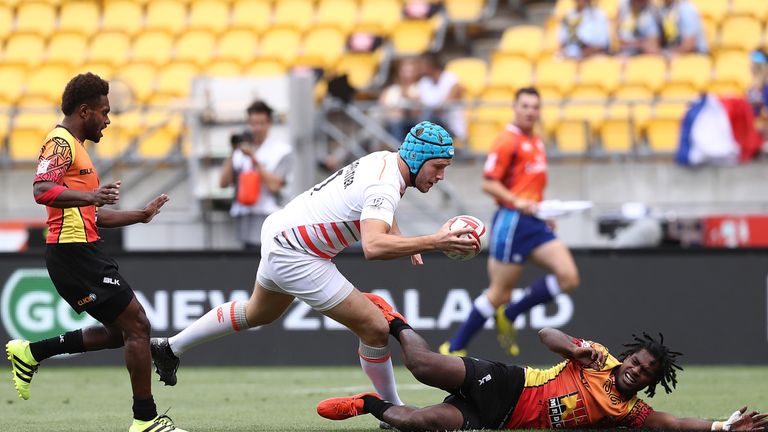 England registered three impressive victories on the opening day of the Wellington Sevens to set up a quarter-final date with Scotland.
Simon Amor's side beat Papua New Guinea 40-0, Argentina 26-7 and Kenya 31-12 to finish top of Pool A and stay on course for another final showdown with South Africa.
"We were trying to build through the day today," said England captain Tom Mitchell, who scored tries in all three victories to reach 1,000 series points.
"It has been a long time since we last played and it was a case of getting through our rustiness early on.
"Scotland next. We know them very well and we are pretty close with them after training with some of them for the Olympic Games. It's always a fierce game with them and it'll be a tough one."
South Africa beat Olympic champions Fiji 31-12 to stay unbeaten top Pool B. The Blitzbokke also defeated Japan 33-0 and Australia 28-0.
South Africa have made a commanding start to the season, beating Fiji in the final to win the first tournament at Dubai and losing 19-17 to England in the final of their home tournament in Cape Town last month.
"We knew we had a tough pool but the guys came out today, laid a solid foundation and kept building on that," said South Africa captain Philip Snyman.
"We work hard on our defence, it's something you can always improve and we're now looking forward to the rest of the tournament."
New Zealand scrambled their way to first place in Pool C, beating Samoa 33-0, France 21-14 and the United States 24-12. The hosts will face Fiji in the quarter-finals while France, who edged the United States for second in a tight pool, will play South Africa.
The New Zealanders struggled for most of the day and its most pleasing win was likely over Samoa who are now coached by former New Zealand coach Gordon Tietjens.
Tietjens coached New Zealand for 12 years but presided in his last three years over the steady deterioration in New Zealand sevens rugby, culminating in its humiliation at the Rio de Janiero Olympics. He resigned after that campaign and took on the Samoa coaching job in response to what he saw as his harsh treatment by New Zealand Rugby.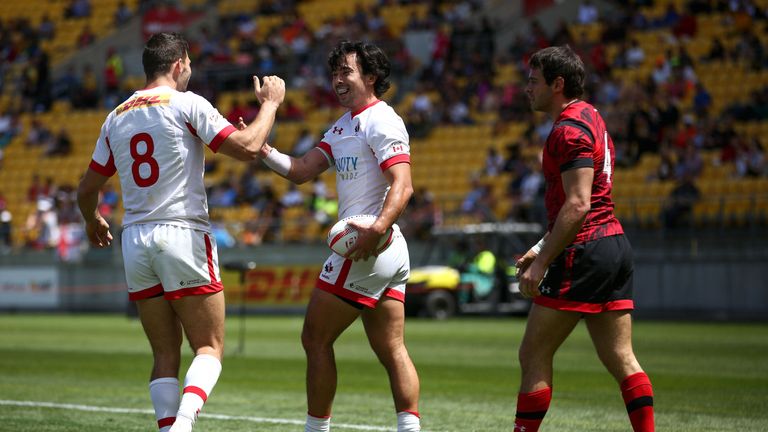 New Zealand, under caretaker coaches Scott Waldrom and Tomasi Cama, fielded a young team in the match against the United States which showed composure under pressure.
"It's exciting seeing these young guys taking the opportunity," said captain Tim Mikkelson. "They've been itching every game and it's good to get them on.
"The crossover is really tough and here we want to get up, do our homework, but we're going to have to do things well against Fiji."
Canada provided the major upsets of the opening day, beating Scotland 28-19, Wales 28-5 and Russia 29-0 to top Pool D.