Sir Clive Woodward backs Italy in row over tactics against England
By PA Sport
Last Updated: 27/02/17 10:37am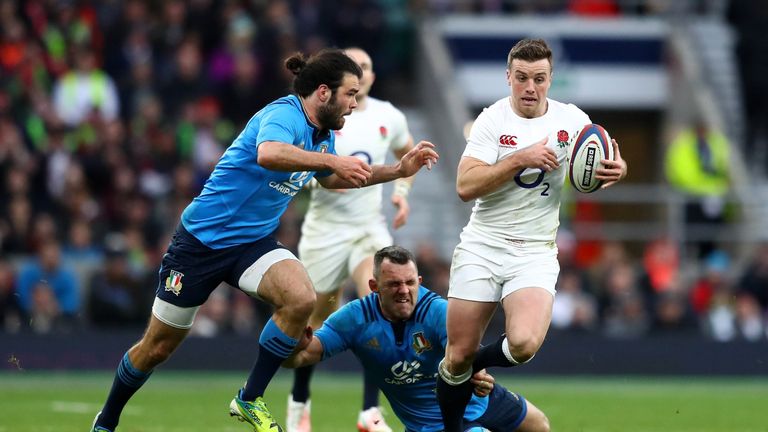 Former England coach Sir Clive Woodward has described the controversial breakdown tactics used by Italy during their Six Nations game against England as "innovative and inspired".
The Azzurri's decision to refuse to commit any players after a tackle had been made angered England coach Eddie Jones who urged World Rugby to change the laws.
But Sir Clive said he was impressed with the Italians' strategy in the game at Twickenham, which saw the hosts fight back from 10-5 behind at half-time to win 36-15.
Writing in his column in the Daily Mail, England's 2003 World Cup-winning coach said: "I totally support Italy and their use of their innovative and inspired tactics at Twickenham on Sunday.
"It was one of those rare moments in Test rugby that, as a former coach and player, make you sit bolt upright in your seat and think, 'Wow, this is different, this is new'. What on earth do England do next?"'
He added: "Italy are scrapping for respect and pride, both personal and national after many have criticised their right to an automatic place in the Six Nations.
"What we did see was a very gutsy and clever, if ultimately unsuccessful, response from a wounded Italy side that felt under pressure.
"Against a superior team and a rugby nation with infinitely more resources, Italy went down fighting and scheming and plotting.
"It was behind the lines - literally - guerrilla war and I found it compulsive viewing. It's what David always has to do if he is to stand any chance against Goliath."
England fly-half George Ford claimed the tactics have the potential to "kill the game" but Italy coach Conor O'Shea defended the move.
He said: "We didn't come up with this overnight.
"It is funny. When Wasps score a try to beat Toulouse in the European Cup and when David Pocock intercepts a ball against Ireland in the autumn internationals it is brilliant; when Italy do something it is not allowed."