Rugby Union Expert & Columnist
Stuart Barnes' talking points: Champions Cup and Lions bolters
Last Updated: 27/03/17 5:25pm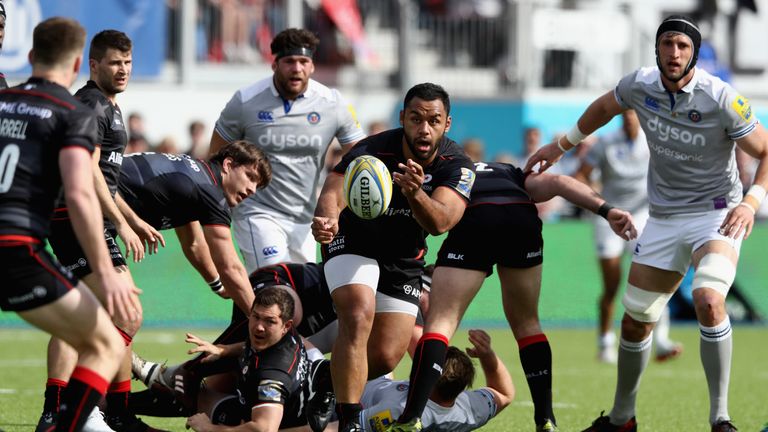 Stuart Barnes looks at the form of the Champions Cup contenders, mentions a few Lions 'bolters' and has high praise for Treviso and Jersey.
1. Wasps may be top of the table but Saracens are still the team they all have to beat in both England and Europe. Their demolition of Bath was entirely expected but massively impressive nonetheless. Mark McCall's men are like a family of bears with the habit of taking hibernation mid-season. When the Six Nations is at full throttle, the European and English champions take a snooze.
With a core of Europe's best players in absentia, the first team fall away as the physical and psychological batteries are recharged. Yesterday was the signal for the return of those internationals and a return to form. Bath were in the game - on paper - for forty minutes but were blown away in a scintillating second half. The likely Lions were all impressive enough but a word for Chris Ashton, whose form is frankly good enough to have him mentioned as one of those mythical 'bolters'.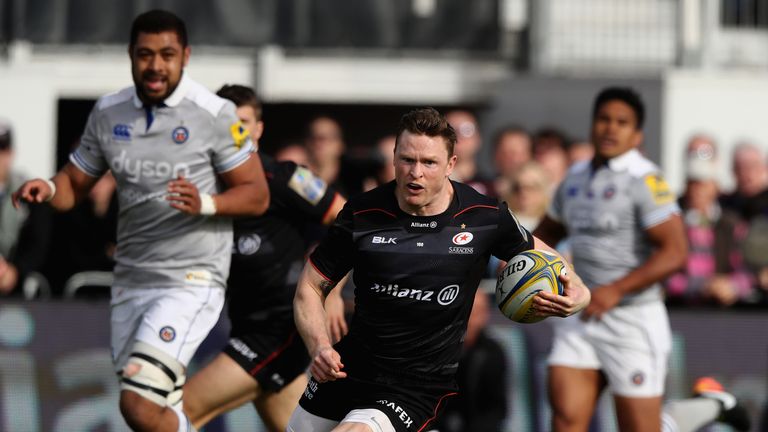 2. Meanwhile, 24 hours earlier north of the border, Glasgow were claiming their own bonus point win against the now deposed Pro 12 Champions, Connacht. It was a tremendously entertaining game with the visitors winning 80 per cent possession in a first half in which the game was played over 60 per cent of the time in Connacht's half. No side has less regard for territory and more for possession.
Against a Saracens side who are the masters of playing the territorial squeeze it was hardly a dress rehearsal for Glasgow but the win was doubtless good for morale and Gregor Townsend's team have, I suspect, long been plotting for this game. They are likelier to win the Champions Cup than the Pro 12, so far are they behind the top five placed teams.
A sizeable challenge awaits them as well as a test of the Lions contenders, men like Jonny Gray, Stuart Hogg and Tommy Seymour. If they can break the Saracens stranglehold, they could make much more of a game of this quarter final than many people think. It will not be another England versus Scotland rout, not on that scale.
3. One thing is for certain. When I step off the plane on Friday afternoon in Limerick, every Munster fan I talk to will be eager to tell me how worried they are about the threat of Toulouse. Munster could be playing the worst team in the world and they'd be claiming a severe bout of nerves. I'm not buying it. Toulouse are a teetering giant, Munster re-emerging as a European force. With their captain and definite late Lions bolter, Peter O'Mahony to inspire them, a packed house that will have shrugged off its nerves in the hours leading up to kick off, this is the banker of the four quarter-finals. Munster versus Saracens is a likely looking semi-final.
4. Of the three remaining French teams, Clermont Auvergne are by far the most probable winners. They may be the only one of the trio not to have lifted the cup but only they have shown the level of form required to trouble the likes of Saracens in the latter stages. They also have the huge benefit of home advantage against Toulon on Sunday.
Against Toulon in the Auvergne they should be banker material but this is Europe and Clermont have the capacity to beat themselves. Europe has become a Holy Grail of Munster like proportions in this fanatical rugby stronghold. Few would resent them breaking that hoodoo but until they do just that, I'll remain a sceptical fan of the fabulous Frenchmen (not to mention Englishmen, Georgians, Fijians etc.)
5. Leinster edged out Cardiff Blues on Saturday and very few people seemed to notice it was a predominantly second team. The narrow nature of the win was in my eyes, less a warning to the Dublin based team, than an illustration of their strength in depth. They miss Rob Kearney and Jamie Heaslip next Saturday but the team looks incredibly powerful. Wasps will be tested in the front row, their defence will be challenged by the aggression of the Leinster defence while Johnny Sexton will be there to pull the strings.
No side has been more impressive than Wasps so far this season but this is the next stage. It will be nothing like the two romps of last season. If Wasps can win in the Aviva they can beat anyone. It's the tightest game of the weekend. Wasps are the bookmakers underdogs. Whilst I just take the home side to win, I may have to have a small Wasps wager at 14-1 for the tournament. If they win this game they have an English semi-final and a neutral final, barring Glasgow being there - in which case Saracens are out. It is a value bet.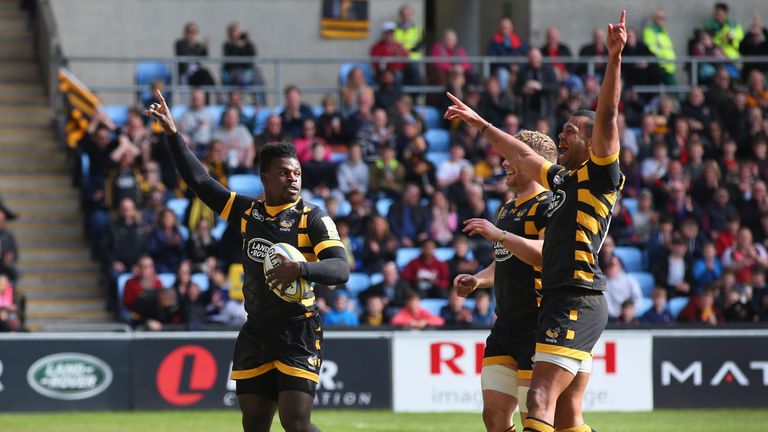 6. Into review mode now and was there a more stunning result than Treviso's win at home to Ospreys? The result is unlikely to check the Ospreys march towards the semi-finals but suddenly they are in third place. They have lost the advantage in the race for the all-important top two positions. If the Irish Big Two are both at home in the semi-finals it would take a brave man to bet against a Munster - Leinster final.
7. To answer the question I posed at the top of point six, how about Jersey's win against London Irish? The Irish had a 100 per cent winning record going into the game. Who would have tipped Jersey to beat them? This is probably the best result in Jersey's history.
8. At the foot of the Premiership the boot was stuck into Bristol. Nothing from their local derby against Gloucester and two bonus points for Worcester at home to Wasps. Throw in a massively superior points difference and Bristol are ten points adrift of eleventh place. There are going to be some big names playing at Championship level next season.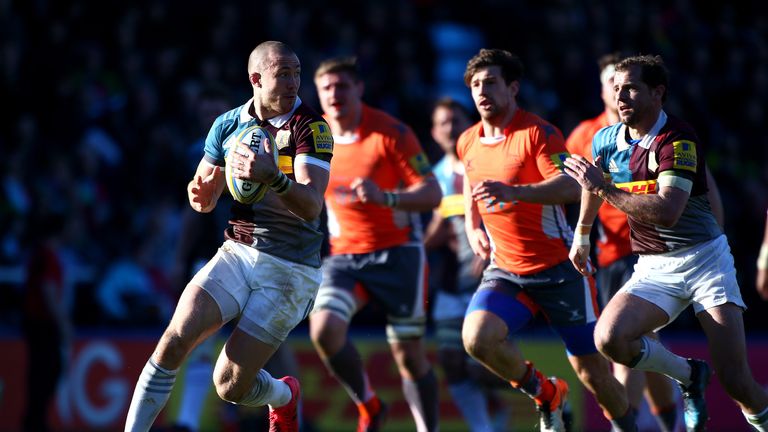 9. Here's one for the scrap book. Mike Brown draws his man and puts Marland Yarde in for a try in the rout of Newcastle. Brown has played some strong stuff this season but is rarely mentioned as a Lion. The main reason has been his inability to carry the ball in two hands and pass at test level. Otherwise he would be mentioned far more often in dispatches. The try made me wonder whether this strong willed scrapper has been rather hurriedly dismissed as a Lions tourist....stranger things have happened.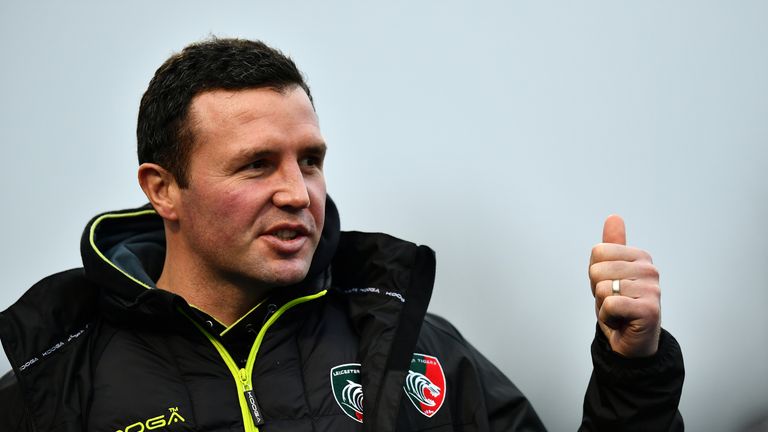 10. Best moment of the weekend was the reaction of the Tigers to their victory against Northampton. The manner in which they mobbed their departing manager, Aaron Mauger was a reminder that professional sportsmen have emotions. It brought a lump to my throat. Mauger, a dignified and decent man (not to mention a fine rugby brain) will be missed - at least by his players.
Grab a Sky Sports Month Pass for half price, and let us knock your sporting socks off with a blockbuster month of sport on NOW TV. All for just £16.99.