Will Greenwood says there is everything to play for in the Champions Cup
Last Updated: 07/12/17 6:07pm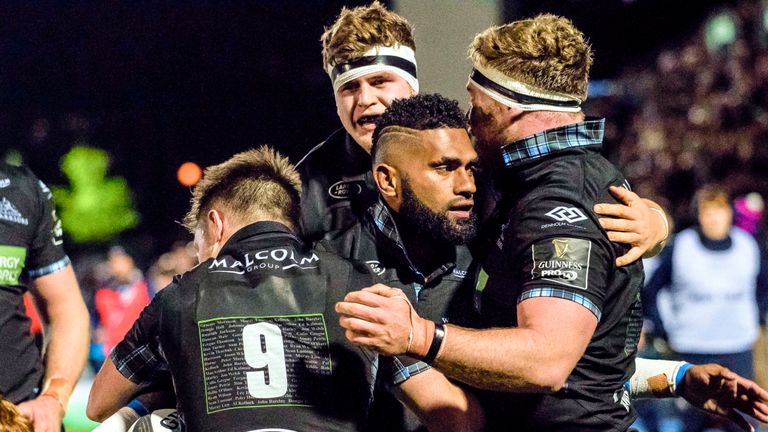 Will Greenwood says teams like Glasgow are still in with a shout in the Champions Cup, despite losing their first two games of the campaign.
Greenwood thinks that although the Warriors have a mountain to climb when they face Top 14 flyers Montpellier on Friday night, live on Sky Sports, Dave Rennie's men could give themselves a chance with a bonus-point win against the visitors, who they then play again a week later in France.
"We've noticed over the course of the last couple of years - as it's gone to five pools of four and there are three runners-up to get out - that you are not dead and buried if you've lost your first two, or find yourself on one or two points after two games," Greenwood said on Wednesday night's Offload.
"Now, it's a massive shot in the dark for Glasgow to come back from this. They've got Montpellier at home on Friday night; if they can bag five points on Friday night, it will really put a knife in Montpellier's chances - they'd be played-three-lost-three.
"There's a lot of ifs and buts here, but it's not beyond the realms of possibility that Glasgow could still have a dig in this."
On Sunday, reigning champions Saracens take on Clermont at Allianz Park. Mark McCall's men are on a run of five consecutive losses after losing their last three Premiership games on the back of successive defeats in the Anglo Welsh Cup, but Greenwood says that Saracens remain a threat to any team they play.
"I'm not counting the Anglo Welsh in terms of a crisis," said Greenwood, who added that Saracens had only lost those three Premiership games by a total of nine points. "They were right in those games."
"At the moment they're a little bit vulnerable, but I will eat Paddy Ashdown's regurgitated hat if they don't make top four and get out of this European stage."
Greenwood also spoke about the state of South African rugby, with the Boks losing two of their four autumn internationals to cap off another disappointing year under coach Allister Coetzee.
The Springboks face the unique situation of having to make certain player selections based on ethnicity, but Greenwood said the country's Sevens squad - which better represents South Africa's diversity - is a good success story for the country.
"If you're going to absolutely champion that cause and that spirit," Greenwood said. "Then the South African Sevens team would be front and centre."
Greenwood added that a strong Sevens outfit in the modern game is a good indication of a nation's overall rugby health, given its recent inclusion in the Olympics and overall bigger reach.
"It's much easier to make [Sevens] a global sport. I still view rugby as an international sport, it's not quite gone around the planet and been absorbed everywhere.
"Once it's involved in the Olympics, and you start thinking about all the countries that are now doing really well on the Sevens circuit who you wouldn't naturally associate with 15-a-side, then absolutely, their dominance in a sport that is being played by far more countries is a very impressive showcase."
Click here to listen to the whole podcast of the Offload