The Off Load: Rupert Cox's best and worst from the last week in the world of rugby
Last Updated: 26/01/15 4:30pm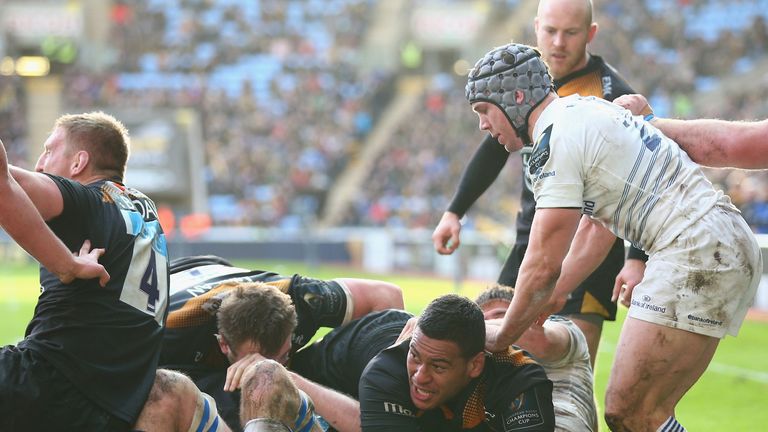 Rupert Cox shares his highlights from the week's rugby action in his round-up blog...
English Dominate Last Eight - But It's Advantage France
Well that was a bit of fun, eh? Edge of your seat stuff. A couple of big upsets, a let-down or two, a soupçon of controversy - and some outstanding rugby.
The first-ever Champions Cup has thrown up four English qualifiers - well done them (those meritocracy arguments from Premier Rugby and the Ligue Nationale de Rugby had some value after all). Only problem is - all the Premiership clubs who made it through will have to play away from home in the quarter-finals - and history tells us it's likely to be the end of the road, on the road, for Saracens, Northampton, Wasps and Bath.
The best display of the weekend (and the most surprising) had to be Racing Metro's masterclass at Franklin's Gardens - Jackie Lorenzetti's hefty investment is finally paying dividends. Racing's performance against the Saints has put them firmly on the European map, not before time; and with Johnny Sexton still to return from his concussion, they are now a real chance to challenge the two other French qualifiers, Toulon and Clermont. Racing have, however, been unlucky with the semi-final draw, which always seems prematurely (pre-quarters) and clumsily done. Finishing top seeds, and potentially having to travel south for a semi-final, seems a tad unjust. But on the other hand, maybe it evens things up for a team that enjoyed having the Italians in their pool.
Wasps' regeneration has been one of the great stories of the season, and the move to Coventry looks an indisputable success. But the Stingers had luck in their corner, too, on Saturday - every pundit I've canvassed agrees that Ashley Johnson should have received a red card instead of the yellow he was handed 17 seconds into the game against Leinster. It seems like referee Jérôme Garcès has lost a bit of bottle since last season, when he sent Jared Payne off for an almost identical foul in the quarter-final. Had Johnson been given his marching orders and taken Coventry down to 14 men, it's hard to imagine the Irishmen giving up a 20-6 lead to finish with a draw.
Paying all her attention to Wasps, Lady Luck quite neglected Glasgow this week. Some of the rugby Gregor Townsend's boys played against Bath was, as they say in SuperBowl week, 'lights out'. The try finished off by Richie Vernon is as good as you will see all season - but unfortunately for the Scots, they didn't have the front five to deal with Bath... two penalty tries later, Glasgow's wait for a place in a European Cup quarter rolled on.
But almost everyone's front-runners to go all the way remain Clermont and Toulon. A repeat of the 2012 final has looked the safest bet all season long, and, reinforced by the semi-final draw - that bookies' tip still looks the one to follow.
See you on Easter weekend!
Brickbat
Toulouse. Jake White did his old Sarries buddies a favour when his Montpellier side ended Toulouse's campaign. The Rouge et Noir had won their first four games, but failed to qualify after two abject displays in Rounds 5 and 6 - a right royal let down from the so-called kings of Europe. The team with the biggest operating budget of any team in world rugby played like paupers against their Top 14 rivals. Before the game, Guy Noves suggested that the French league was his real priority - we thought he might have been bluffing. He wasn't.
Bouquet
Adam Jones. Props don't come any bigger, hairier or naughtier than the great Wales tight-head, who announced his international retirement this week after being omitted from Warren Gatland's Six Nations squad. Five caps for the British and Irish Lions, 95 for Wales, three Grand Slams and a series win with the Lions in Australia - it has been a glittering Test career. But World Cups are funny old things - if there's an injury or two before September, I wouldn't be surprised if Gats picks up the phone. Until then, Diolch am yr atgofion, Adam!