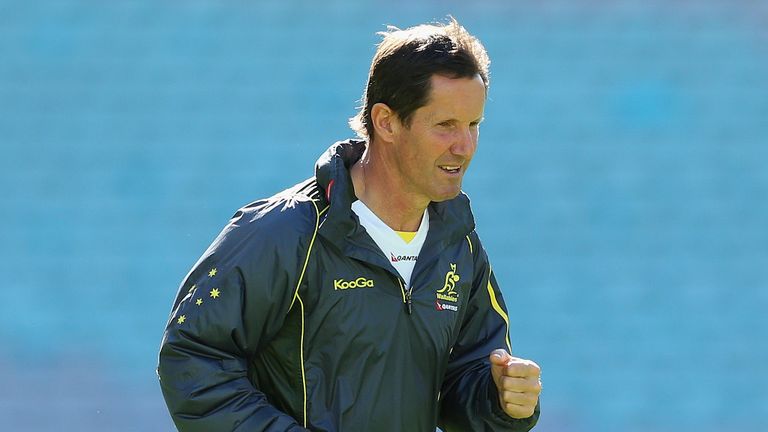 Robbie Deans says Joe Schmidt has turned Ireland into leading contenders for the World Cup.
Deans is preparing to take on Schmidt's men as coach of the Barbarians, who will face Ireland at Thomond Park on May 28.
The former Australia coach offered fulsome praise for Schmidt for building a side capable of beating the world's best teams from both hemispheres.
Ireland are generally fourth favourites for the tournament in England behind the hosts, reigning champions New Zealand and South Africa.
And Deans feels the uncertainty over many of the favourites - one-time powerhouses Australia are as big as 10/1 to win the tournament - will lead to plenty of exciting action and some unpredictable results.
"Ireland are absolutely one of the sides in contention for the World Cup," Deans said.
"This is going to be a great World Cup. There's more uncertainty in terms of the ultimate winner than there's ever been and there are more sides capable of getting onto the podium than ever before, and that's great for the game.
"Joe Schmidt has started really well at Test level. Ireland are very well-placed I think right now, the timing of this World Cup is good for them.
"They've got a good nucleus of experience, and they've shown there's no one in the world they can't beat, and that includes the All Blacks. They are very well-placed and Joe's played a big part in that."
Deans is expecting a tough challenge at Thomond Park, and he has recently seen the best of them defensively and on the front foot, in their Six Nations securing 40-10 victory over Scotland.
"One of the biggest challenges will be that they will want to suffocate us," said Deans, who is now coaching Japanese side Panasonic Wild Knights.
"And they won't want to give us too many scraps, they will make us work very hard just to get our hands on the ball. So we'll have to make the most of the opportunities we get. In terms of their game they are a very ambitious with their style of play.
"They have a well-structured well-organised game but they do create a lot of stress in set-piece position, and then they go hard at the line, they want to dent the line in order to be able to run off it."
Watch Ireland v the Barbarians live on Sky Sports 1 HD next Thursday from 7:30pm.