Stuart Barnes says the loss of Rhys Webb and Leigh Halfpenny will be catastrophic for Wales
Last Updated: 06/09/15 3:20pm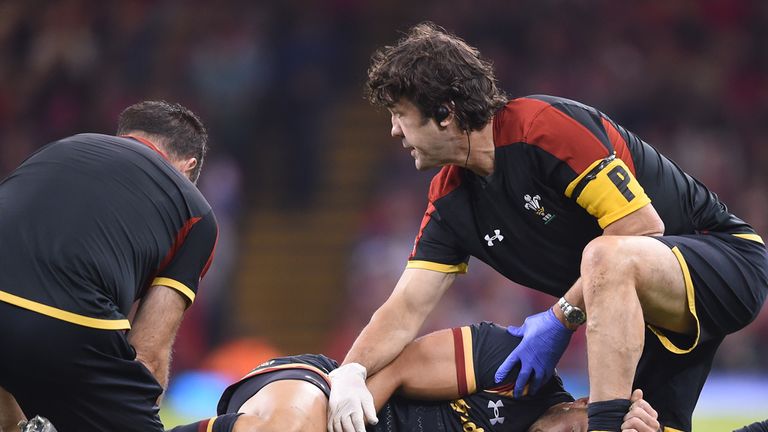 Wales World Cup hopes have taken a massive dent after their 23-19 win against Italy.
The performance against Italy would not have impressed coach Warren Gatland who will need his troops to lift their game higher if they want to get out of a Pool that also has England and Australia vying for top spot.
However, it was the injuries to key personal that has them in turmoil. Leigh Halfpenny and Rhys Webb were carried off during their final World Cup warm-up fixture against Italy on Saturday, with full-back Halfpenny suffering a knee injury and hospitalised scrum-half Webb suspected ankle ligament damage.
Wales coach Warren Gatland is awaiting updated medical bulletins following scans, but it does not look good for either player.
"It is awful for Wales and more importantly it is awful for those players," said Barnes on Sky Sports News HQ.
"We know that Halfpenny has missed out on big tours before and it would be a great shame if he missed the World Cup.
"For Wales it would be a real hammer blow – we want to see everyone at full strength. Rhys Webb's ability to break around the side holds team in and makes space for players like Jamie Roberts outside him. He is an outstanding player.
"Leigh Halfpenny has a metronomic boot and is an absolute magician at hoovering up the space.
"They would be big losses and let's not forget that Liam Williams who was also outstanding last year is in a race against time to prove his fitness.
"At the moment Wales want him playing instead of Cuthbert, who has lost a bit of form, but now he could be catapulted back to full-back.
"It was a very bad day for Wales – it was not the best of performances – but forget about that, it was about losing those key players."