Our rugby experts share their views on Lions v Barbarians
Find out what our experts thought as the Lions kicked off their tour against the Barbarians in Hong Kong.
Last Updated: 01/06/13 4:19pm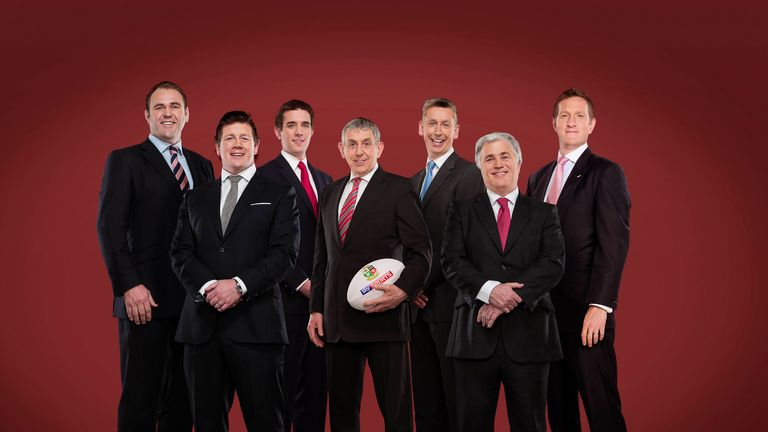 The Lions won 23-14 in 1977 at Twickenham against the Baa Baas but this was a far more emphatic victory in Hong Kong, as the tourists thrashed the hosts 59-8.
The Sky Sports panel of experts had plenty of thoughts after an impressive tour opener, albeit with plenty of tougher tests to come.
Stuart Barnes
Full-time thoughts: "23 guys were given their opportunity to make their first mark and most of them have done it very well. We talked about shapes, structures and patterns and they did so well on all of those. But the overall feeling is that this was a very Welsh performance with a little bit added. The foundation of Adam Jones, the organisation of the backrow. Mike Phillips superb, Davies and Roberts so good and Cuthbert a deadly finisher. A good win for the Lions, a very good day for Wales."
On man of the match: "It has been a fine performance from the Lions and an outstanding one from several Welshmen. Justin Tipuric - what a debut, Jamie Roberts was massive as well but my man of the match is Mike Phillips. He lit the touch-paper in the first half and was ferocious around the breakdown. He had a pretty average season for Bayonne but he was brilliant against England and he is back at that level today. Warren Gatland will be delighted."
On Farrell and Brits fight: When Owen Farrell gets flustered it does not affect his goal kicking but his temperament is combustible at best. Australia will see the Farrell incident and say 'we can rattle that young man.' He needs to be calmer."
On tactics: "We keep on seeing Hibbard going to the tail in the line-out and with Phillips' power and Roberts running line, tail line-out ball is key line-out ball. When Tom Croft comes into the equation with his brilliance at the tail you can just about see a little bit of the plan unfolding - to the rear and then use your power.
On Justin Tipuric: "We are seeing something exceptional from Tipuric. This is not Test match quality but we are seeing that this Ospreys 7 is a natural talent of the highest order."
Stuart Barnes on Kahn Fotuali'i: "It's a big call from Will Greenwood calling Kahn Fotuali'i the best scrum-half in the world. Tomorrow morning we are travelling to a country who may just have a No.9 who can compete there!"
Ian McGeechan
"I think the Lions will be pretty happy. The Barbarians came out and were competitive and then Lions had to work for their scores. I think in the second half the Lions played some good rugby. It just shows what powerful ball carriers they have got and the ability to have a variety of ways of attacking the defensive line. I think they are going to be a real handful. You could see the pattern and the more the game went on - it didn't get loose and it was a very professional finish for me. The great think about this squad is the variety of powerful runner who is very comfortable on the ball from front row, second row, back row and into the backs. A very pleasing start.
"I thought Paul O'Connell was excellent, he led the right way and worked hard. Mike Phillips was outstanding; both centres impressed me and then the big men in the back three and Stuart Hogg at 15 as well."
Dean Ryan
Final thoughts: "Gatland will be delighted. He refers to Test match animals - people who stand up in the hottest of environments - and his key men; Phillips, O'Connell, Jones, Roberts, Cuthbert they never made errors. That is key and you can build around that. Phillips was a thorn all day, he was so physical and that is such a component part of anything around Gatland - get over the gain line and then he will come and cause problems. From that you have more people who can cause problems outside and wide. Yes there are some rusty bits and there was a high error rate but the people he counts on to perform in a Test match arena went well.
"Gatland does not need fireworks, he needs players who can do their job. Carry the ball, be relentless, keep on getting into the right places and keep on coming. Toby Faletau was just outstanding today. In that first 15-20 minutes when there was a bit of uncertainty, Faletau turned up, tidied everything up and everyone moved onto the next phase.
"I think there is a bit of a danger of talking up some of the Welsh players but what they have shown is that if you want to play Lions Test matches under Warren Gatland then you have to find yourself in these spaces; that is the key challenge.
"Cuthbert is in the form of his life, that is the marker for somebody like Maitland. He looks sharp out on the edges but with Gatland you have got to come looking for work. You have got to turn up in the middle and turn up at 9. From that something will come.
"I think Robbie Deans would have seen confirmation of the Gatland template. The key is the variants around it - the likes of Sexton and I thought Hogg had a good game today and I think he offers something different. Across the back three will be interesting mix because turnover and counter attack will be an area that they can really look at on the hard grounds of Australia.
"I think there will be concerns around No.10. I don't think Owen Farrell looked comfortable to start with. It was difficult conditions, it was his first start and he is a young man coming into his first Lions tests. we know he can put over the straightforward kicks but it just felt that it got a bit snatchy. For Gatland with only two 10s he has got to find a way of building his confidence. The only way you do that is to get back out there."
Half-time thoughts:"The most pleasing thing about the Lions is how they have adapted. You have got to realise how quickly they have come together, in the first 20 minutes there was so much enthusiasm, everyone wanted to get their hands on the ball. They were going wide far too early but the message came on to muscle up and get control of the game. Then suddenly the ops started to come. Mike Phillips has been magnificent marshaling his players. We are starting to see the shape we have talked about under Gatland. On the front foot Phillips is world class and nothing can stop him."
Scott Quinnell
Final thoughts: "They can go onto Perth with a big smile on their faces knowing that they have got better opposition over the comings weeks and that the tests will get tougher. The conditions were horrendous but the way they performed and talked about it - they said that this is the start of something very special. What we saw in 2009 was Phillips playing well and Roberts playing well and they are your go-to players - they get you over the gainline. If they are both playing well then it gives each other options and gets the team over the gainline. They can build on that.
"Owen Farrell can certainly take a punch but he needs the confidence, he needs to get out there, have a smile on his face and show us what he can do.
Half-time thoughts: "The carriers are carrying well in and around the fringes. What I would like to see is Maitland come in and help off first phase - Cuthbert has done it a couple of times - I would like to see Maitland carrying as well to allow the forwards to get in and to go again."
Paull Wallace
Final thoughts: "I think Warren Gatland will be very satisfied. We have to take into account that a lot of these players had not played for a number of weeks that is why we saw a number of inaccuracies early on in the game. It all got ironed out and they got better and better as the game went on.
Early on the Barbarians were completely on top at the scrum and I think Steve Walsh the referee got his decisions totally incorrect in the early stages. The Lions did grow into it as the game went on and just before half time started to get the hit and the drive on. I thought Cian Healy had a major impact when he came on - all in all they grew and grew as the game went on.
"Lions success is not about 15 players playing well, it's about every player in the squad and real competition for places. they have to drive it on and get that extra bit out of the other player, really fight down to the wire. Everyone has to raise the bar and push their competitor for the jersey on.
"I am very satisfied - I cannot wait until Wednesday and all the players who have not had a chance are going to go out there and raise it another level.
Half-time thoughts: "The first game out it is always going to happen. There are going to be some dropped passes, the players are nervous and there were a few opportunities wasted. There was some good defence from the Barbarians - desperate at times. But once the Lions got a bit more structure and sucked the Barbarians into a few scrums and mauls their legs started to go and the opportunities came for the Lions and they took them. "
Will Greenwood
On the humidity in Hong Kong: "I have just had a look at Sean Maitland's jersey and it looks like he is entering a wet t-shirt competition."
On Jamie Roberts: "Roberts has been outstanding all evening, he has had one of those games that is perhaps not standout but every time he has got the ball he has done the simple things well. He has been at the heart of everything good with a very low error count."
On Toby Faletau: "He has had an outstanding game. He has really lain down the gauntlet to Jamie Heaslip."
Watch every Lions game live only on Sky Sports. To sign up or upgrade click here