Women's Rugby World Cup: England flanker Heather Fisher feeling confident
Last Updated: 01/08/14 8:22pm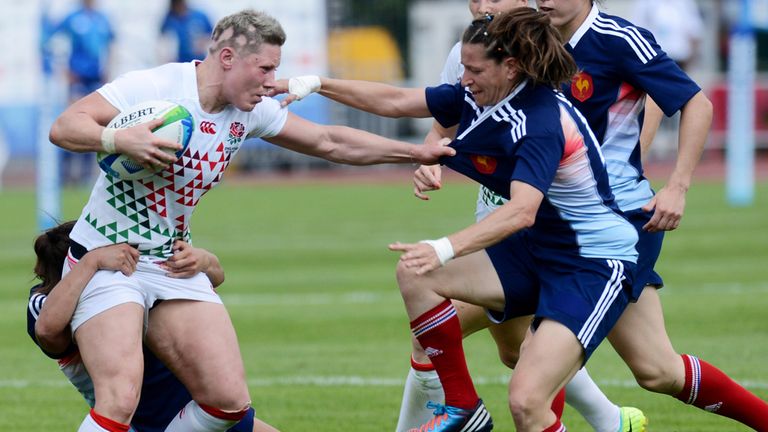 Can England stop New Zealand's dominance in the Women's Rugby World Cup?
The tournament kicked off on Friday in France and while the England management and players are quick to point to the likes of Australia, France, Canada and the USA as serious contenders, the smart money is on England and New Zealand meeting in the final once again.
These two have contested the last three World Cup finals. England have lost all three - but they have left no stone unturned this time as they go in search of their first World Cup title since 1994.
England may not have won the 2014 Six Nations – they lost to France who won their first crown in a decade – nor did they have the best of seasons in 2013 but their main goal has always been the 2014 World Cup and they should arrive in France at their peak.
England backrower Heather Fisher is confident that once again England will be competitive as they have been in the past and  believes that the tough build-up has only made them stronger.
"Our build-up has not gone to plan all the time but it is how you deal with those hiccups that count," said Fisher.
"I think people got used to us winning the Six Nations so when we didn't, questions were asked. But I think we're getting to the stage where other nations are getting stronger and we as a nation have to up our game.
"France was a bit of a shock for us, but I think we needed it as a squad – I think the whole squad have learnt from it. You cannot step out on the pitch and think 'we've got this; we've beaten them before and just expect to beat them again'. You respect your opposition and I think that's the biggest lesson we've learnt from France.
"It's a cliché really, you learn from different environments and different tests you get put through. There is no doubt that we have learnt from the Six Nations – we played a lot of cards and we know the hand we are holding now. The more cards you've got to play with, the more you're going to know how to play your cards. And I think that's the position we're in now."
Fisher was not involved in the 2014 Six Nations as she was part of England's Sevens campaign but she is back in the squad and explains how her role differs in the two formats of the game
"I haven't played the 15-man game for nearly two years – I was off injured and when I came back went straight into 7's," explained the 30-year-old.
"I guess the hardest part for me is getting back into the forwards role and getting stuck into the maul, the rucks and the breakdown. In 7's it's easier to wait for the ball to come back to you and then use the space you have."
Tough encounter
Before England can even think about the final, all focus must be on topping Pool A that will see them playing against Spain, Samoa and a very talented Canada side. First up for England is Samoa and while they may have been soundly beaten by New Zealand in June, Fisher is expecting a tough encounter.
"Samoa will be a good game for us to start with and we need to go into this game all guns blazing. I personally have never played them before and they're going to be really unpredictable and very tough. It's a big test but we have done our homework too and we are not taking any team lightly.
"We have worked so hard and we've got a great squad here. We have come together as a team and if everyone gets their own role and responsibilities right then we're in a very good place."
Support for England has been building nicely – no sooner had England bowed out of the football World Cup in Brazil than England fans were being urged to get behind a team who actually had a chance of lifting a World Cup trophy in 2014! Fisher is pleased with the support but says that the extra pressure is all part and parcel of playing international sport at the highest level.
"So much of the game is mental and I think like there's always pressure on yourself, pressure on your team mates to deliver, to do your job and come together as a squad. We want this World Cup and that of course builds pressure but we are all doing what we love so in a way that suppresses the pressure a little bit.
"Saying that, I think we are very good at dealing with the pressure and sometimes the more pressure put on us, the better we preform and that's when we play some of the best games when we're under that pressure.
"We've trained hard, we are prepared for this. Now it's time to go and put all that training into practice. We cannot wait!"
England Rugby is calling on fans to show their support for England Women by tweeting their messages of encouragement to @EnglandRugby using #CarryThemHome in the lead up to the Women's Rugby World Cup. Visit www.rfu.com/england-rugby for more information. 
You can see every match from the Women's Rugby World Cup live on Sky Sports with coverage starting at 2:30pm on August 1