Dylan Hartley says player safety is paramount as he looks to resume England career
By Richard Cooke
Last Updated: 27/09/18 10:06am
England captain Dylan Hartley is urging the authorities to "keep exploring" ways of improving player safety.
The 32-year-old hooker was forced to take an extended break from the game in March after suffering the third significant concussion of his career.
He has since made a full recovery and, after playing six times for Northampton this season, is looking to resume his international career this Autumn.
Hartley is only too aware of the dangers that come with concussion and he insists that "player safety is paramount".
But he does not think that changing the rules to enforce lower tackling is the answer.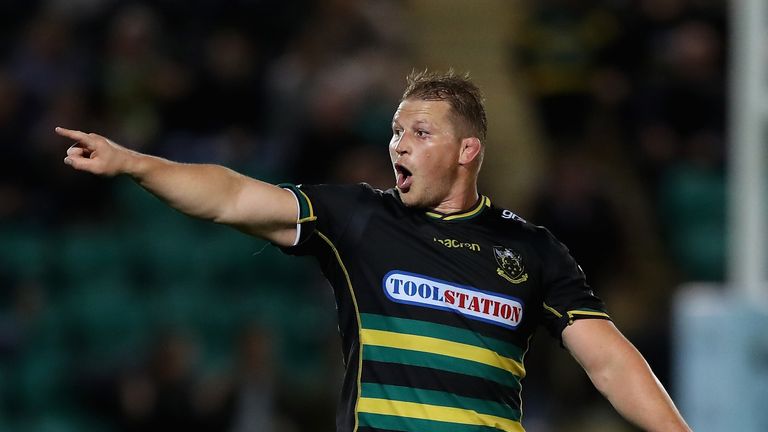 "Most defences in the game encourage a two-man tackle," he told Sky Sports News. "If you get two people tackling low you are going to get two people meeting heads low so you're going to get the same problem.
"If you get people going low the ball's not affected and you get off-loads so most teams encourage a two-man tackle because you can't let attackers have a free off-load and keep playing.
"You need to finish the tackle, kill the ball, make a ruck and go again.
"We obviously need to protect players, we need to keep exploring and looking at ways to do that because player safety is paramount, that's the one thing.
"But things like drawing a line on a body and saying you can't tackle above that is not the answer.
"We have that anyway, we already have the 'high shot', we are enforcing that and protecting players with anything on the head seeing red, so I think they are making an effort to protect us."
Hartley was named in England's latest training squad and is targeting a comeback in the November internationals. But England's most capped hooker is taking nothing for granted when it comes to the captaincy.
He added: "I'm happy to be here in the room, in the team, and I'll contribute whatever I can.
"Whether that's doing the kit, washing the boots, or playing, leading, captaining whatever you want to call it, I'll do it,"