Sky Sports sat down for a Q&A session with England Sevens turned Harlequins wing Ollie Lindsay-Hague
By Ben Hampshire | @BH92
Last Updated: 08/11/14 11:35am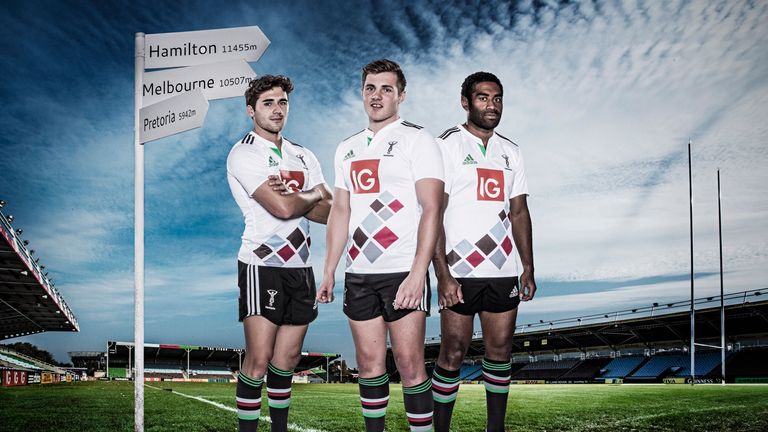 You can learn a lot about somebody's nature, ambitions and dreams in 10 minutes. Ben Hampshire got to know a whole lot more about former England Sevens star, now Harlequins winger Ollie Lindsay-Hague...
Hi, Ollie here.
BH: Hi Ollie, how are you?
Ollie: I'm good thank you Ben, how are you?
BH: I'm really well thank you, how's your day so far?
Ollie's favourites
Favourite foods:
1. Sushi
2. Chinese
3. Mum's cooking
Favourite films:
1. Snatch
2. Hangover
3. Notting Hill
Dinner party guests:
David Beckham
Jose Mourinho
Denzel Washington
Micky Flanagan
Ollie: It's going good, we've just finished training, it was our tough day today so it's good to be done.
BH: Well, we best not make this too gruelling for you then. Tell us a bit more about your training, what does the average week look like for the Harlequins squad?
Ollie: Monday we have our team meetings and have a steady training session, Tuesday will be a hard day of training – units, weights, meetings and a full training session – and then Wednesday is usually our day off when we've had a Saturday game.
Thursday will be a bit lighter with weights in the morning and a training session after and then Friday will be a team run, go through the moves but nothing too much ahead of the Saturday game.
BH: Nice to see we caught you on the toughest day of the week then. Looking at Harlequins' record this season, in the Aviva Premiership you've won three, lost three, in the European Rugby Champions Cup you clinched back-to-back wins and were edged out by Saracens in the first round of the LV= Cup, how would you analyse the state of affairs?
Ollie: Obviously we've had a slow start to the year, we haven't played particularly well in parts, but we have got our set piece going well again and it's great to get wins against teams like Castres.
It hasn't been a concern, we have brought up things which we have thought haven't been going so well in certain areas, but most importantly we have stuck together, trained hard and improved the things which weren't going so well.
We want to win trophies; we have made that particularly clear in the last five years with a good amount of trophies.
We always want to be a winning team so hopefully now we can continue to play well and carry that forward.
BH: And how would you rate your start to the season on an individual level?
Ollie: Personally, I think I've had a good start to the season, I'm currently on the bench most weeks and have some great players ahead of me with Mike Brown, Marland Yarde and Ugo Monye.
I'm thankful for where I am but now I want to keep pushing on and get myself a starting place.
BH: You say you're a bench player at the moment, but you had a pretty early call in the opening match of the season against London Irish in the London Double Header at Twickenham didn't you?
Ollie: Yeah, Ugs pulled up with a groin issue in the first half but I was able to come and a grab a try pretty early on so I was really happy to make a strong start to the season.
That's exactly what I'm looking to do every time I come off the bench, whether I'm starting or coming off the bench I want to be scoring tries and making an impact.
I never thought he would be getting injured that quick but as soon as they said he was struggling, I got warm and got my head switched on, you have to be ready for these situations every game; you can be on in the first or the last minute so it's important to keep your mind on it.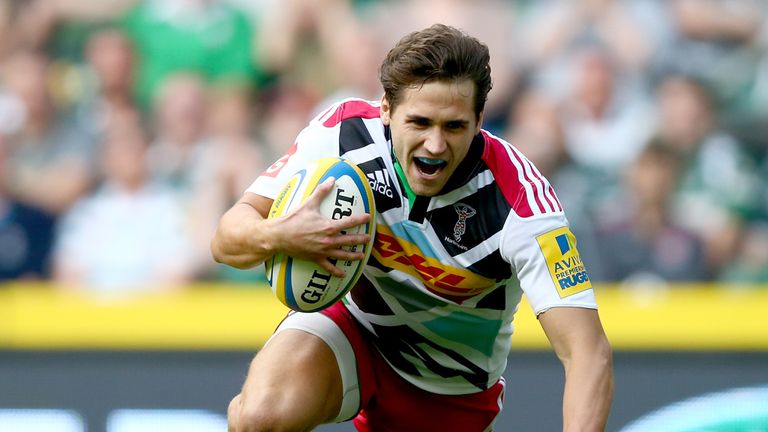 BH: Failure to prepare is preparing to fail so they say; you didn't fall short there after bagging a try having only been on the field five minutes. Tell me, what's it like being part of this Quins squad? Conor O'Shea is man big on unity I hear.
Ollie: We're a really close team and all get on really well, we've known each other for a long time. It's a really good place to be and everyone is here to help one and other. I think that is a strong part of our club.
BH: You've had a taste of international rugby playing Sevens, how did you find that and how do you see that experience helping you in the XV-man game?
Ollie: It was a really good experience for me, I went to the Hong Kong Sevens and played in front of 45,000 people at the age of 19 and that is great way to get into the bigger level, playing in front of big crowds and getting used to the pressure.
It really helped me build my game and improve for when I came back to England and played with Harlequins.
It was absolutely amazing to play at Twickenham in that London double header, I don't know how many people were there exactly but it was loud. To play at Twickenham itself is amazing to have a nearly full atmosphere it was amazing, that's what you play the game for.
BH: Running out to the Twickenham roar is something most of us can only dream of. Can you see yourself running out at Rugby HQ as a fully-fledged England international?
Ollie: Obviously it would be the biggest honour to represent my country, but my focus now is at Harlequins and my first are well and truly on the ground.
I have to continue playing well and doing what I do and hopefully one day the dream will come true, but I am concentrating on Harlequins and learning from guys like Mike Brown who is playing class for England right now.
Ugo is my mentor at the moment, he's been there and played for the [British and Irish] Lions, he's a great friend of mine and I look up to him, Mike Brown is a great player and I also look up to the likes of Israel Dagg in the All Blacks squad.
BH: You're clearly a very grounded and ambitious young man, Ollie. We're on the brink of the QBE Autumn Internationals which means players are heading off to answer their country's call. Time for you to stake your claim, right?
Ollie: I definitely see this time of year as an opportunity. We have such a strong academy and a lot of young players stepping up and hopefully when the internationals are away I can stamp my footmark and play well.
Being on the bench here is great, you're a part of the first-team squad but I don't think any player would want to be a bench player, I want to keep pushing and earn a place in the starting side.
I want to keep taking advice from the senior players, developing and impressing the coaches at every opportunity
BH: You mention senior players, there's plenty of experience in that Harlequins camp of yours. England captain Chris Robshaw and his international colleagues Joe Marler, Danny Care, Marland Yarde and Mike Brown to name but a few. How is Joe getting on after taking the captaincy reins from Chris?
Ollie: Chris stepped down as captain to concentrate on his international responsibilities, but we have someone like Joe Marler who has a very strong personality and has come in and done really well.
I know people may have given him some stick at first but it takes a while to build as captain and he's done excellently well. Obviously Chris is always there to offer advice and help out in team meetings and before games.
IG, a global leader in online trading, is offering you and your teammates a chance to win the ultimate rugby tour to the home of one of the Harlequins' affiliate clubs in the southern hemisphere. Enter now at quins.co.uk/IGLiveEveryDream