Rugby Union Expert & Columnist
Stuart Barnes' talking points: Twickenham trips and PRO14 permutations
Last Updated: 09/04/18 4:46pm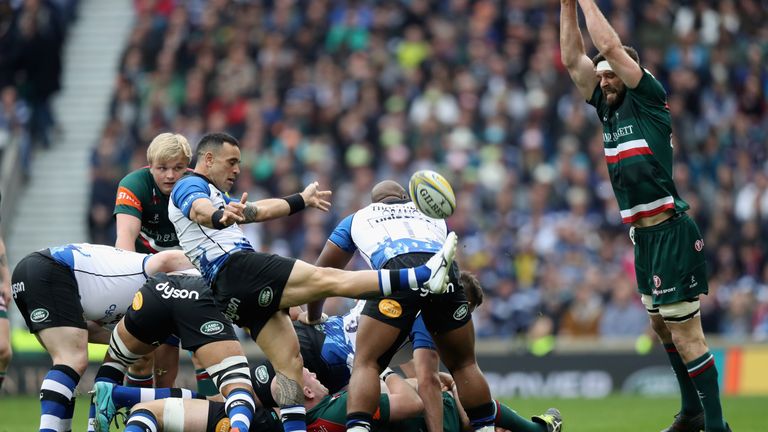 This week, Stuart Barnes discusses Bath's trip to Twickenham Stadium, the form of Exeter and Scarlets, Fiji flying in Hong Kong and more.
1. With such a strong Celtic contingent in the last eight of last week's European action, this weekend had an after the Lord Mayor's party feel to it. That was inevitable. However, things were different in England where the club scene has struggled on the European stage. So let's start this week's talking points in the Premiership and where else but Sandy Park, home of the defending champions, Exeter.
2. They are making a mighty fist of their title defence. Closing in on a home semi-final, they battered Gloucester 46-10. It was another masterclass in the art of ball retention. There is almost an inexorable inevitability when they get in the 22. Granted a little more leeway at the breakdown than they were in Europe, teams cannot/do not compete at the contact and Exeter edge their way ever closer to the try line.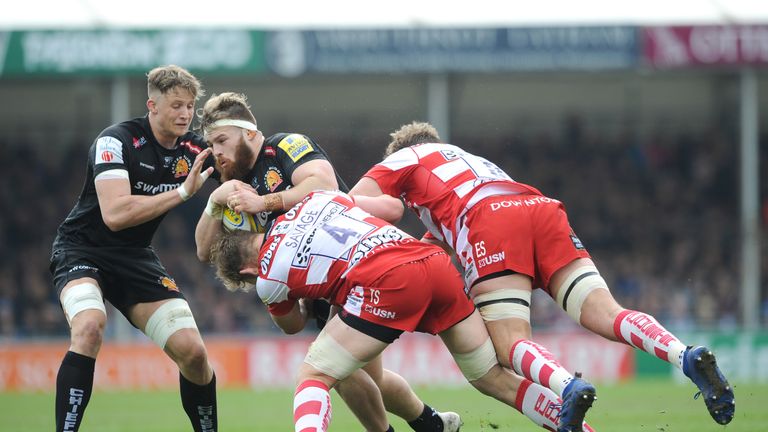 The one weakness on Sunday was the line out throwing of Luke Cowan-Dickie. Come the play-offs, opposition will surely contest in the air to deprive the Chiefs of possession at source.
I am always told by forwards that the lineout is a collective and hookers take an unfair amount of flak for any inefficiency. But, watch LCD throw in for England or Exeter, two different entities, and the same things go wrong. There's only one common factor. For all his bludgeoning ball carrying and energy he has to address his basics if he is to become an international hooker of repute.
3. The team most likely to take Exeter's crown are Saracens. I read about their impressive bounce back from Europe in a few Sunday papers but couldn't buy that line. They were playing Northampton, or playing with Northampton.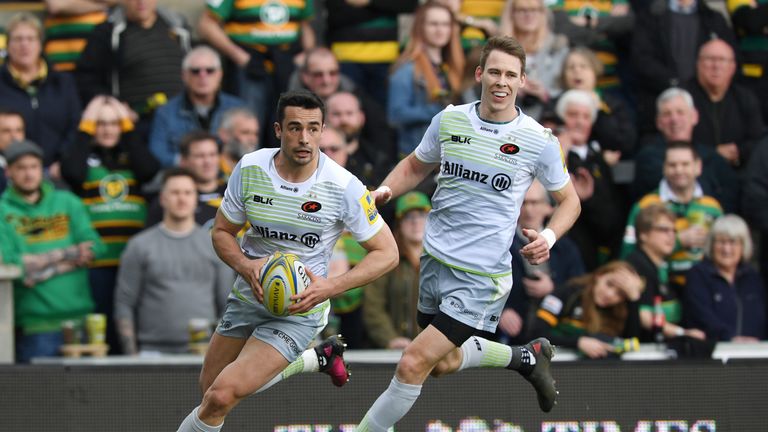 Ahead of the Leinster quarter-final I wrote somewhere or other that if a sports psychologist could convince them they were up against the Saints every week, nobody would beat them. And now they have done it again. 63 points, a fourth time they have gone over the 50 point mark.
Unfortunately for Saracens they don't play the Saints again this season. Apparently Alex Lozowski looked the part at outside centre but I think we'll have to assess the undoubted potential against better opposition.
4. The Scarlets, for example. They definitely looked like a team in mental recovery mode after the exertions against La Rochelle in Europe. They were not very pretty against PRO14 pacesetters, Glasgow, but they were pretty effective.
All glitter and glamour last season, they are heading towards the climax of this campaign with a superbly organised defence, a strong pack with a superb scrum and a vast amount of self-belief. Leinster have been the league, and Europe's best team, all season but there's a glint in those Scarlet eyes...
5. Sticking with Wales, the Blues were unlucky to come away from Bloemfontein with nothing. They now need Munster to do them a favour next weekend at altitude. The Scarlets are probably hoping for a South African win. If my calculations are correct, third place for the Cheetahs means a visit to West Wales if the Scarlets finish second in their conference. That would do the Scarlets nicely.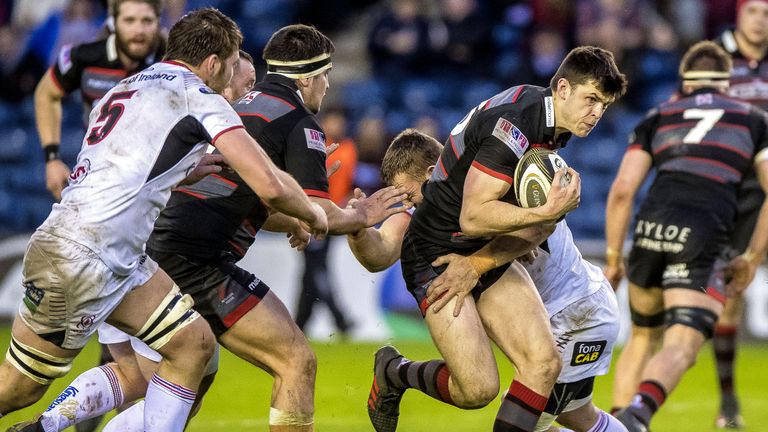 6. Edinburgh did the PRO14 champions a favour, losing at home to Ulster. With the Champions Cup less than a fortnight away, Wayne Pivac has some breathing room ahead of Dublin.
He can afford to lose in Edinburgh next weekend (Sky cameras and commentators will be in that fine city) as they face the luckless Dragons at The Principality a week after the semi-final. On neutral ground it will take quite some comedown from Europe to see them lose that one... still, you never know.
7. That Edinburgh game is one the home side cannot afford to lose. Ulster's win - with their game in hand - gives them a shot at third place.
The bubble has seemingly burst at a terrible time for Richard Cockerill's team. Expect them to be fired up this Saturday. As for Ulster, they face a resurgent Ospreys team who are fighting for every point in the hope of scrambling into European contention one way or another.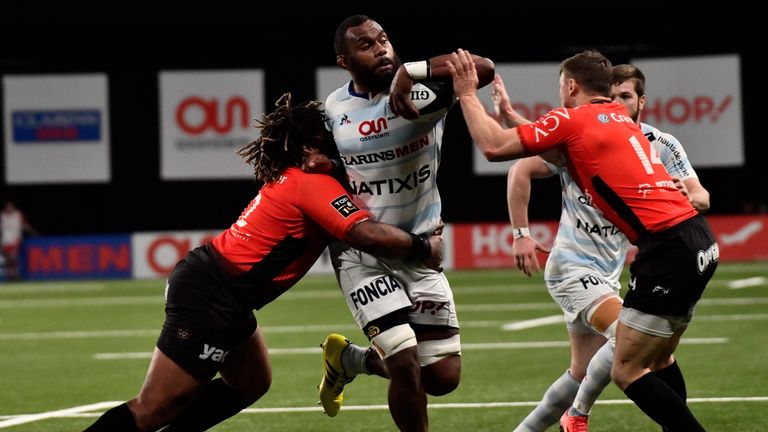 8. Across the channel the big result was Racing's narrow win against Toulon. Both teams fielded strong sides and once again, home advantage was the difference. I still think Toulon have what it takes to win the Top 14 while Munster have been alerted to the threat of the Parisians ahead of their semi-final in Bordeaux.
9. The Wimbledon of the Sevens circuit. Coming across a preview of the Hong Kong Sevens I saw this catching line. Well, if HK is Wimbledon, Fiji - winning Hong Kong for the fourth straight year - is the sport's equivalent of Roger Federer. Elegant, unorthodox and enduring.
Tennis will mourn the departure of the Swiss all-time great when he hangs up the racket; sevens is lucky that Fiji will keep on keeping on. A mention for Kenya too. Find a few props and who knows, they'll be a competitive fifteens force one day.
10. Last, and right now, least; my old club, Bath. Losing to Leicester is no great shock. It is twenty plus years since the Tigers win was a rarity in this match. But, to see them go down at Twickenham has an extra edge to it.
Once Bath played at Twickenham because that's where the final was played, these days it's because they have the money and the marketing to make Twickenham home for a day. I hope the fans aren't fooled into thinking Bath are currently anything but a fading force.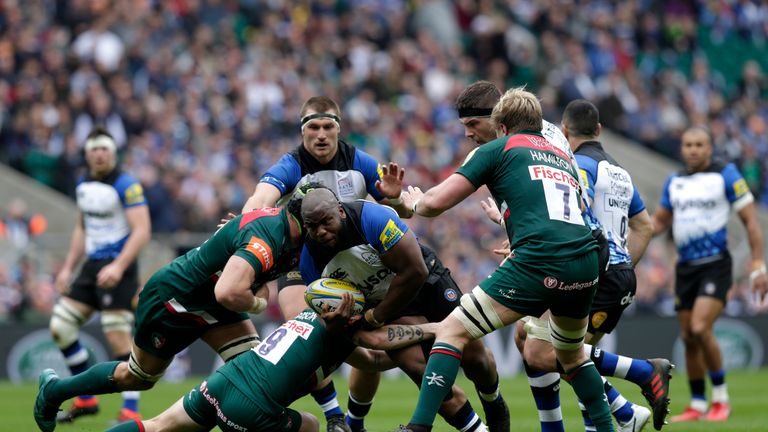 Sad to see, sadder to say, but eighth in the league and going nowhere... while Leicester are once more surging into the playoffs at the end of the season.
Exeter, Saracens, Leicester and Wasps, the same old four are favourites for the semi-finals. I can't see the latter two teams beating the Big Guns but what my old club would give to be even part of the action. I guess Harlequins players from other eras are feeling pretty much the same, ah well...