WHO AM I?
Since a kid I've always thrown myself into all sport. When I was four I played football at my local leisure centre with a boys' team, switched to gymnastics at six and continued for seven years.
I then played more competitive football for my local club and during high school I threw myself into everything - even cross county. I then joined Blackburn Harrier athletics club doing hurdles, high jump and whatever else my club was short of.
I have achieved many things I've only ever dreamed of. I'm the British record holder in women's pole vault - indoors and outdoors. I've jumped 4.87m, placing me fourth in the all-time standings, won European Indoors gold and World Indoor bronze medals and was sixth in my home Olympic Games. I was also fifth in the final in Rio in 2016.
Top 5 achievements
European champion (2013)
Jumping 4.87m - 6th on World All-time list
Two-time Olympic finalist (London & Rio)
8 x British champion
British indoor & outdoor record holder
AMBITIONS?
I love my sport and especially my event. I love telling people about pole vault, inspiring young kids in schools or athletics club to get involved in my sport or any sport is the most rewarding thing.
I've witnessed how effective role models can be. David Beckham was my childhood hero and he inspired me massively, he showed me commitment and good sportsmanship is key and he is still my hero. If I could inspire just one person to take up sport then it would be worth it.
Although London 2012 was a great experience I feel the next few years are more important for our sport than any before. We have a great opportunity to create a legacy.
I really feel our legacy should be kids and getting them down the track involved in athletics, or any other sport. I truly believe that sport gives us valuable life tools such as dealing with tough scenarios and setting personal goals.
HOW HAS BEING A SKY SCHOLAR HELPED?
Being involved with Sky is such an honour. Being able to represent the company would obviously promote me as an athlete but more importantly would inspire many other youngsters to get involved in sports.
Sky has given me multiple opportunities to experience different things, including a behind the scenes tour of the studio to seeing what goes on behind closed doors. It enabled me to see what kind of jobs Sky offers and what life could be like after sport.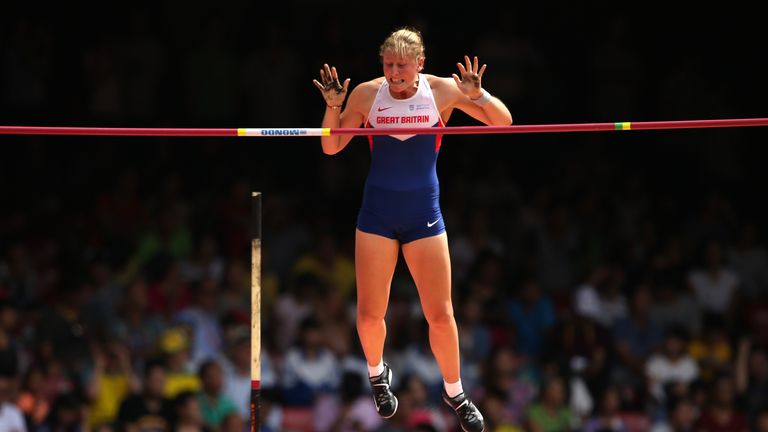 I feel with Sky behind me, increasing my exposure I can help inspire kids. I have seen what Sky have been doing with Jessica Ennis-Hill and how she has been inspiring . Sky is the perfect partner for me, the more people behind me that have an understanding of sport and exactly what it takes to be the best, the better.
Sky have already given me some great opportunities and I'm looking forward to more in the future.
Financially. Sky has enabled me to buy some essential recovery equipment including an ice machine and a compression machine. These have helped me recover from my injuries as quickly as possible and get back training hard. These will 100 per cent help me get to where I want to be at the Rio Games.
WHO HAS HELPED?
I have also had the opportunity to work with Darren Campbell. He's been such an amazing role model to me over the years and I was so glad when he was chosen to be my mentor. I was so excited to have him helping me out.
We've chatted a lot about pressure, dealing with injuries and coming back stronger, which has helped me so much.