WHO AM I?
I am a sprinter, long jumper and relay runner. I have been competing at City of Portsmouth Athletics Club in able-bodied competitions and haven't looked back since being invited to a Talent Introduction Day in 2012 where I was classified to compete nationally as a T38 athlete.
Once I started competing at the start of the 2012 season I came to the attention of UK Athletics again by achieving results which ranked me top in the UK in my category in the 100m, 200m and long jump.
I was sent to Croatia to be classified to compete internationally and was put on the list of athletes to be considered to compete at the 2012 Paralympics and invited to start training with the GB Women's relay team. I was only 15.
I made my international debut at the European Championships in Holland where I won bronze in the 100m and 200m and was described by the UK Athletics head coach Peter Erikson as "phenomenal".
I qualified for London 2012 and was the second youngest athlete.
Top 5 achievements
100m relay bronze at London Paralympics (2012)
2 x bronzes in first European Champs aged 15 (2012)
Making shortlist for BBC Young Sports Personality of the Year (2012)
Part of world record breaking 4x100m relay in Doha (2015)
Chosen to be a Sky Academy Sports Scholar
AMBITIONS?
I want to inspire other disabled young people to realise their potential, particularly in the sporting arena and to win a Paralympic gold medal.
HOW HAS BEING A SCHOLAR HELPED?
After being awarded the Scholarship I moved to Oakland's Athletics Academy in St Albans where I live during the week and was introduced to my coaches Jonas Dodoo (sprint) and Julie Holman (long jump).
Being a Scholar has given me the confidence and financial ability to make this dramatic move and I haven't looked back since!
I did not have a particularly good 2013 and I felt that if Sky believed in me enough to award me a Scholarship then I felt I should believe in myself and that is what I did and threw myself into my new life in St Albans.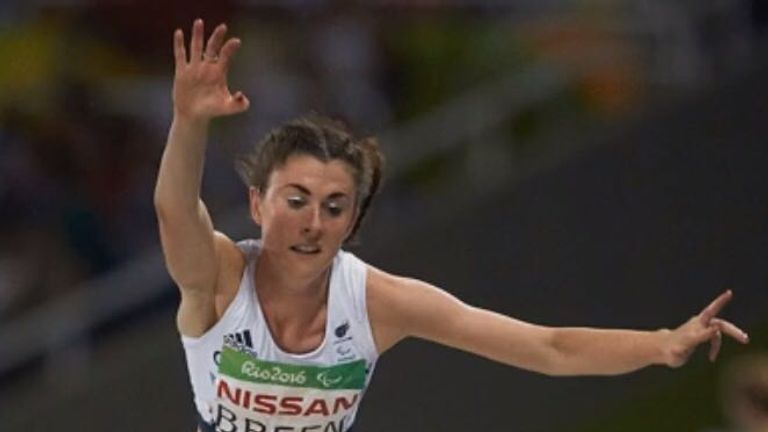 I have really enjoyed living and training at Oakland's where I have trained with some of the UK's best young athletes. It's been so inspirational and has made me even more determined to be successful.
My coaches have been amazing. With Julie's patience and understanding of how my body works I began to learn the art of long jumping. I have only been training since the beginning of 2014 so I still have a lot more to learn.
The Bursary from Sky Academy has also enabled me to go warm weather training to Tenerife a few times and also to San Diego. My cerebral palsy means that during cold weather my muscles get stiffer and training becomes less effective.
The warm weather training really helps with this and also gives me the opportunity to focus on and consolidate my training. I am also fortunate enough to have Di Dougherty from Game Changers as my mentor. It is great to have this support and receive the input of someone from outside the world of athletics.
I couldn't be more grateful to the Sky Sports Academy for the support and opportunities it has given me. The move to St Albans encouraged me to grow up earlier than I would have done otherwise.
I feel that I am a lot more mature and aware of myself and what I need to do to be successful. Hopefully I will be able to repay all this support this by continuing to work hard and improve.