GB speed skater and Sky Scholar Elise Christie will not race at the German World Cup event this weekend because of concussion.
It is a blow for the 26-year-old from Livingston who has produced fireworks on the ice this season with a 500m world record and golds in 500m and 1000m in her opening four World Cup races in Canada, United States, China and South Korea.
Christie, who suffered a bump on her head last week, will travel with her team-mates to Dresden, but won't be racing.
She tweeted on Friday morning: "Unfortunately upon suffering from a head injury last Thursday, due to some loss of vision on my left eye I will not be competing".
The German city is hosting the penultimate World Cup event over the next three days, with the final race of the series in Belarus from February 10.
Stewart Laing, GB short track performance director, said: "Whilst this is disappointing to not to have Elise racing this weekend, we take any head injury seriously.
"The team have a return to racing policy which our medical team follow to ensure the safety and wellbeing of the athletes.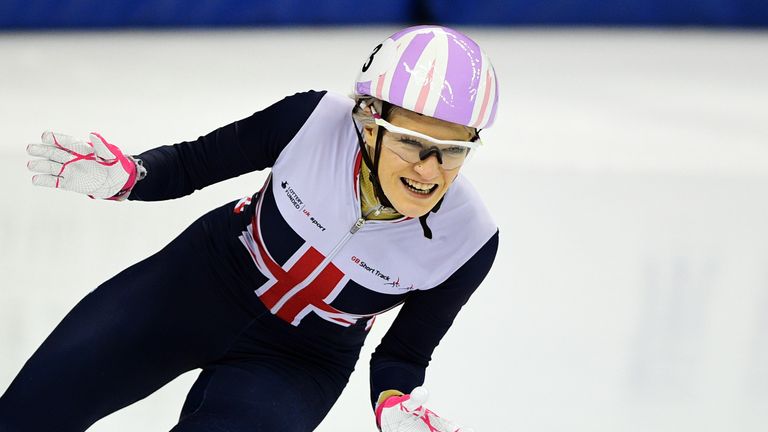 "The rest of the team have had a really good run up to the competition in their final training preparation - ice is fast, and the team are skating with confidence, we should be set for some great racing this weekend."
Christie and her coach Nicky Gooch opted to miss the European Championships in Torino (January 13-15) to help build her preparation for the World Championships in Rotterdam (March 10-12).
It is still hoped Christie will be able to compete in Minsk next week but this will still be disappointing for the Sky Academy Sports Scholar who had been aiming to finish the World Cup campaign at the top of the world rankings in the 500m and 1000m.
This will now be difficult to achieve because of her withdrawal in Dresden.
Charlotte Gilmartin, 26, who won a European bronze in January, is currently seventh in the 1,500m World Cup rankings and will be targeting her first medal of the season.
---
WHAT'S COMING UP FOR OUR SCHOLARS....
JAN 23 - FEB 3: Sam Oldham, Doha training camp
FEB 9: Jack Bateson, World Series of Boxing in Rome, Italy
FEB 10-12: Elise Christie, World Cup short track speed skating in Minsk, Belarus
FEB 24-26: Quillan Isidore, Gator Nations Supercross Series in Oldsmar, USA
MARCH 4: Sam Oldham, American Cup in New Jersey, USA
MARCH 10-12: Elise Christie, World Championships in Rotterdam