Imani Lansiquot will have been a bit of a blur for German athletics fans over the last two weeks.
Two meets. Two season bests in the 100m. But the 20-year-old sprinter from London is not getting carried away.
The Sky Sports Scholar opens up after a successful trip to the Bavarian city of Regensburg a week after her first individual sprint of the season in Weinheim and why times aren't everything at this stage.
---
"I've just come back from another visit to sunny Germany for my second 100m race of the season.
This time I was in Regensburg racing against some great European talent over my favourite distance.
It was also nice to catch up with Tony Lester (Head of Sky Scholarships) while I was there, and picked up some great advice from him after my race.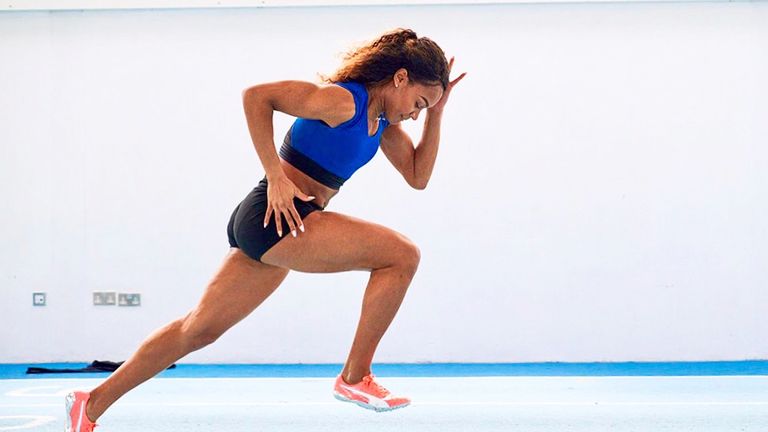 I was thrilled to run a big season's best of 11.24 seconds (-0.4), building on the 11.39 secs I ran in Weinheim the week before.
I was second in the field and this is my second fastest time to date so I'm really looking forward to what the future has in store.
Next for me is the 200m in Geneva on Saturday, as well as another opportunity to run in a relay with the GB team.
Although I am nervous about running my first 200 in almost six years (yikes!), it will be a big goal of mine to tick off the list, as I've been itching to enhance my 200m skills over the years.
I plan to leave healthy, and with more confidence for the 100m.
Although I am pleased with my time, I've still got lots to work on in training and more experience to pick up along the way.
It can be pretty tricky at this point in the season for athletes, as we're striving for both process goals as well as outcome goals.
An example could be looking to hit more of my technical cues, as well as putting down some fast times.
Although these usually go hand in hand, it's easy to get immersed in the outcome goals and forget the process.
I deal with this by reminding myself to be disciplined in my mind and to focus on what I can actually control, which ultimately is my own race plan on the day.
Now my exams are finished, I just want to keep my head down and focus on the things that my coach and I can 'fine-tune' in the upcoming weeks!