Neil Robertson hits back to beat Shaun Murphy and reach final in China
Neil Robertson recovered from a slow start to beat Shaun Murphy 9-5 and reach the final in China.
Last Updated: 03/11/12 7:18pm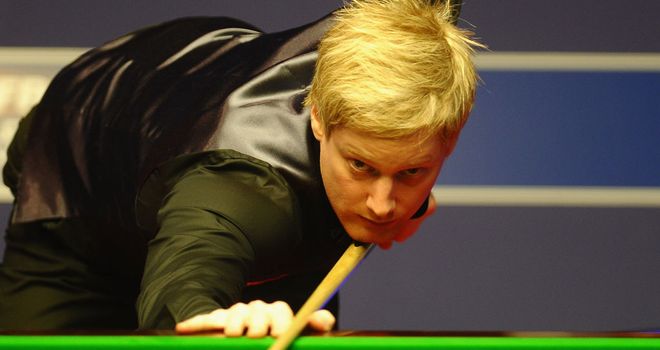 In the end the Aussie's 9-5 victory in Chengdu was comfortable enough after taking eight of the final 10 frames.
After slipping 1-3 behind, Robertson reduced the margin to one with the only century break of the match in frame four.
His 142 was also the highest of the tournament as he won four frames in a row to lead 5-3 at the break.
Murphy brought the deficit back to just one at 5-6 behind, before losing a vital 12th frame following a poor safety shot on the green.
He made another mistake in the next frame - this time on the blue - leaving the left-hander to wrap up victory in frame 14.
On Sunday, Robertson will take on the 23-year-old Judd Trump who reached the final with a commanding 9-1 triumph over fellow-Englishman Peter Ebdon on Friday.
Trump's semi-final win assures him of the No 1 ranking in the world and he now meets Robertson in a bid to claim the £125,000 top prize.
And Robertson paid tribute to his next opponent saying: "Judd has changed his game, he doesn't go for as many shots as he used to and his safety has improved.
"He is number one in the world now so he's full of confidence. He's fantastic for the game and he has fun and enjoys his life, as he should do.
"Hopefully it will be a great match. He's had an extra day of rest so I need to get a good night's sleep.
"I won't get nervous, I enjoy playing in finals. I will attack when I can and try to play a good all-round game and counter Judd's strengths."