Indian Open: Ding Junhui crushes Aditya Mehta in final of New Delhi event
Ding Junhui claimed the inaugural Indian Open title with a 5-0 win over Aditya Mehta in the final.
Last Updated: 18/10/13 7:38pm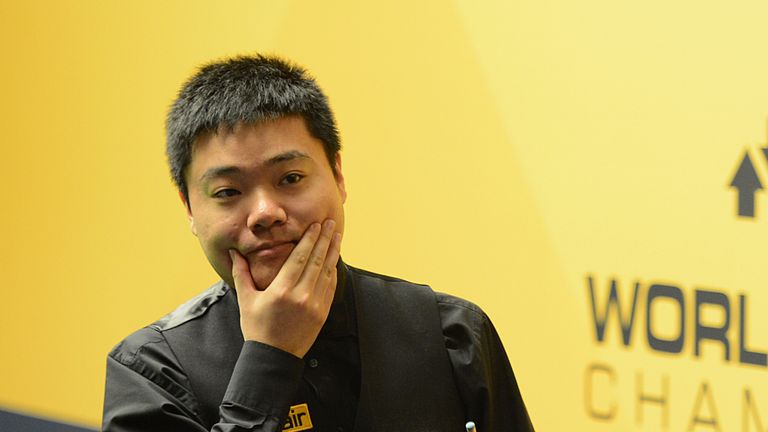 Mehta had seen off Stephen Maguire 4-3 in his semi-final earlier in the day to become the first Indian to make a ranking final.
But he failed to trouble world No.4 Ding, who eased to his eighth ranking title and a £50,000 first prize without dropping a frame in the best-of-nine contest.
The Chinese potter was at his punishing best, following a run of 52 in a tight opener with breaks of 81, 107, 93 and 100, restricting Mehta to just two points in a four-frame spell.
Ding said: "It feels great to be the champion at the first ever ranking tournament in India. Especially to play against Aditya in the final.
"I'm proud for myself and I'm enjoying this. I'll rest for the next few days then hope to do well in the next tournament.
"I think I am playing the best snooker of my career. I have improved and I'm stronger. I still have a lot of things to learn."
Drained
Mehta said he was "completely gone" mentally heading into the final after his draining run through the draw, which included knocking out former world champions Mark Williams and Peter Ebdon.
"A few years ago I would never have predicted this," he said.
"My heart has been in the right place and I have put the right amount of work in, and shown myself that nothing is impossible. I am very proud to have represented India in this tournament and for the fact that the event has been successful.
"I was mentally drained going into the final because I have had so many close matches which took everything out of me. I was completely gone. I needed a good start because when Ding gets on a roll, no one can stop him. Next time I will be more fit mentally and physically.
"I wasn't surprised by how well Ding played because he does it every day in practice. His cue ball control, potting and safety game, I see it day in and day out. That's what I aspire to."
Ding had also called the tune during a 4-1 semi-final win against England's Robbie Williams.