Boris Becker says Novak Djokovic wasn't practising as hard over past six months
By Michael Kelleher
Last Updated: 07/12/16 8:32am
Boris Becker has admitted the last six months coaching Novak Djokovic were "challenging" and says the Serbian should have practiced more.
Becker and Djokovic parted ways on Tuesday after a trophy-laden three years together that yielded six Grand Slam titles.
The news came just over a month after Djokovic lost his world No 1 ranking to Andy Murray.
Speaking exclusively to Sky News about the split, Becker said: "We came to an agreement we would end the relationship as of today. It was an unbelievable ride. We had three years of lots of success.
"Of course there are one or two losses that I would like to erase and not be reminded of but overall if somebody would have told us three years ago we are going to win six Grand Slams together, regain the No 1 spot in the world and just be the most dominant player, I would have signed up for that."
After winning the Australian Open for a sixth time and then claiming a first French Open this year Djokovic was on course to complete a calendar year Grand Slam - a feat last managed in 1969 by Australian great Rod Laver.
But the 29-year-old bowed out in the third round of Wimbledon to Sam Querrey, lost in the first round of the Rio Olympics to Juan Martin Del Potro and then went down to Stan Wawrinka in the U.S. Open final.
Djokovic's dip in form allowed Murray to overhaul an 8,000-point ranking lead and Becker admits the split had been coming.
"It was mutual," Becker confirmed. "A decision like this does not happen overnight. It is a progress.
"I think the last six months have been challenging on many levels. Our hands were tied a little bit because we couldn't do the work we wanted to do.
"He didn't spend as much time on the practice court in the last six months as he should have and he knows that.
"Success like this doesn't happen by pushing a button. Success like this doesn't just happen by showing up at a tournament. You have to work your bottom off because the opposition does the same."
After his surprising loss to Querrey at Wimbledon, Djokovic appeared uncharacteristically drained in his post-match press conference and Becker admits the 29-year-old was struggling to juggle the demands of his personal and professional lives.
"I don't know if he had any personal problems based on what I know," Becker said. "He is happily married. He has got a beautiful son.
"But the profession of a tennis player is probably the most selfish one in sports because it has to be about you and he is the first to say he is a family man so of course his wife and the rest of his family had to take back seats.
"That can't be forever and I think that is what he meant. I don't think there were problems. I have met his wife - she is lovely and very, very supportive of her husband.
"But they don't spend enough time together. I had it too, 20 years ago. It is just the nature of the beast, being a tennis player."
Despite Djokovic's struggles in the second half of 2016, Becker believes he remains the most talented player in the game and backed him to prove that next year.
"I am sure the fact that he lost the No 1 ranking to Andy Murray is going to hurt," Becker said.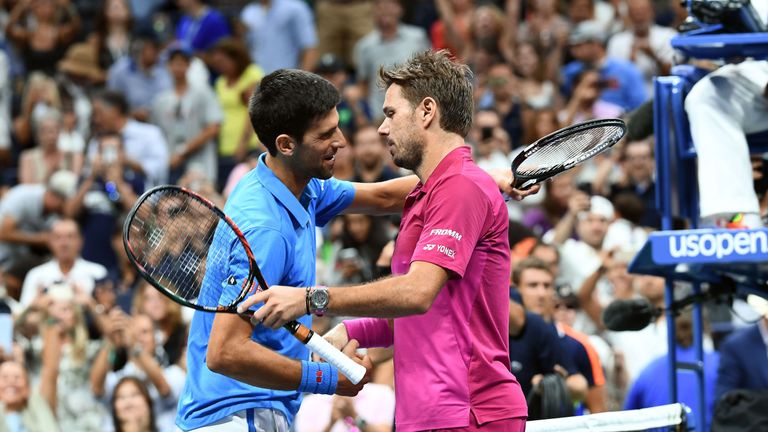 "I know the US Open loss in the final against Stan [Wawrinka] hurt. I think that is what he needed maybe in a funny way was to lose a little bit, to realise what it is like to lose, because he hasn't been losing for two and a half years.
"I'm convinced - and I am his number one fan for next year - that he will come back and regain that No 1 position and regain being the most dominant player in his sport.
"But he has got to go back to work. He has to go back to the office and practice these hours and refocus on what made him strong in the first place."
Upgrade to Sky Sports now and get six months half price.