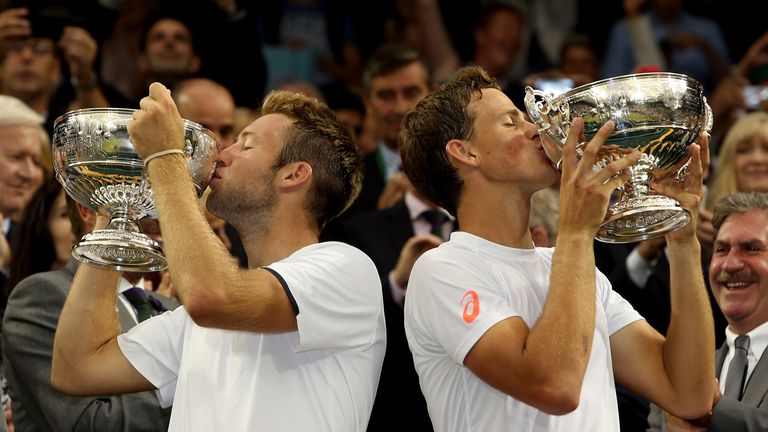 Unseeded pairing Jack Sock and Vasek Pospisil pulled off a major shock with a 7-6 (7-5) 6-7 (3-7) 6-4 3-6 7-5 victory over top seeds Bob and Mike Bryan in the Wimbledon men's doubles final.
American Sock and Canadian Pospisil, who were playing in their first tournament together as a partnership, broke the Bryan brothers' service in the final game on their fifth match point.                  
It took them three hours and six minutes, but was worth the wait. Sock, on crunching the match-winner, flopped to the grass in disbelief. The trophy, and a cheque for £325,000, was secure.
The 21-year-old from Lincoln, Nebraska, who paired up with fellow American young gun Melanie Oudin three years ago to win the US Open mixed doubles, had forged a rock-solid partnership with 23-year-old Bahamas-based Pospisil.
They had the advantage of serving first in the final set, and looked on the brink of victory in the 10th game when the Bryans, with Bob serving, fell to 15-40 on serve.
Two booming serves staved off that threat and left their supporters, who included US golf great Jack Nicklaus in the Royal Box, with renewed hope that they could land a 16th grand slam title.
Upstarts
In their next service game, the Bryans could not resist the upstarts across the net any longer. A Pospisil volley at the net pierced their defences and brought up two further championship points.
It fell to Mike Bryan to blast down two booming serves to take the game to deuce, but on the next point he planted a forehand volley into the net, opening the door for Sock to drive home the inside-out forehand winner down the line on the next point that settled the contest.
Sock said of the unforeseen success: "It was a pretty obviously surreal week and a half for us in the doubles.
"It was nice. Either way some Americans were going to win - sorry.
"To be with my second grand slam title and to do it here at Wimbledon is unbelievable."
A similarly stunned Pospisil added: "The best part of today was not having to hit anything on match point, just watch that ball go in the court.
"Seeing Jack run around that forehand and crush it down the line."
Defeat for the Bryans means that a year on from completing a Grand Slam of four consecutive majors, they no longer hold any of those trophies, having lost in the semi-finals of last year's US Open, the third round of the Australian Open in January and quarter-finals of the French Open last month.
Canada had been hoping for a singles title after a stellar Wimbledon, but Raonic fell to Roger Federer in the men's semi-finals and Bouchard suffered a heavy defeat to Petra Kvitova in the women's final.