IPTL: Britain's Andy Murray slips to 0-4 as Indian Aces and UAE Royals set the pace
Last Updated: 30/11/14 2:11pm
Andy Murray suffered two more defeats on Saturday to remain winless in the International Premier Tennis League.
The British No 1, representing the Manila Mavericks, suffered defeat in the singles by the Indian Aces' Gael Monfils before teaming up with Maria Sharapova in mixed doubles only to suffer another loss.
In what was an entertaining clash between two players in a repeat of their French Open quarter-final, this time it was the Frenchman who exacted his revenge for the five-set defeat at Roland Garros.
Murray twice led the flamboyant Monfils by a break but lost the final three games to go down 6-4.
For the second day running, Murray partnered Sharapova in the mixed only for Manila's 'dream team' to suffer a 6-1 defeat to Rohan Bopanna and Sania Mirza.
Sharapova also lost in singles - 6-3 to Ana Ivanovic - as the Mavericks suffered a heavy 24-15 defeat over the five sets (men's doubles and legends' singles being the other formats played).
The victory was the Aces' second in the competition.
Russia's Sharapova expressed mock disgust at the tournament's beeping 20-second shot-clock, part of a novel experiment designed to speed up tennis and make it more fun to watch.
"I feel like pressing 'snooze' all the time," the five-time grand slam winner told reporters afterwards.
Royals win again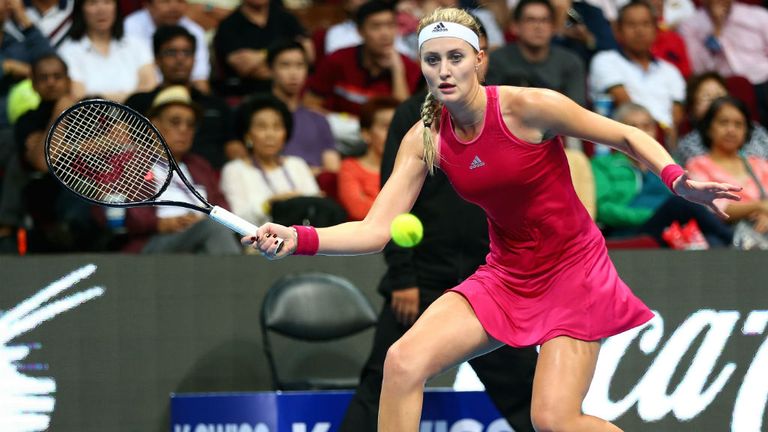 The UAE Royals also notched their second win from two matches as they beat the Singapore Slammers 28-22.
Kristina Mladenovic, who only came into the Royals' team earlier in the week when Eugenie Bouchard pulled out due to injury, was a key factor in the tie.
The 21-year-old's 6-1 victory over Daniela Hantuchova in the third set handed her side a cushion they never looked like relinquishing.
The Royals led from the off with Marin Cilic having beaten Tomas Berdych 6-4 in the opening match.
In the legends round, former Wimbledon champion Goran Ivanisevic beat double major winner Patrick Rafter 6-5.
The Aces and Royals, who sit joint top of the table on eight points, meet on Sunday, the final day of action in Manila.
In total, the teams will play 12 matches each, the competition moving onto Singapore on Tuesday before heading to Delhi and Dubai later in the month.
Serena Williams is due to make her tournament debut on Sunday for Singapore when the Slammers will take on Murray's Mavericks.