Davis Cup: Player profiles and statistics ahead of this week's Great Britain v USA tie
Last Updated: 03/03/15 7:06pm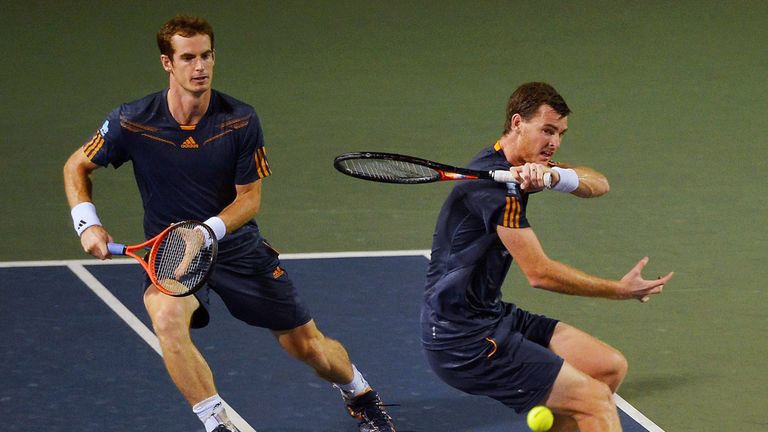 Andy Schooler profiles the players and looks at the relevant statistics ahead of this week's Great Britain v USA Davis Cup tie.
Head to head
Head-to-head: USA lead 11-8. These two sides contested the first-ever Davis Cup tie back in 1900, the US winning 3-0 on grass in Boston. Their last meeting came last year and was won 3-1 on clay in San Diego by GB, Andy Murray winning his two singles and James Ward claiming a famous victory over Sam Querrey. The USA have won both previous hardcourt ties and the only one the sides have played indoors, that being the thrilling 1999 encounter in Birmingham which they edged 3-2.
The teams - Great Britain
ANDY MURRAY
World ranking: 5
Age: 27
Davis Cup record: Singles 19-2 (7-0 hard); Doubles 4-5 (2-1 hard); Overall: 23-7 (9-1 hard)
The former Wimbledon champion lost his very first Davis Cup singles rubber back in 2005 and also the last one he played - last April against Fabio Fognini in Naples. In between he won 19 in a row, a record which befits a two-time Grand Slam champion. Admittedly many of those wins came against lowly opponents and it may well have been his 6-0 6-0 6-0 victory over Luxembourg's Laurent Bram in 2011 which helped him decide to take a break from the competition. At the time he said it was time for other British players to step up to the plate. They responded well to the challenge and after a two-year absence, Murray returned at the end of 2013 to help GB earn promotion to the World Group. Last year he was part of the team which won its first World Group tie for 28 years. This season he'll be hoping GB can launch a serious trophy bid.
Record v Isner: 3-0 (3-0 hard) - last meeting, Cincinnati 2014, 6-7 6-4 7-6
Record v Young: 3-1 (2-1 hard) - last meeting, Davis Cup 2014, 6-1, 6-2, 6-3
Season so far: Things started well enough with Murray reaching the final of the Australian Open before a mental mid-match implosion against Novak Djokovic cost him dearly. Murray has often struggled in the post-Melbourne period in years gone by and this year has been no exception, the Scot suffering shock defeats to Gilles Simon in Rotterdam and Borna Coric in Dubai since.
The schedule
Schedule: Friday – singles (2); Saturday – doubles (1); Sunday – reverse singles (2). Play starts on each day at 1300 GMT.
JAMES WARD
World ranking: 111
Age: 28
Davis Cup record: Singles 9-7 (6-5 hard); Doubles 0-0; Overall: 9-7 (6-5 hard)
Made his debut in GB's 2010 'nadir' defeat to Lithuania which would be John Lloyd's last tie as captain. Has since played in eight of the 10 ties under Leon Smith, notching crucial victories over Russia's Dmitry Tursunov in 2013 and the USA's Sam Querrey in 2014. On both occasions Ward battled back from two sets down and on both occasions the shock result helped GB claim a shock win in the tie. What Smith would give for a repeat this week in Glasgow...
Record v Isner: 0-1 (0-1 hard) - last meeting, Savannah Challenger 2009, 6-7 5-7
Record v Young: 0-1 (0-0 hard) - last meeting, Eastbourne 2014, 3-6 2-6
Season so far: Having moved to the brink of the world's top 100 - he hit a career-high of 101 in the ranking list in January - Ward has been able to focus on the main ATP World Tour, rather than the Challenger circuit, so far this year. He played in the Australian Open as of right but lost in round one. He did win a round in Zagreb and then qualified in Dubai.
JAMIE MURRAY
World ranking (doubles): 33
Age: 29
Davis Cup record: Singles 0-1 (0-1 hard); Doubles: 4-2 (3-0 hard); Overall: 4-3 (3-1 hard)
Murray has played in six previous Davis Cup ties, partnering five different players in doubles. One of those was his brother Andy, with whom he could team up again this week. The duo have only played once together in Davis Cup, that also coming in Glasgow back in 2011 against Luxembourg in what was Jamie's last tie.
Season so far: It's been a flying start to 2015 for the elder Murray brother. Playing on the doubles circuit with Australian John Peers, he has already claimed an ATP title in Brisbane, while the pair also reached the final in Rotterdam on an indoor hardcourt.
DOMINIC INGLOT
World ranking (doubles): 38
Age: 28 (turns 29 on the opening day of the tie)
Davis Cup record: Singles 0-0; Doubles 0-1 (0-0 hard); Overall: 0-1 (0-0 hard)
Inglot's only previous appearance for his country came in last year's clash with the USA in San Diego when he was paired with Colin Fleming for the doubles rubber. The duo went down in four sets to the Bryan brothers but it mattered little as, having gained a 2-0 lead on the opening day, GB clinched victory when Andy Murray won his second singles.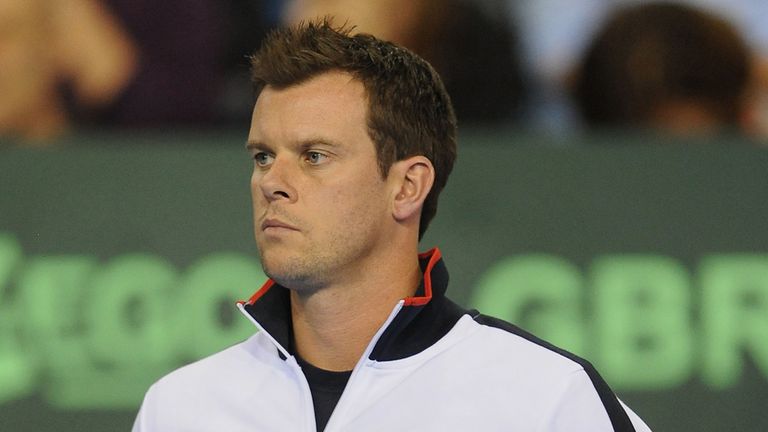 Season so far: A new partnership with Romania's Florin Mergea is going swimmingly for 'Dom The Bomb', as a win-loss record of 14-6 so far this year suggests. The duo have already reached two ATP finals - in Auckland and Montpellier. Perhaps significantly, Inglot has also claimed the scalp of the Bryan brothers twice this season, the first time at the Australian Open and the second in Dubai only last week. Will that ensure he gets the nod for the doubles clash against the Americans on Saturday?
LEON SMITH (captain)
Was seen as something of a surprise choice when appointed in 2010. This was mainly due to his lack of a high-profile playing career. Instead he has a strong background in coaching and has used that to full effect in this role so far. His first tie came against Turkey when defeat would have seen GB relegated to the bottom tier of the global competition. That was avoided and it's been virtually up and up ever since. Smith has presided over 10 ties, winning eight of them, including GB's first World Group victory in 28 years last season. That came against this week's opponents, USA.
The teams - USA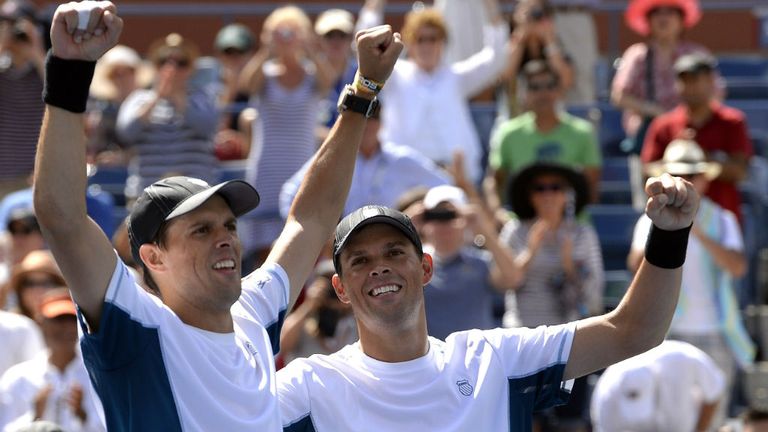 JOHN ISNER
World ranking: 20
Age: 29
Davis Cup record: Singles: 8-7 (3-2 hard); Doubles: 2-0 (0-0 hard); Overall: 10-7 (3-2 hard)
Is one of only three players to have beaten Roger Federer in a live Davis Cup singles rubber in Switzerland and Isner's 2012 victory in Fribourg remains his standout result in this competition. GB may have considered laying a claycourt for this tie were it not for Isner's prowess on that surface – his win over Federer came on it while he also pushed Novak Djokovic to five sets in a Davis Cup tie once. However, despite two battling performances, he was unable to win a rubber on the red stuff in the 2012 semi-final in Spain so has yet to play in the Davis Cup final. Missed last year's clash between these two sides which some felt proved crucial in the outcome.
Record v Murray: 0-3 (0-3 hard) - last meeting, Cincinnati 2014, 7-6 4-6 6-7
Record v Ward: 1-0 (1-0 hard) - last meeting, Savannah Challenger 2009, 7-6 7-5
Season so far: Frankly poor. Was beaten in the third round of the Australian Open by Gilles Muller before returning to the USA where his results have traditionally been significantly better than abroad. However, he suffered early exits in Memphis and Delray Beach, losing to some-time Davis Cup team-mate Sam Querrey in the former.
The venue
Venue: Emirates Arena, Glasgow Probably best known for playing host to the badminton competition at last year's Commonwealth Games. Will have a capacity of 7,100 for this week's tie. Sits opposite Celtic Park football ground in Glasgow's East End.
DONALD YOUNG
World ranking: 47
Age: 25
Davis Cup record: Singles 0-1 (0-0 hard); Doubles: 0-0; Overall: 0-1 (0-0 hard)
Young made his debut in last year's US v GB tie in San Diego in a match he would probably rather forget. He won just six games against Andy Murray. The former junior star had only come into the team at late notice after John Isner was forced to pull out of the tie.
Record v Murray: 1-3 (1-2 hard) - last meeting, Davis Cup 2014, 1-6, 2-6, 3-6
Record v Ward: 1-0 (0-0 hard) - last meeting, Eastbourne 2014, 6-3 6-2
Season so far: It's been a strong start to the year for Young, who has returned to the world's top 50 on the back of some good wins. He made the semis in Memphis and then the final in Delray Beach last month. However, an elbow problem saw him pull out of a match in Acapulco last week which could be a worry for captain Jim Courier, who surprisingly picked him ahead of the higher-ranked Sam Querrey and Steve Johnson for this tie.
The stats
Surface: Indoor hardcourt
Ball: Slazenger Wimbledon Ultra Vis Hydroguard
MIKE BRYAN
World ranking (doubles): 1=
Age: 36
Davis Cup record: Singles 0-1 (0-0 hard); Doubles: 24-4 (9-4 hard); Overall: 24-5 (9-4 hard)
No player has won as many Davis Cup doubles matches for the USA than the elder Bryan twin – he and brother Mike hold an impressive 22-4 record in the competition as a pair. However, two of those defeats have come in their last four rubbers. They did notch a win over Britons Dom Inglot and Colin Fleming in last year's meeting in San Diego though, winning in four sets. Was part of last USA team to lift the famous 'salad bowl' trophy back in 2007.
Season so far: The Bryans won the title in Delray Beach, just down the road from their Florida homes, but by their high standards it's not been a great start to 2015. With regards to this tie, they have two notable defeats on their record - losing to Briton Dom Inglot and his partner Florin Mergea at both the Australian Open and last week's tournament in Dubai.
BOB BRYAN
World ranking (doubles): 1=
Age: 36
Davis Cup record: Singles: 4-2 (1-2 hard); Doubles: 23-4 (9-4 hard); Overall: 27-6 (10-6 hard)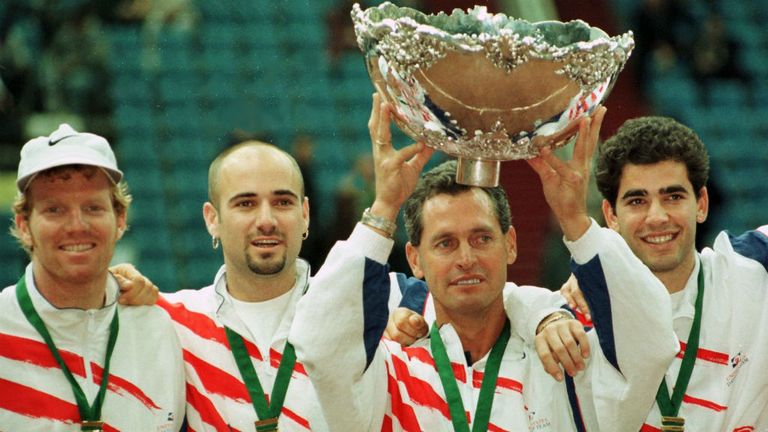 Bob's record in the competition varies little from brother Mike's (see above), although he has played a few more singles rubbers. None of those has been live though, showing how the USA's Davis Cup team strategy for many years has been to pick a specialist doubles pair plus two singles players. What happens in the case of an injury remains largely untested.
Season so far: See above
JIM COURIER (captain)
About to begin his fifth season in the job, Courier's record, in terms of results, has been modest. USA have reached just one semi-final during his reign (losing in Spain in 2012) and last year were beaten in round one by Great Britain after which Courier took plenty of flak over the Americans' choice of a claycourt for the tie. In terms of how he got into the role, Courier should need no introduction. He is a former world number one who won four Grand Slam titles during his playing career. He was also a two-time winner of the Davis Cup and actually clinched the winning point in the 1992 final against Switzerland.