Are Great Britain about to end a 79-year Davis Cup wait?
By Sky News' Jacquie Beltrao in Ghent
Last Updated: 28/11/15 4:07pm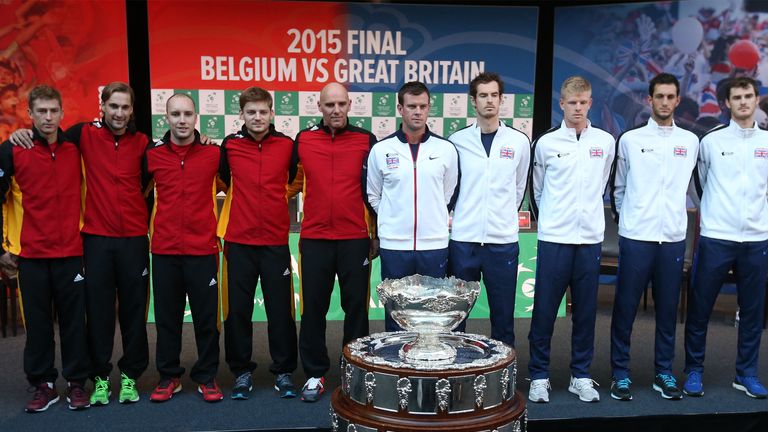 Sky News 'Jacquie Beltrao brings us the background to Great Britain's bid to make Davis Cup history in Ghent this weekend...
It's been a while since Great Britain last lifted the Davis Cup. Back then, the average house price was £550, a pint of milk cost 2p, 'The Charge Of The Light Brigade' was packing out the picture houses and Fred Perry was the star of British tennis.
Yes, 79 years is a long time - but that could all change this weekend. As unlikely as it seemed five years ago. when GB's Davis Cup credentials were at an all-time low, Great Britain find themselves in the final against Belgium in Ghent and their chances of winning it appear pretty good, thanks to the Murray factor.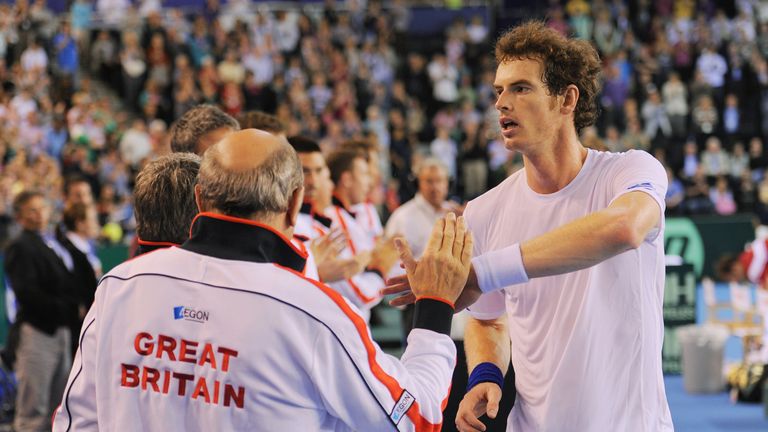 Andy Murray has been on a mission to win the Davis Cup and make a bit more history. Throwing himself 100% into every tie, he has won eight out of the nine points Britain needed to get to this final, winning all six of his singles matches and two of the doubles with his elder brother Jamie.
He would be the first to point out that the team wouldn't even be here had it not been for James Ward's heroic win in the match against the USA in March but since then, it's been a Murray mission.
With two players from each team playing two singles matches each over three days, it has been the doubles that has been crucial in Britain's success so far. The Murray brothers teamed up for the wins over France in the quarter-finals and again in the semi-final win over Australia. Jamie says: "When I look across to the side and see my brother there, I know exactly what I'm going to get."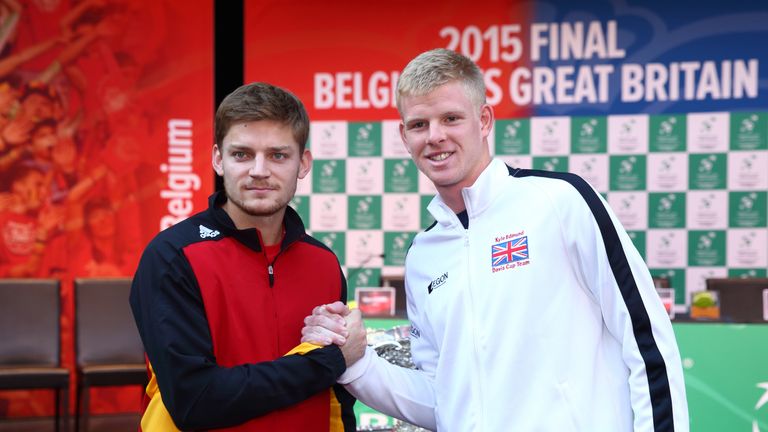 The Murray connection goes right to the top of the team, with 39-year-old Glaswegian Leon Smith, who coached both of the boys when they were 10 and 11 leading the team. He's made an excellent job of a role that had been something of a poisoned chalice until five years ago, that of Davis Cup captain. This is his 14th match in charge - he's lost only twice.
Not afraid of making tough selection decisions, he's had a really tough one to make this week. Whether to go for Ward's experience and commitment to the Davis Cup cause or take a chance on 20-year-old debutant Kyle Edmund, whose recent form on clay, the surface picked by Belgium for this final, has been excellent.
It doesn't really matter who plays at No 2 - ultimately the result will probably come down to one man's desire not to lose it. The world No 2 brushed aside the Belgian No 1 three weeks ago in Paris, for the loss of just one game. It was a message. If Andy Murray wins his two singles matches and then the doubles with his brother, it's 3-2 Great Britain, at the very least, and game over.
Never mind 'The Charge of the Light Brigade' - the charge of the Murray brigade is about to begin. Is a new bit of sporting history about to be made?