Rafa Nadal may be fit for for ATP Finals at London's O2
By Matthew Treadwell
Last Updated: 07/11/17 12:56pm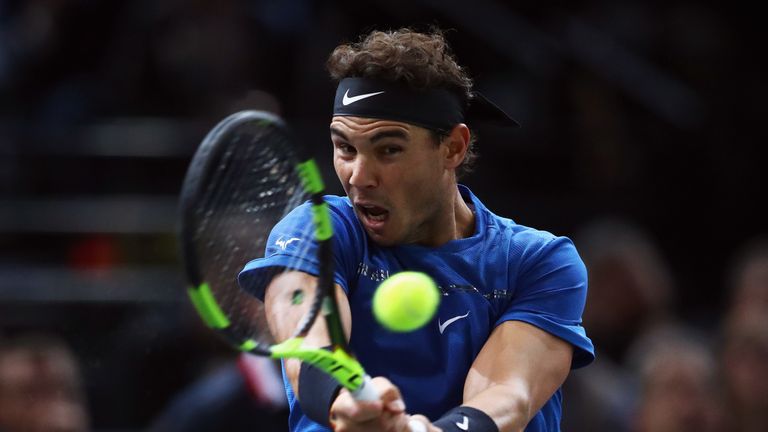 Rafael Nadal could be fit to feature at the ATP Finals after scans showed no new damage to his long-standing knee injury.
The world No 1, who earlier this week sealed his place at the top of the year-end rankings, was forced to withdraw from the Paris Masters on Friday with a recurring problem in his right knee.
That appeared to place doubt on his ability to compete at the end-of-season showpiece at London's O2 Arena, with Nadal having previously decided not to play in the tournament in Basel.
But the Spaniard's doctor Angel Ruiz Cotorro says the tendon injury has not become worse, meaning Nadal could be fit for the event which gets underway on November 12, live on Sky Sports.
"It is not a new injury or an injury that has worsened," Cotorro said in Spanish newspaper El Espanol. "It's not a different situation than when we came from the Asian tour.
"All the images of the tests tell us that it is a bit the same, that the tendon is suffering.
"It's a tough year, a season with many games. The tendon is suffering, but the images do not show us anything different either.
"The first thing was to stop and assess how the knee was, if something new had happened.
"Now we know that there is nothing different, which is a situation that had been dragging on for some time.
"The problem of tendons in different situations may bother more or less, but we will try to be good to play in London.
"If he is well, he will play, and if he is not well, he will give up playing. You have to see how it evolves these days."
Andy Murray, Novak Djokovic, Stan Wawrinka, Kei Nishikori and Milos Raonic all played in the tournament in 2016 but have already been ruled out through injury this year.
Roger Federer sat out the Paris Masters in order to protect a back problem that has also caused him issues but he will be present at the Tour Finals.
Sky Sports will have all the action from the Next Gen ATP Finals in Milan from 7-11 November.
The season-ending extravaganza ATP Finals at London's O2 in November ends another memorable year which will be covered via our website www.skysports.com/tennis with live blogs and updates as the season reaches its climax.
On the move? Head to our app for mobile devices and iPad, or follow our Twitter account @SkySportsTennis to join in the conversation. Who will win the World Tour Finals this year? Have your say...