Sky Scholar mentor Adam Smith visits tennis star Daniel Altmaier
By Mark Ashenden
Last Updated: 14/03/18 12:30pm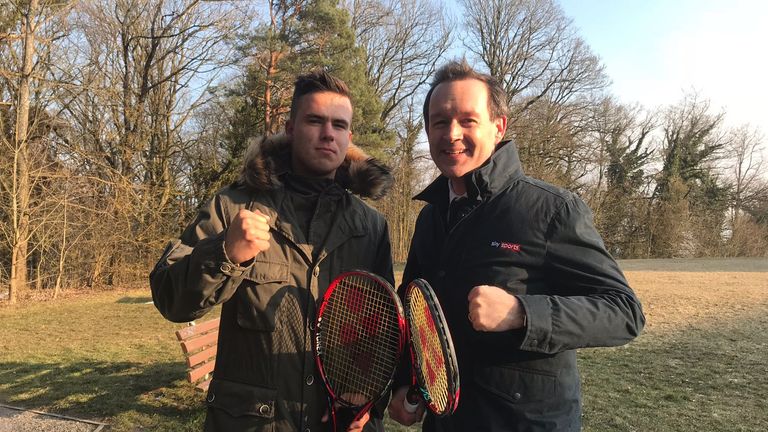 Daniel Altmaier is a rising tennis star from Germany and his Sky Sports Scholar mentor is Adam Smith.
The Head of Sky Boxing reveals all about his recent visit to see Daniel.....
---
I love this Scholarship programme! I still enjoy regular contact with my former boxing Scholar Savannah Marshall and I've even been spying on potential World class opposition for her in Brooklyn.
Based on what Johnny Nelson and I saw there, Savannah can replicate her amateur form and should become a world champion.
Last year I was given a talented new mentee - one spotted by our Sky Germany friends - tennis player Daniel Altmaier. I liked him the moment I met him and we have quickly forged a strong partnership.
I recently ventured out to the beautiful Bavarian city of Regensburg, high in the mountains above Munich - an area most famous for the stunning Walhalla on the Danube.
Tucked away, almost in a champion fighter's type retreat, lies the incredible Eden Reha rehabilitation centre. Daniel's been recovering there from a slight injury - working tirelessly on his abs/hip and aiming to be fully fit again.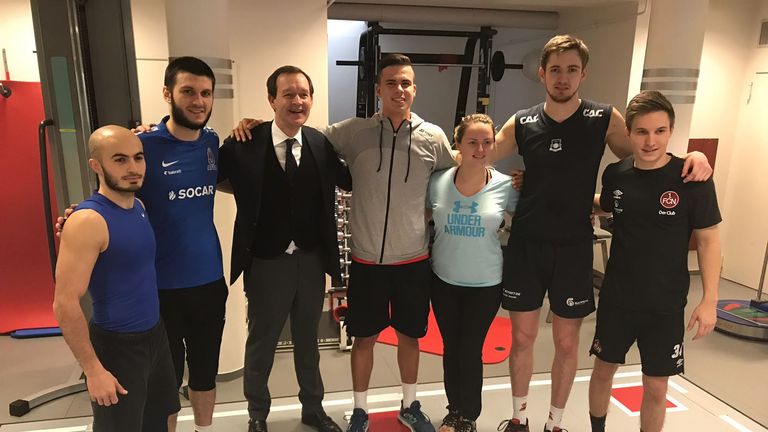 Daniel undertakes rehab and fitness under the superb Klaus Eder. Klaus has helped guide the German football team to World and European glory, as well as Olympic and Davis Cup teams. He's the best in the business.
At Eden Reha, you'll find some of the world's leading doctors, physios and conditioners, expertly assisting some of the finest athletes and sportsmen and women; from boxers to footballers to runners to tennis players.
After a terrific start to the year, when Daniel made it to the final of the prestigious Burnie Challenger in Australia, sharp pain in his abs, especially when he served, meant quality time was vital at Eden Reha.
It allowed us a real chance to catch up. There is a tight bond already. Ever since we met, my love of tennis and his love of boxing meshes. His father Jurij was an excellent amateur fighter from Ukraine. We text daily and I love his attitude - he's so ambitious, so dedicated and he really wants to learn.
With a very tight and select team around him, I am providing that escapism from the court - but also guidance on the business and Scholarship side.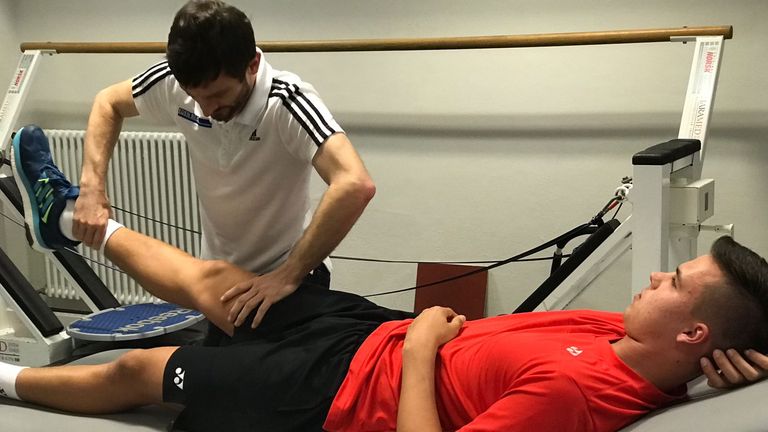 He is delighted to be on the programme and he needs to really make the most of that. He will. Life is tough on the tennis circuit with the constant travelling, maze of ATP, Challenger and Futures tournaments and of course huge sacrifices. Sky are also backing him and putting our trust into his hands - it is an important two-way partnership.
Daniel and I had quality time planning the year ahead. We talked family, sport, business - so much. I watch loads of tennis and play very averagely. Like Carl Froch! Even though we are armed with a couple of Andy Murray's old rackets. All the gear - no idea!
Still, Daniel is a huge support to me when I venture onto the court for my latest League 5 match at the Ealing Tennis Club. Well, it means a lot to me! And also now him!
Daniel is very astute and bright, and his attitude is particularly mature for his 19 years. I am convinced that is because of his tight family structure and support. They are there for him always - but they let the tennis experts do their work and don't get overly involved. I have studied and written on boxing families and think it's vital for sportsmen and women to have their loved ones near, but not suffocatingly near.
The day I was there was his father's birthday. He wanted to be with him but the distance made it impossible.
Daniel told me: "It gives me most pleasure being able to do things for my parents, because they have given me such a chance. A little present, a holiday for them - just to see the look on their faces. They have never expected anything, always worked so hard and I love them so much for that."
Daniel wants to win a Grand Slam. He says he watches other players spending time on their phone and gadgets, clocking this and believing that he is one step ahead both mentally and physically. There is an utter sense of dedication.
What about his ability? It is ferociously tough as a professional tennis player to fight and jostle their way anywhere near to the highest echelons of the sport.
Naturally gifted yes, but Daniel also possesses the type of aggressive game where he fears no one.
He has played with Stan Wawrinka and as much as he looks up to the likes of Stan and Roger Federer, he truly believes on his day he can beat them. That's the attitude. With a booming serve, and fantastic ground strokes - especially on hard court, Daniel is poised to strike in the next two years.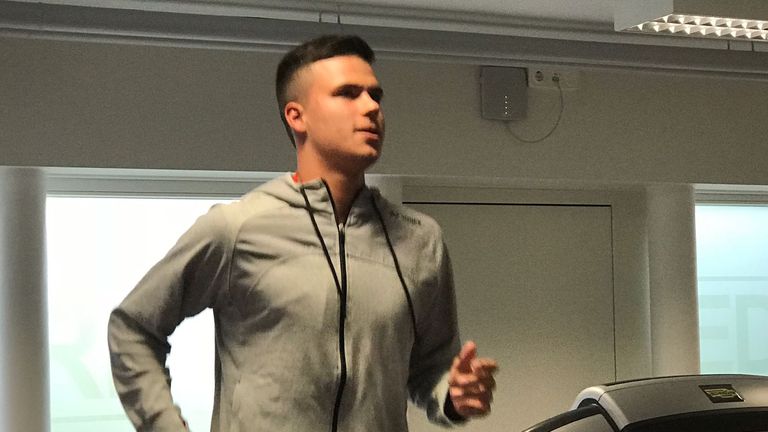 Rising to 256 in the world after Burnie is impressive but he insists rankings are not everything. He is concentrating on becoming 100 per cent fit and firing in 2018. Then he feels success will really come.
Daniel feels a new tennis horizon is fast approaching. Life will soon be very different after the big four go, and standing as one of the world's top five or six 19-year-olds means the timing might just be perfect.
He sizes up the next generation, the likes of Denis Shapovalov (who he really rates), Andrey Rublev and Daniil Medvedev - and yes he fancies his chances. No fear here.
Daniel is smart - he looks at other sports stars like Anthony Joshua to see how they have created their teams, moved forwards and generated business ideas for the crunch time of life after. He always talks about his family - immensely proud of his 14-year-old sister Evelyn who also looks handy on court. When he gets that tiny bit of downtime, he loves nothing more than fishing - there's the calm away from the tennis storm.
I hope I can provide him with that similar outlet, a real support alongside his specialist coaches - led by head trainer Markus Hornig (who used to guide Wimbledon champion Michael Stich and returned to tennis when he saw Daniel) - to help drive, motivate and push on. Passion is the one thing I have in bucket loads and I will do everything I can to help.
Daniel is excited about working with my friend and communications coach Hugo Simpson, he wants to better himself all round as he grows. With fluent English, Russian (his mum Galina is a piano teacher from Russia) and some French - alongside his German tongue, Daniel is a modern and cosmopolitan sportsman. Think the Klitschkos.
I will try to help give him some of the answers on the TV and business front alongside my esteemed colleagues at Sky. He will provide for me another younger brother type relationship - and I am fully dedicated to helping him not only achieve his dreams but more importantly become the superb adult I believe he can.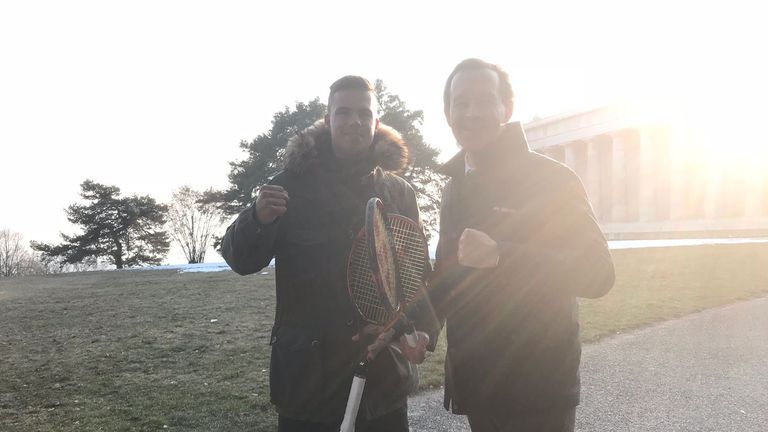 Daniel listens - he's been spotted by Boris Becker, supported by Guy Forget and you get the sense he banks every bit of advice. He shares the same agent at Starwing Sports, Lawrence Frankopan as Gael Monfils and Stan Wawrinka.
He's hoping that one day we won't still be talking about Stan The Man; but maybe Dan The Man!
I think Daniel Altmaier is a very special young man. What made me most pleased about our trip is that the Sky Germany TV crew who met him for the first time did as well.
"He will go a long way," they told me on the way back to Munich.
I think he will too. He calls me 'The Chief' or 'The Boss'! But he's the real boss.
He knows exactly what he wants and has a relentless drive I only see from the very best in my boxing world. Can he become chief of tennis one day?
Let's do this partner. Let's take the tennis world by storm. Me in the Ealing Tennis League 5, you at Wimbledon.
I believe in you - Dan The New Man.