Wimbledon 2018: How Rafael Nadal has returned to the semi-finals
Nadal plays Novak Djokovic in semi-finals on Friday
By James Walker-Roberts
Last Updated: 12/07/18 12:28pm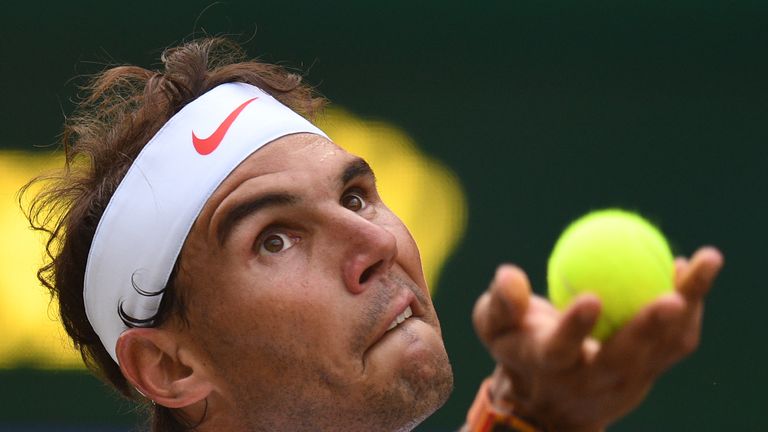 Rafael Nadal is into the Wimbledon semi-finals for the first time since 2011 after a five-set victory over Juan Martin del Potro on Wednesday. James Walker-Roberts looks at how he has rediscovered his best form on the grass again...
Final. Final. Winner. Winner. Final.
Second round. First round. Fourth round. Second round. Fourth round.
Rafael Nadal's record at Wimbledon over the last decade reads like a once-great player who has lost his mojo. At least on grass.
Blasted out by Lukas Rosol in 2012, upset by Dustin Brown in 2015 and outlasted by Gilles Muller in 2017, the odds were starting to grow longer that Nadal would ever win a third title at the All England Club.
It was even suggested that perhaps he might follow Roger Federer's clay-court approach over the last two years and skip the entire grass-court season.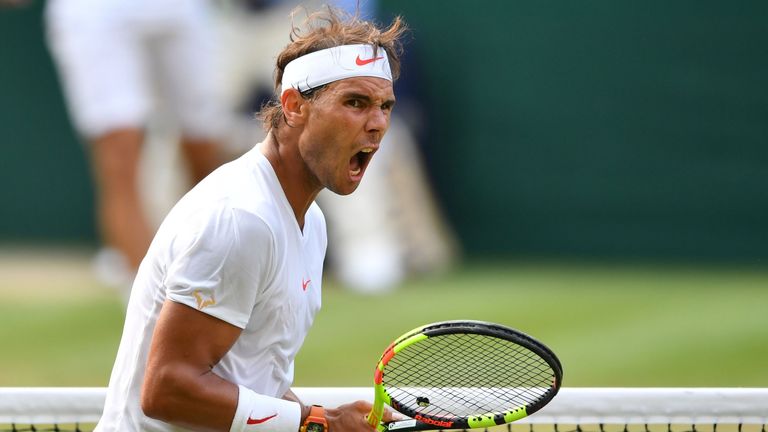 That he didn't choose to do that looks now to be a wise move.
Not only is Nadal into the semi-finals of Wimbledon for the first time since 2011, but he is playing some of his best grass-court tennis in a while. He is serving well, hitting his powerful groundstrokes well, returning well, and winning points at the net.
He also showed intensity and resilience to come through a thrilling five-set match against Juan Martin del Potro in the quarter-finals. Del Potro hit 77 winners, including 33 aces, but Nadal withstood the barrage and won in a near-five-hour contest to set up a meeting with Novak Djokovic on Friday.
Nadal's coach, Francisco Roig, says he is not necessarily playing "better" than last year, but instead he is more "well-rounded".
Compared to years ago, a younger Rafa was brutally fast with awesome mobility, but the 2018 version of Rafa is a more well-rounded player
Nadal's coach Francisco Roig
"It's not fair to say he's better this year at Wimbledon than he was in 2017," Roig told the ATP website after Nadal's fourth-round win over Jiri Vesely.
"It's a different version of himself, equipped with different tools. We've been watching a lot of video, obviously. Compared to years ago, a younger Rafa was brutally fast with awesome mobility, but the 2018 version of Rafa is a more well-rounded player."
Alex de Minaur painted a picture of what it's like to play this "version" of Nadal after losing to him in the third round.
"It's just incredible his physicality. That's probably what shocked me the most," he said.
"Obviously you watch him on TV, and you can't really appreciate how hard he hits every single ball and how much intensity and just brute force goes into every one of his ground strokes."
There had been questions about whether Nadal could compete at this level at Wimbledon this year - or maybe ever again.
After winning an 11th French Open title in early June, the 32-year-old spoke about a "long and mentally tough clay-court season" and how he would have to think about the "drastic change from clay to grass". He eventually made the decision to pull out of Queen's, saying he needed to "listen to what my body is telling me", and decided that a couple of exhibition matches at Hurlingham would be enough preparation for Wimbledon.
He appears to have got it spot on.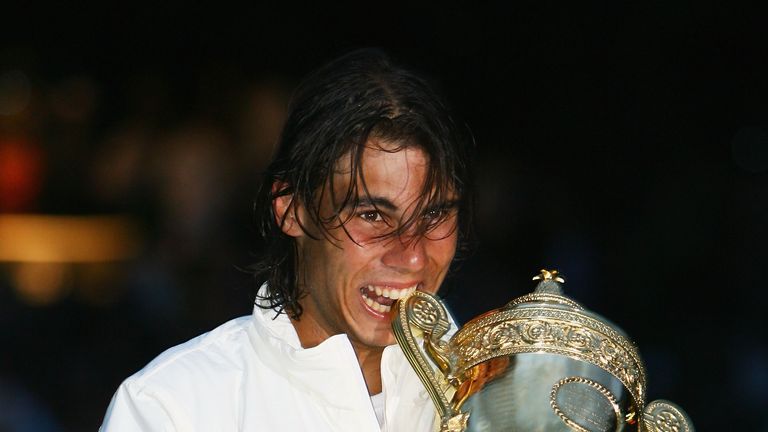 And then there has been the weather. While Nadal has somewhat played down the impact of the constant sun in hardening the courts - "if I play bad, it doesn't matter if it's warm or cold or rain or sun" - other players have said the balls are bouncing higher.
Two-time Wimbledon champion Andy Murray says the court conditions are "perfect" for Nadal.
"The conditions are perfect for Rafa Nadal right now in terms of a grass court," he told the BBC. "Because of the heat he gets more movement with his serve as well. With his knees, with the ball bouncing up higher, it is good for him too."
Not only are the conditions seemingly favourable, but Nadal is playing at a level that he has not regularly reached at Wimbledon in recent years. His coach, Roig, said after his win over Vesely that Nadal is playing "top-level tennis and looks in fine form".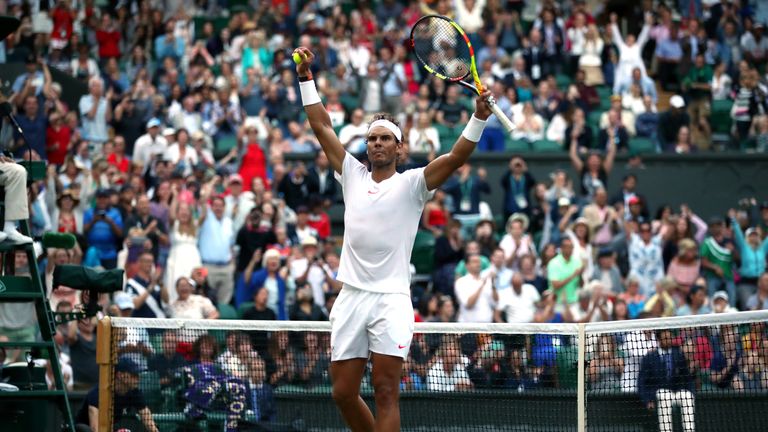 That has been emphasised by his number of winners - over 30 in three of his first four matches and 66 against Del Potro - his strong serving and his net play - until the quarter-finals he had won 84 per cent of net points, the highest in the field.
But how does he rate his level, having reached the semi-finals for the first time since 2011?
"For me the feeling is that there is two or three years that I really played bad. That was '12, '13 and '15. The rest I have been there competitive. And sometimes you win, sometimes you lose," he said after his fourth-round win over Vesely.
"It is true that the opponents probably played some good matches, but what happened is that I was not playing the right way. We can find reasons, knees, everything, true.
"It was more about I was not able to compete at the best level than the opponents that played very well. Of course, they played well, and they deserved the victory. If I am playing well, then the opponents have less chance to play that well and beat me."
Is Nadal playing well enough to win Wimbledon for a third time? It certainly looks that way.
We have Wimbledon covered from all angles via our website skysports.com/tennis then click through to our dedicated section skysports.com/tennis/wimbledon. On the move? Head to our app for mobile devices and iPad, or follow our Twitter account @SkySportsTennis to join in the conversation.
Our next tennis action comes from the German Open in Hamburg. Watch the action live on Sky Sports Arena from Monday, July 23 from 10am.
Never miss the big kick-off or have to deal with interrupted games or low-quality streams with a NOW TV Sky Sports Pass this summer. You'll get exclusive coverage of the 147th Open from Carnoustie, The Ryder Cup, ATP Tour, World Darts Matchplay, and loads more starting from just £7.99. No contract.