ATP Finals: Does Alexander Zverev win over Novak Djokovic signal a changing of the guard?
Zverev defeated Roger Federer and Djokovic in back-to-back matches to land a landmark success in his burgeoning career
By Mathieu Wood
Last Updated: 19/11/18 5:55pm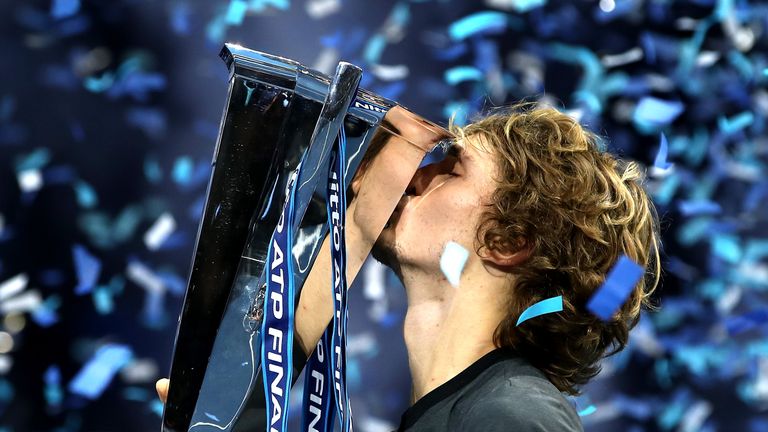 We look back at the major talking points from the ATP Finals after Alexander Zverev defeated Novak Djokovic in Sunday's final to win the biggest title of his career.
Zverev handed world No 1 Djokovic only his third defeat since the start of Wimbledon with a fearless performance which belied his relative inexperience.
The 21-year-old German, who becomes the youngest winner of the tournament since Djokovic in 2008, finishes the season as world No 4 after picking up his fourth title of another consistent campaign.
Here's three talking points from the 10th edition of the prestigious season finale at the O2 Arena in London as tennis looks ahead to 2019…
Sascha soars to stun Djokovic
Djokovic looked somewhat taken aback during Sunday's final at the consistency and sheer relentless power from Zverev. Such an opinion was only confirmed during the presentation ceremony when the Serb said: "You definitely played much better than you had in the group stage."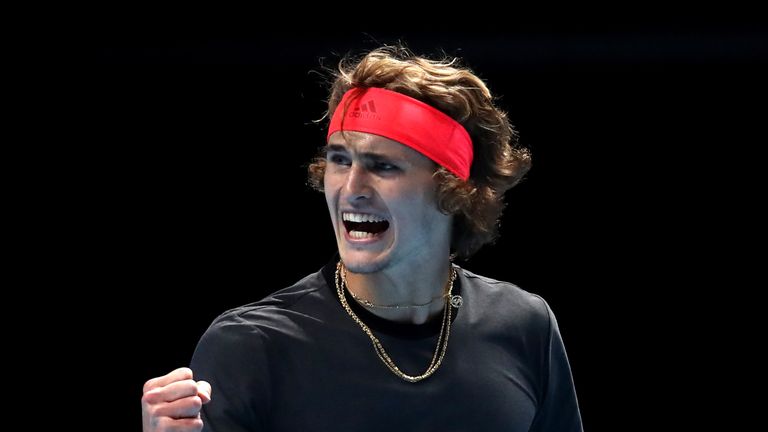 The comment was met by a smile from the German, who himself must have been impressed by his display. The crowd inside the O2 had certainly been left stunned.
Just four days earlier and Djokovic had won 6-4 6-1 in the group stage. Even after Zverev had delayed Roger Federer's hopes of a 100th title with an absorbing semi-final victory, there was a wide-held belief he would still not have enough to prevent Djokovic winning a record-equalling sixth ATP Finals crown.
Did you know...
Alexander Zverev is the first player to beat both Novak Djokovic and Roger Federer in the same ATP Finals.
21-year-old is also the first player to beat the top two seeds in the semi-finals and final since Andre Agassi in 1990.
How he proved us all wrong. The numbers speak for themselves. 10 aces, four breaks of Djokovic's serve, which up to then had been impenetrable all week, and 23 winners, 16 more than Djokovic. This was a resounding victory.
Zverev has been among the elite of the sport for the last two years but despite performing consistently well on tour, notably already winning three Masters 1000 title, he only reached a Grand Slam quarter-final for the first time at this year's French Open.
It remains to be seen what impact this title will have on Zverev, who criticised the length of the season earlier in the event, but the manner of his victory and against such opposition suggest the lofty expectations he has drawn are not misplaced.
Spectacular performance from Sacha Zverev tonight beating Novak. He was just too good. He beat Federer and Djokovic back to back at Atp finals. Don't believe this has ever happened at this event before. Finally young guns stepping up. 2019 looks very exciting for men's tennis!

— Greg Rusedski (@GregRusedski1) November 18, 2018
Zverev credits dad; Lendl factor
A day on from being met by boos from the O2 crowd as he gave his on-court interview after victory against Federer and this time Zverev had the full backing of the public as he reacted to his win.
The 21-year-old looked desolate despite having defeated one of the all-time greats of the game for merely halting a point mid-rally, after seeing a ball boy drop accidentally drop a ball at the back of the court. Quite simply he had done nothing wrong but it led to his victory being unfairly overshadowed.
His initial reception, before Annabel Croft intervened to call for greater respect, was all too similar to how Noami Osaka's joy of winning the US Open - her first Grand Slam title - had been snatched away by the hostile reaction at Flushing Meadows.
Zverev revealed after the final the role Ivan Lendl had played in assuring the German should not be discouraged by events, and the Zverev also praised the former world No 1 for helping him to employ a more aggressive approach.
But there was particular mention for his dad, Alexander Senior: "Everything I do on the court is thanks to my dad because he's been there for the past 21 years. That's how it is. He built my foundation. He built the person that I am."
Zverev appears to have found the perfect complement within his backroom team. There is great interest to what he can continue to achieve going forward after Djokovic said he saw similarities in the progress of the German's career with his own.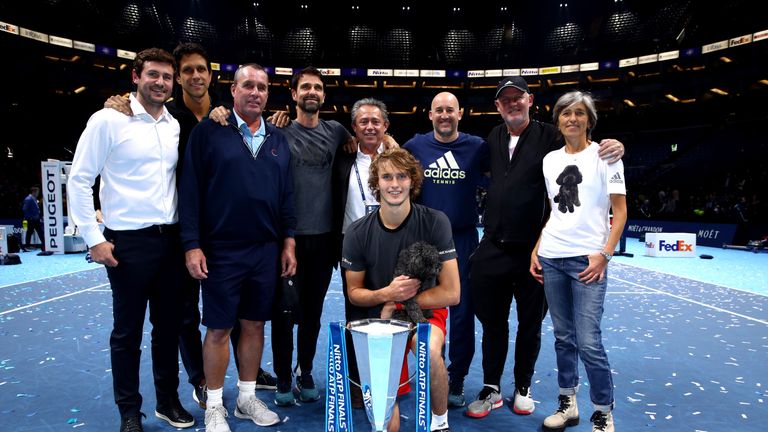 Changing of the guard?
What impact does Zverev's title have within the upper echelons of the game? Aside from Zverev's winning performance, many of the matches during the week had been underwhelming with only one match from 15 going to three sets.
'Next Gen' in world's top 20 (all 23 or under)
Alexander Zverev - world No 4
Karen Khachanov - world No 11
Borna Coric - world No 12
Kyle Edmund - world No 14
Stefanos Tstsipas - world No 15
Daniil Medvedev - world No 16
But Zverev's victory against Djokovic saw him follow Stefanos Tsitsipas and Karen Khachanov as the only players to have beaten the 31-year-old since July. All three are aged 22 or under and ranked inside the world's top 15.
So are we seeing the so-called next generation bridge the gap to the 'golden generation'? Zverev was cautious to look too far forward but said he hoped to see his fellow rising stars compete for the biggest titles.
Significantly Khachanov and Borna Coric, who have notched notable victories against Djokovic and Federer over the past six weeks, were the two alternates for the eight-player field at the season finale.
But the fact remains the older guard of the game have held a stranglehold over the Grand Slams for nearly a decade. Juan Martin del Potro's 2009 US Open title as a 20-year-old remains the anomaly.
With the Australian Open less than two months away there is great intrigue over how next season will begin and play out and whether Djokovic, Federer and Rafael Nadal will continue to share the major titles.
We have every major tennis event covered from all angles via our website skysports.com/tennis. On the move? Head to our app for mobile devices and iPad, or follow our Twitter account @SkySportsTennis to join in the conversation.