Nadal ready for action
Rafael Nadal says he is refreshed and ready to take on the world's best again after taking a break from competition.
Last Updated: 18/11/11 6:07pm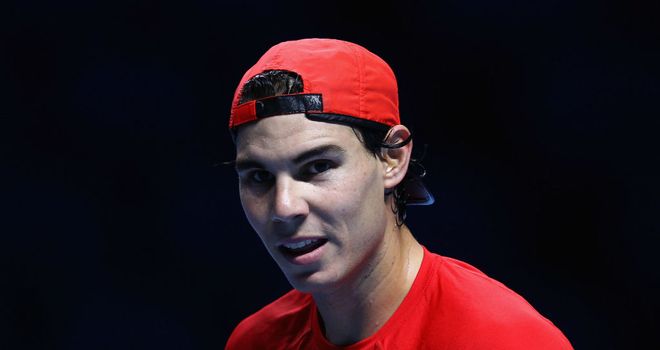 Rafael Nadal says he is refreshed and ready to face the world's best again after taking a break from competition over the past month.
In the wake of his defeat in the US Open final, the Spaniard claimed two thumping Davis Cup wins but was not able to maintain that form when the ATP Tour headed to Asia.
He reached the final in Tokyo but was crushed 6-0 by Andy Murray in the deciding set, winning only four points, before being shocked by Florian Mayer in the third round of the Shanghai Masters.
After that loss he opted to take some time off to regroup and will head into the ATP World Tour Finals in London with a positive mindset.
"I played very good matches in the Davis Cup semi-final and after that I felt I was in good form," the world number two said.
"I went to Tokyo and I played a good tournament. In the last set against Andy I played bad but he played fantastic. It was hard.
"The loss in Shanghai was difficult for me because I felt I was in a positive moment and I had an opportunity to play a good tournament and I had a bad loss against Mayer.
Hurt
"That hurt me a little bit and I felt I needed to stop, to practise a little bit and to recover physically and mentally."
Nadal has been usurped as the best player in the world by Novak Djokovic over the course of the year, losing six successive finals to the Serbian.
The Spaniard has admitted that those losses have affected him psychologically but he is also eager to stress that beating Djokovic is not in any way an obsession.
"All my life I've worked for myself, to improve myself," he said.
"It's worked well for me and I'm not working every day thinking about Novak, I'm working every day thinking what I need to do to be a better player, and that's what I need to keep doing.
"Novak had an unbelievable year. Novak is not going to be at this level all his career and other people will have chances. He's played a very high level, the highest level I have ever seen."
Nadal still has the Davis Cup final in Argentina to look forward to but insists that he is still fully focused on the event at the O2 Arena, even if it is held on his least favoured indoor hard courts.
He said: "I can be very motivated for Davis Cup and very motivated for here. To finish the season with a good feeling like I had last year is important."
Nadal has been drawn in a round-robin group containing Roger Federer, Jo-Wilfried Tsonga Mardy Fish.