Clijsters hits back to win
Kim Clijsters overcame a mid-match crisis before overcoming Ana Ivanovic 6-1 1-6 6-3 in the second round of the Brisbane International
Last Updated: 03/01/12 4:41pm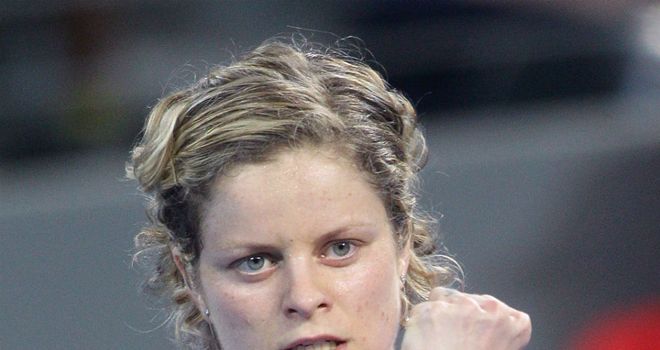 Kim Clijsters overcame a mid-match crisis before overcoming Ana Ivanovic 6-1 1-6 6-3 in the second round of the Brisbane International.
Ivanovic, the former world number one, looked on the way to causing a shock when leading 3-0 in the final set, only to collapse herself when losing the next six games.
Clijsters, preparing for the defence of her Australian Open title later this month, stormed through the first set before Ivanovic returned the favour.
Things looked to be going the way of the Serbian until Clijsters saved another break point for 4-0 in the decider, eventually holding serve before clinching a dramatic win.
Winners
"I knew that if I could just give myself the opportunity to get back into the match I had to not give her anything for free," Clijsters said.
"If I could make her go for her winners and dictate the points then maybe there was a chance...she would start to make a few more unforced errors.
"Her serve wasn't quite as good as it had been in the second set and up until the middle of the third.
"I was able to get a better look at her second serve and dictate the point from there and try and be more aggressive to her backhand."
Impressive
The second and third seeds, Germany's Andrea Petkovic and Italy's Francesca Schiavone, advanced to the quarter-finals with Petkovic particularly impressive as she battled with a back injury.
World number 10 Petkovic overcame Czech Barbora Zahlavova Strycova 7-6 6-0 and is now hoping to get some rest.
"Hopefully I'm going to have a day off tomorrow and then I can get rid of the pain because it's bothering me on the serve. I cannot really get good pop," Petkovic said.
"Right now from the baseline I feel very good. My movement is fine and my serve was fine also until this happened, so we will see what happens."
Former French Open champion Schiavone beat Kazakhstan's Galina Voskoboeva 6-4 6-4.