Rivals say Serena Williams is favourite in Turkey
Serena Williams is the player to beat at this week's season-ending WTA Championships in Turkey, her rivals admit.
Last Updated: 23/10/12 5:57pm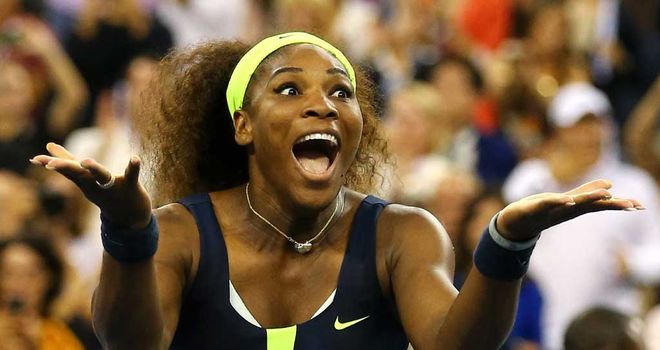 Victoria Azarenka looks favourite to end the year as world No 1 but Williams has been the dominant player for the last few months, winning Wimbledon, Olympic gold and then the US Open title.
Williams - who has not played a match since beating Azarenka in the Flushing Meadows final - is in the red round-robin group along with the Belarussian, Li Na and Angelique Kerber in the tournament which begins on Tuesday.
The other group features last year's champion Petra Kvitova, French Open champion Maria Sharapova, Roland Garros runner-up Sara Errani and Agnieszka Radwanska.
The sensible money will be on Belarusian Azarenka and Williams taking the top two spots in their group and going on to meet in next Sunday's final.
Williams and Azarenka lead the tour with six titles apiece this year but Williams has lost only four matches in 2012 and only one since the French Open.
Radwanska, runner-up at Wimbledon, said: "I think Serena is for sure this summer the best player in the world, winning two Grand Slams and the Olympics in between.
World No 7 Na admitted: "I always say, if she is 100 per cent on court, nobody can beat her."
French Open champion Sharapova, thrashed by Williams in the Olympic final, also pointed to the American as the year's outstanding player, whatever happens this week.
"Definitely winning two majors and the Olympics, for sure," said the Russian, who could snatch the No 1 ranking if she wins the tournament and Azarenka fails to win two matches.
Williams herself is just happy to be injury-free at this time of year - it is the first time since 2009 that she has competed in the season's finale.
"I don't really care who I play or when I play, as long as I can play," said Williams. "I'm really happy to be here. I'm in the red group with Victoria, so it'll be good."