Wimbledon: Juan Martin Del Potro plays down knee injury ahead of Novak Djokovic clash
Juan Martin Del Potro has quashed suggestions that he will not be fit for his Wimbledon semi-final with Novak Djokovic.
Last Updated: 04/07/13 4:06pm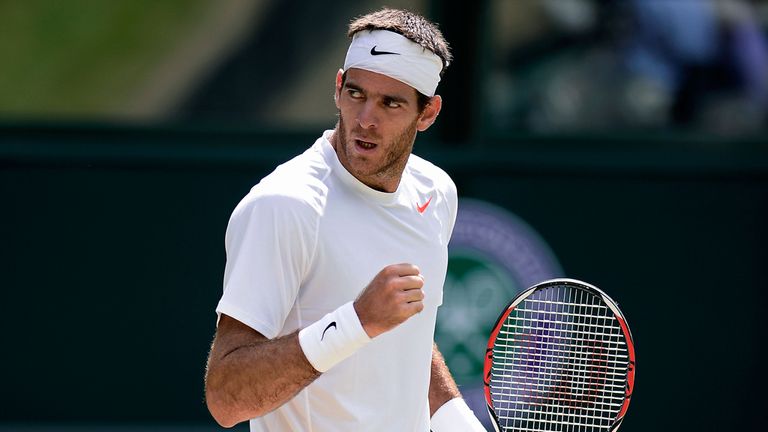 The Argentine suffered a heavy fall during the opening game of his quarter-final against David Ferrer, aggravating a knee injury he suffered against Grega Zemlja last week.
Del Potro only took up 40 minutes of his allotted hour of practice on Wimbledon's Aorangi courts on Thursday, but says the problem will not prevent him from playing.
"I am okay. I think I will be better for tomorrow (Friday). I will think about the match, about Nole (Djokovic) and nothing else," he said.
Despite the early drama Del Potro's win against Ferrer ultimately proved to be surprisingly straightforward, but he knows top seed and 2011 champion Djokovic is a different proposition.
"It will be a difficult day but I will try to play better than yesterday and try to win," he added.
"Nole is world No 1. Not many can beat him and he is a big favourite for the tournament, but I will try to win."
Experience
The clash will be Djokovic's fifth Wimbledon semi-final and the world No 1 will be looking to draw on all his Centre Court experience to keep his nerve.
"I'm trying to use that experience that I had in past, especially in this tournament in 2011, to feel comfortable and calm and confident towards the end of the major tournament," he said.
"Now I'm in the semi-finals. Hopefully I can go a step further.
"I'm really going to try to step out on the court in two days and give my best to be in another final of Wimbledon. I believe I can make it."
However, Del Potro may be buoyed by the fact that he came out on top the last time the two met at the All England Club - in the bronze medal match at last year's Olympics.
Djokovic added: "He is a quality opponent. There are no real clear favourites now in the later stages of the event.
"But inspiration is out there, you know. Of course you always want to do your best in the grand slams."