Serena Williams cannot be seen as greatest ever, says Simon Veness
Is Serena Williams the greatest of all time? Not a chance, says our US-based writer Simon Veness.
Last Updated: 23/06/13 2:22pm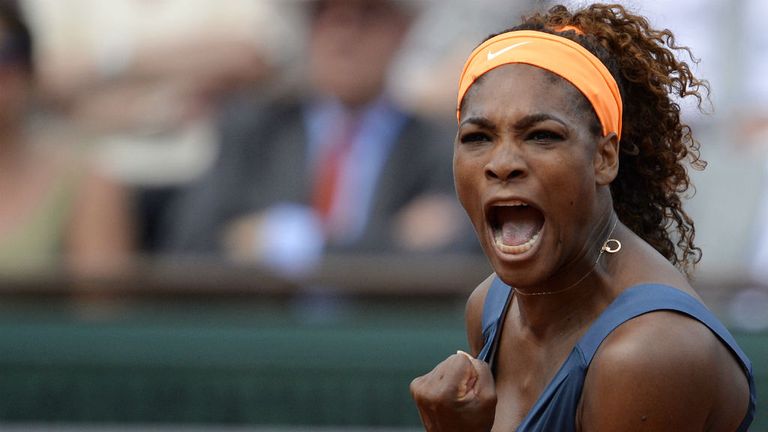 We're pretty familiar with MVP by now; we know we're in for a long ride if it's OT; things get noisy around NASCAR; and you never want to be DQ'd.
Some need a bit of explanation, like AOL (All Outta Luck), BTE (Best Tournament Ever) and BLOW (Beautiful Ladies of Wrestling, obviously). Others have even come to be re-named, hence the NFL is often referred to as the No Fun League.
But now we have the latest word in the acronym vernacular - the G.O.A.T., or Greatest of All Time. And we're increasingly seeing (or hearing) it in connection with Serena Williams.
With the world No 1 currently on an unbeaten 31-match run and a prohibitive favourite for a fourth Wimbledon crown in five years, it might seem a valid question.
Except for the mountain of evidence that positively screams: this is the lowest quality women's tennis in more than 40 years.
Let me explain.
Much is made of the fact Serena has won three of the last four Grand Slam events and, at the "ripe old age" of 31, she now has 16 major titles in an 18-year pro career. She also dominated virtually the whole of 2002-03, claiming five of the six Slams she competed in during a truly golden spell (she was absent injured for the other two).
Signs of greatness, indeed. But take a closer look at the recent run, and things look a little less than stellar. She won this year's French Open for the loss of exactly ONE set. She breezed through the first four rounds dropping only 10 GAMES, then ambled through the semi-final and final for the loss of only nine more.
Competitive? Not exactly.
Last year's US Open was just as much of a cakewalk, with her only challenge coming in the Final from Victoria Azarenka. Last year's Wimbledon? A bit tougher - three matches that required three sets, plus a battling semi-final win over Azarenka.
But it's a recurring theme in women's tennis in recent years. There is precious little challenge in the first week, and not a whole lot more in the second. The strength in depth just isn't there - witness the almost non-stop parade of No 1s not called Williams in the past 10 years: Justine Henin, Lindsay Davenport, Anastasia Myskina, Kim Clijsters, Jelena Jankovic, Caroline Wozniacki, Petra Kvitova and Azarenka.
With the exception of Henin and Clijsters, they are not exactly an all-star cast, while several are barely household names in their own houses. And that's the supposed crème de la crème.
Threat
The only real surprise is that Serena hasn't won EVERY title going, when she's been fully fit. Certainly her sister is no longer a threat. Venus hasn't been a contender, mainly for health reasons, in five years. And apart from her dominant spell of four Grand Slam wins in 2000-01, it's arguable if she has ever been a serious obstacle to her sibling's success on the biggest stages, losing an amazing six of eight major finals to Serena - including ALL FIVE in 02-03.
Then contrast that lack of competitive balance in the past decade with the 1990s, 80s or even the 70s.
Go back to the mid-1990s, as the mantle of greatness passed from Martina Navratilova to Steffi Graf and Martina Hingis and you immediately notice one thing - there were no gimmes at the top.
Navratilova was no longer a major force, even though she claimed an unprecedented ninth Wimbledon title in 1994, but Graf faced challenges from Monica Seles, Jennifer Capriati, Jana Novotna and Arantxa Sanchez-Vicario, as well as the up-and-coming Hingis. Even the likes of Mary Pierce and Conchita Martinez were a serious threat on their day.
That's eight genuine contenders at every event, year in, year out. You're lucky if you can scrape together four at any tournament in the last 10 years.
Go back to the 80s and things were even tougher. Navratilova was a true colossus of the game but she certainly didn't have things all her own way, especially in the tough French Open (which has also eluded Serena in all but two of 12 attempts).
There was still Chris Evert to deal with, the precocious Hana Mandlikova, Gabriela Sabatini, Sanchez-Vicario and the almost irresistible force of Fraulein Forehand, Steffi Graf herself, plus the teen uprising of Tracy Austin, Andrea Jaeger, Zina Garrison and Seles.
Make that 10 players with Grand Slam credentials - very possibly the toughest era of all time in women's tennis, when the last four rounds were hardly ever a walkover and almost every final was keenly contested. Contrast that with fully 10 of Serena's major finals that were a simple two-set affair, including several in which she conceded three games, total.
Then go back to the 70s and there was Margaret Court, or Evonne Cawley, or Billie Jean King, or the young Evert, or the nascent Navratilova, or even our own Virginia Wade, winner of three Slams, don't forget. Another six genuine front-line contenders, five of them also in the 'greatest ever' conversation.
You couldn't pick five players today who would give Serena even a run for her money on a grass court. It is almost a lost art in men's tennis, let alone the women's event.
And yes, Serena, DOES have an impressive haul, and over a prolonged period. Only a handful of players can match her sustained productivity, notably Court, King, Navratilova and Evert. But Serena has yet to top them for longevity.
And yes, her 16 titles are a serious number. She is behind only Navratilova (18), Evert (18) and Graf (22) for Grand Slam wins in the Open era (and behind Court and Helen Wills Moody if you look further back). But she IS behind Martina, Chris and Steffi. In pure number terms, she doesn't figure in the top three.
You could also argue that Yesterday's Heroines never sent spectators running for cover with their hands over their ears like the current crop of shrieking harpies, but that's just a personal observation.
Graceless
Just to put the tin lid on it, though, none of the above-named players not called Serena ever bullied an umpire or an opponent the way the younger Williams has done on numerous occasions.
And none of them ever conducted themselves with the kind of graceless, me-first attitude we see all too often from the current world No1 (of which her truly classless comments about a 16-year-old rape victim earlier this week are just the latest example).
The likes of King, Navratilova and Seles also encountered MUCH tougher off-court issues than Serena will ever do. They tackled them head-on, without complaint and always with the touch of elegance and finesse that true champions display.
Serena Williams, the GOAT? Only if it stands for Greatest Over-rated Attitude in Tennis. And don't let any American commentator tell you otherwise.
If she gets to 19, you MIGHT put her ahead of Evert. If she gets to 23, you MIGHT put her ahead of Graf. But she could get 30 and she would NEVER be ahead of Navratilova. There has never been a champion of such sheer, unadulterated class, determination and will to win.
And it's unlikely there ever will be.