Robson on a roll
Laura Robson is still being swept along by an Olympics whirlwind ahead of her clash with Kim Clijsters.
Last Updated: 29/08/12 7:05am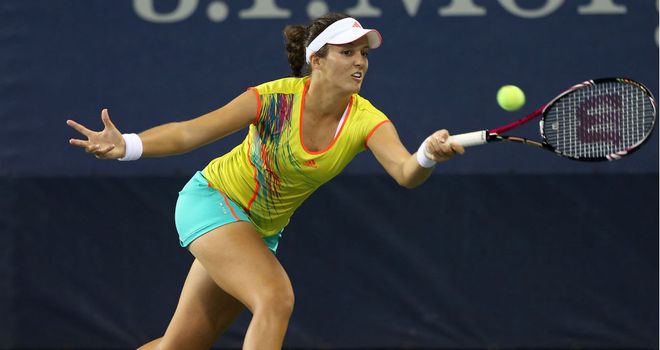 Laura Robson admits she is still being swept along by the whirlwind of the Olympics ahead of her US Open second round clash with Kim Clijsters.
The 18-year-old landed a silver medal alongside Andy Murray in the mixed doubles in London, but she has had little time to reflect on her achievement with Cincinnati, New Haven and now the US Open on her plate.
Robson had the rare advantage of being the more experienced player on court in her first-round match with 17-year-old American Samantha Crawford on Monday, battling back from a break down in the second to win in straight sets.
Contrasting circumstances await in the second round, though, with three-time Flushing Meadows winner Clijsters, who is playing her final tournament before retiring from the game, up next.
Some might be daunted by being handed the task to trying to end the career of one of the WTA Tour's most popular and successful players but for Robson it is simply a continuation of a manic summer.
Talking exclusively to skysports.com, she said: "It's gone so fast it hasn't really sunk in yet but I've just got to focus on my match here.
"It's been a pretty good year so far and I'm at a career-high ranking and I've got a lot more things to come and that I can improve on.
"Hopefully when I get home I'll have a bit of time to go to the Olympic parade and actually enjoy myself for a few days because it's been non-stop since the start of the grass-court season basically."
Strong favourite
Clijsters comes into Wednesday's third clash at the Arthur Ashe Stadium as the heavy favourite, something Robson is well aware of.
She added: "I always put a little bit of pressure on myself to do well but she's definitely the more experienced player and has won this tournament three times, so is going to really comfortable out there.
"She's going to be really pumped for it, given it is her last tournament, but I'm just going to enjoy myself out there and play the best I can."
While a silver medal at the Games represented a remarkable achievement, the teenager admits it is unlikely to help her against Clijsters.
"I sort of feel the same as I did before because mixed-doubles is extremely different to singles," she added. "So it's difficult to bring anything that I did at the Olympics on to court here."