US Open 2014: Andy Murray beaten in quarter-final battle by World No 1 Novak Djokovic
Last Updated: 05/09/14 4:22pm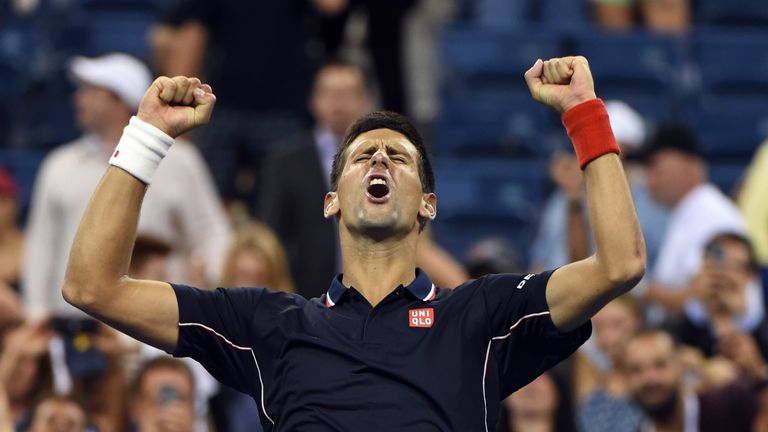 Andy Murray bowed out of the US Open after being beaten 7-6 (7-1) 6-7 (1-7) 6-2 6-4 by Novak Djokovic in a gruelling quarter-final encounter.
In a rematch of the 2012 final, Murray matched the world No 1 blow-for-blow during the opening two sets before beginning to tire in the third and fading away from there.
The British No 1 had his rival on the ropes on several occasions thanks to a venomous forehand but Djokovic withstood the assault and came on strong towards the end.
Djokovic eventually completed the win in 3 hours 32 minutes to reach the semi-final stage for the 17th time in 18 grand slams and eighth straight time at Flushing Meadows.
The contest began at 9.43pm local time in New York and the clock was well past 1am by the time it had finished.
Murray began perfectly with a break in the opening game but then dropped the next four games, only to fight back to level things up again.
Murray attempted to break again in the ninth game but Djokovic held on, winning an amazing 29-shot rally and piling the pressure on his opponent. Murray held twice to force a tie-break but made a poor start and never recovered.
Long odds
Murray had never beaten Djokovic from a set down and the Serbian had never lost a match at Flushing Meadows from a set up, so the odds on a successful Murray comeback were long.
The Brit looked in serious trouble when he dropped serve meekly in the third game of the second set but after three more service breaks the pair were level again at 4-4.
Djokovic saved a set point at 5-6 to force a second tie-break, which had exactly the same pattern and scoreline as the first but the other way around.
Murray looked to have the momentum and began the third set brilliantly as his forehand continued to prove unstoppable, but he eased off slightly in the fourth game and Djokovic took full advantage to clinch another break.
He had two chances to break back but this time his forehand just missed its target and Djokovic broke again to wrap up the set.
Djokovic saved another break point in the opening game of the fourth set, with a visibly tired Murray looking a spent force after missing that chance.
I am obviously disappointed. It is extremely late. I am tired and I don't feel particularly proud right now.
Andy Murray
He held serve relatively easily for the most part despite his back appearing to have tightened up, but came unstuck when serving to stay in the match as a string of errors gave the win to Djokovic.
Murray admitted that Djokovic's physicality had been crucial to the outcome of the match.
"I am obviously disappointed. It is extremely late. I am tired and I don't feel particularly proud right now," Murray said.
"I think there was some good tennis. I have not had time to analyse the match or think about it yet but there was some good tennis there and hopefully I can build on. I would say definitely physically he was fresher towards the end.
"I tried to hang in the best I could in the fourth set but he appeared fresher. Whether he was or not, I don't know, maybe he is better at hiding it than me but the pace on my serve slowed significantly towards the end of the third set."
Djokovic's reward is a last four clash with Kei Nishikori although the top seed was just pleased to come through the gruelling match unscathed.
"We both gave our best but at times the tennis was not that nice," admitted Djokovic.
"We made a lot of unforced errors but that's due to a very physical battle that we had in the first two-and-a-half sets. I think we played two sets for two-and-a-half hours.
"I didn't expect any less before the match against Andy as the last five times we have played we have gone over three, four hours. You kind of get used to it after a while but I am glad to get through to another semi-final.
"He has changed his game for better over the last couple of years. He worked with Ivan (Lendl) and won a couple of grand slams and an Olympic gold medal so is an established top player, somebody who has an immense quality.
"We played a five-set match here a couple of years ago so I knew it would be tough and that the more aggressive one would win it. I am glad I managed to stay fit in the end and pull it through."