US Open 2014: Marin Cilic can lead a new generation, says Greg Rusedski
A new crop of youngsters is challenging the old greats' supremacy
Last Updated: 09/09/14 4:20pm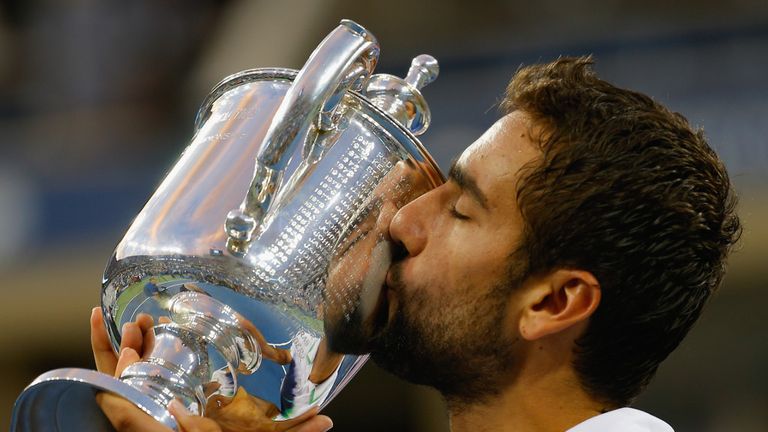 Greg Rusedski has hailed a "changing of the guard" after Marin Cilic's US Open victory over Kei Nishikori.
The men's game has been dominated by Roger Federer, Rafael Nadal, Novak Djokovic and Andy Murray in recent years with 36 of the previous 38 Grand Slam titles being one by one of the "big four" players.
However, this year's US Open showpiece was contested between Cilic and Nishikori and the surprise finalists ushered in a new era in men's tennis, according to Rusedski, which also includes rising stars Milos Raonic and Grigor Dimitrov.
It's good to see these youngsters coming up and competing with the top four we've talked about for over a decade.
Greg Rusedski
"They will have been watching, for sure," the former British number one told Sky Sports.
"If you think about it, Raonic losing in five sets to Nishikori and thinking 'he's gone all the way to the final and that could have been me out there'.
"And Grigor, he lost to an inspired Gael Monfils who pushed Federer all the way and had two match points. So these guys are knocking on the door.
"It's exciting because there's a changing of the guard going on right now and it's good to see these youngsters coming up and competing with the top four we've talked about for over a decade. There's a little shift happening and that's good for the game."
Youngsters
Rusedski also praised a new generation in the women's game including Eugenie Bouchard and Garbine Muguruza – but insisted US Open champion Serena Williams remains the best.
"I am excited. Bouchard has had a great season, we need new young faces as we've seen in the men's game coming through as well so it would be nice to see one of those youngsters like Muguruza possibly winning a Slam.
"There's a changing of the guard in the men's and the women's but still you've got the dominant force of Serena at the moment in the women's game."
The unpredictability of the US Open was gripping, Rusedski claimed, even if it may spell the end for one of the sport's greatest ever champions.
"It's been interesting, nothing has gone to plan throughout these championships apart from the women's with Serena. Novak Djokovic and Roger Federer going out in the semis – who would have picked that?
"And Nishikori in the final, and Cilic a new Grand Slam champion.
"I think [Federer] has got a chance of winning an 18th Grand Slam, he'll do everything he possibly can. But it's going to tough to drag yourself back after that. But I think he'll do well at Wimbledon and because he's still there he's always got a chance."