LTA vows to capitalise on Andy Murray's Wimbledon win this time around
By James Dale
Last Updated: 11/07/16 7:43pm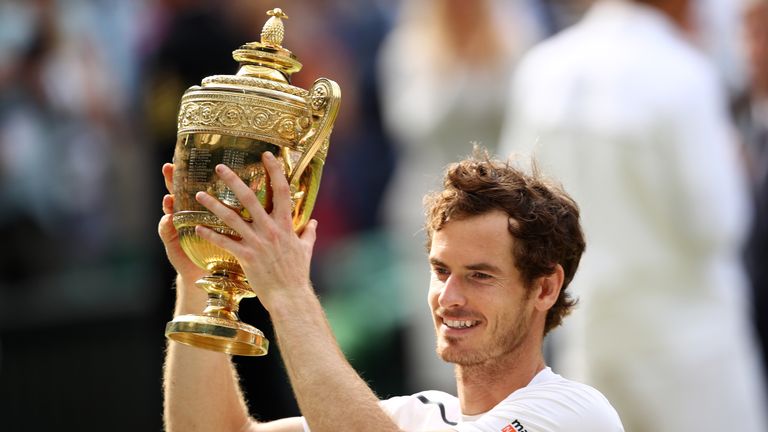 LTA chief executive Michael Downey has promised the governing body will capitalise on Andy Murray's second Wimbledon title.
Murray won his third Grand Slam title by beating Canada's Milos Raonic on Sunday in straight sets. 
The Scot claimed his first Wimbledon championship in 2013, becoming the first Briton to win the male singles title in 77 years when he beat Novak Djokovic, but the number of people playing tennis continued to decline. 
The latest Sport England figures show 819,400 people aged 14 and older are playing tennis at least once a month, down from 895,600 in October 2013. 
Downey, who took charge at the LTA in January 2014, has targeted park courts, which can be cheaper and more accessible, by working with local authorities to offer coaching programmes and improve struggling facilities. 
"There are always lessons learned and we know we can do more this time," Downey said.
"That's because our sport has been on a long-term decline and in 2013 there was a slowing of that decline. But we hadn't built enough of a provision in park courts around the country.
"I might take my kid out to play tennis because Andy won Wimbledon but if the experience isn't good, I'm not going to keep playing.
"We're now working on making sure we build a better provision in parks so that it's more than a one-off experience when someone goes out to play tennis. 
"This weekend is another Great British Tennis weekend, we have 20,000 people booked in for a free session and we expect more to come now because Andy won Wimbledon." 
Murray ditched the LTA to train in Spain as a teenager and last year criticised the organisation following Britain's sensational Davis Cup win, but Downey insisted Murray's on-court performances will continue to help drive participants.
"If Andy continues to do what he's doing, he will keep inspiring a nation," Downey said. "Our role is to capture that inspiration."