Alfie Hewett into Wimbledon semi-final after 7-6 6-4 win over Stephane Houdet
By Gemma-Louise Stevenson
Last Updated: 13/07/18 10:06am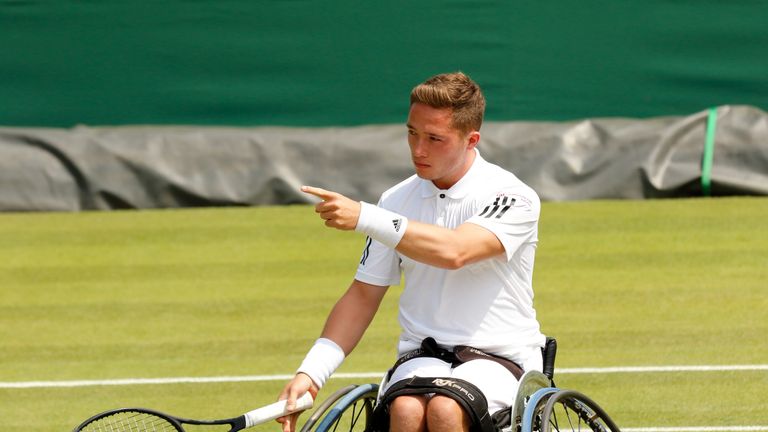 Britain's Alfie Hewett made it to his second Wimbledon semi-final in as many years with an impressive straight sets win over Stephane Houdet.
He put in a skilful performance to secure only his third career victory over the world No 4 from France, claiming a 7-6 6-4 success that sees him into the final four and a date with Stefan Olsson the defending champion.
The man who has dominated the Slams this year, Shingo Kunieda, is out of the competition after losing a three-set thriller to Argentina'a Gustavo Fernandez.

"I'm feeling great," Hewett told Sky Sports.
"I've been looking forward to coming back to Wimbledon for a while now, there's been a lot of build up and so to finally get out there and get a win, it's a relief."

Here are five things we noticed about Hewett's game that could help him for his semi-final...
Reaping the rewards
This season, the players have been given a number of chances to perfect their grass-court game ahead of the Championships.

Hewett has taken every opportunity given to him and the progress he has made as a result was on full display.

"It's probably the longest I've been on the grass preparation wise," Hewett said. "In the past I've only had maybe a week, max a week and a half and this year we've had exhibitions at Queen's, Eastbourne and Surbiton before this."
Playing the big points well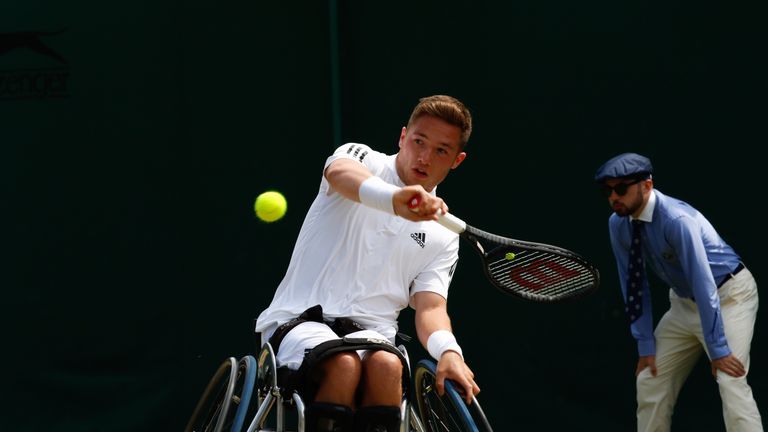 When Hewett met Houdet at Surbiton last week the match played out very much the same as their quarter-final at Wimbledon, but the outcome was different, coming down to just a few crucial points and Thursday was no different.

Hewett had the edge because he took advantage of any opportunities to break away when they were offered and never gave up on important points

"There were a lot of tight games and close close points that if Stephane had won them the match would have gone completely the other way," Hewett said.
"There were things I need to work on ahead of the semi-finals like I wasn't happy with my serve, which in the warm-up tournaments has been working well for me as I've been able to back up an ace with a stronger point afterwards, but today that didn't happen.

"It was easy at times for me to get frustrated on serve and there were lot of my service games where I was behind to love 15, 30 even 40 but I was actually able to stick it out and get the hold and I think that shows a lot of character."
Putting in the work
Hewett was ready for Houdet when he came at him with a slice and his confidence has grown when returning this particular shot.

"I've been doing a lot of work on dealing with the slicing that's been coming at me in practice," Hewett said of his new-found confidence.
"I think also just having that extra bit of time on the grass has really helped me adapt my game for this surface."
The hunger to win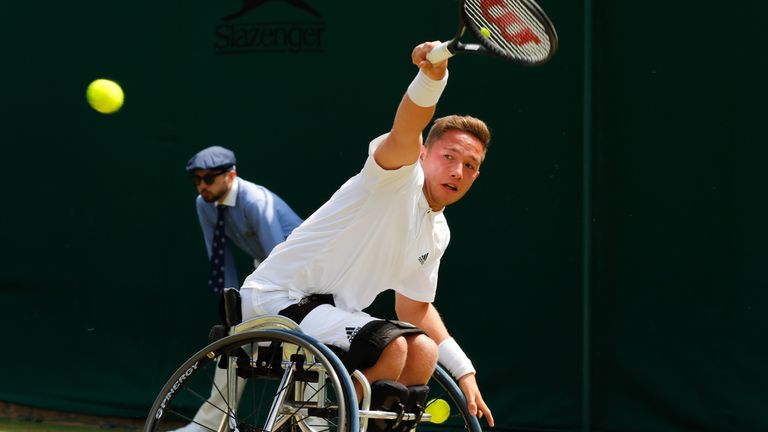 "It's something I really, really want, singles and doubles," Hewett added immediately after his victory.

"It's Wimbledon, it makes me do it, simple. My eyes have been on this tournament and I wanted to get out there, enjoy it today and be myself and I think I was.

"I showed my emotion when I was happy and when I wasn't and that's me on court and the way I want to go forward."
Strong T-Shirt game!
This year, Team Alfie, Alfie's group of loyal followers, took the level of support for the British No 1 up a level.

Last year saw them sporting a bulldog on their t-shirts, and this year they have printed a motivational quote which his coach, Stuart Wilkinson, uses during training - "You can do it, Hewett!"

"My mate was the one that came up with it," Hewett said. "And because it's a thing Stuart's always said to me I thought, 'yeah why not get that printed right on the front for a bit of a push during a game if I'm down', as I can look out there and see my family and friends wearing it and cheering me on."
We have Wimbledon covered from all angles via our website skysports.com/tennis then click through to our dedicated section skysports.com/tennis/wimbledon. On the move? Head to our app for mobile devices and iPad, or follow our Twitter account @SkySportsTennisto join in the conversation.
Our next tennis action on Sky Sports comes from the German Open in Hamburg. Watch the action live on Sky Sports Arena from Monday, July 23 from 10am.