Serena Williams suffered one of the biggest upsets in tennis history says Annabel Croft
Last Updated: 15/09/15 11:58am
Roberta Vinci produced one of the biggest upsets in tennis history after defeating Serena Williams in the US Open semi-finals, says Annabel Croft.
The Italian headed into the semi-finals with odds as wide as 300-1 and Williams, defending champion and world No 1, was expected to stay on course for a calendar Grand Slam at Flushing Meadows.
But she slumped to a stunning 2-6 6-4 6-4 defeat against the world No 46, ending her hopes of collecting a fourth major title this year.
Sky Sports expert Croft believes Vinci has pulled off one of the sport's most memorable results as she set up an all-Italian final against Flavia Pennetta on Saturday.
I think we're all in a bit of shock and I think it's one of the biggest upsets we have witnessed in tennis history.
Annabel Croft
"I think we're all in a bit of shock and I think it's one of the biggest upsets we have witnessed in tennis history," she told Sky Sports.
"I cannot imagine how Serena Williams is feeling right now. She must be absolutely devastated. That is in contrast to how elated Vinci must feel. 
"Qualifying just a few weeks ago in New Haven and here she is into the US Open final to face a very dear friend and one of them will take the US Open title."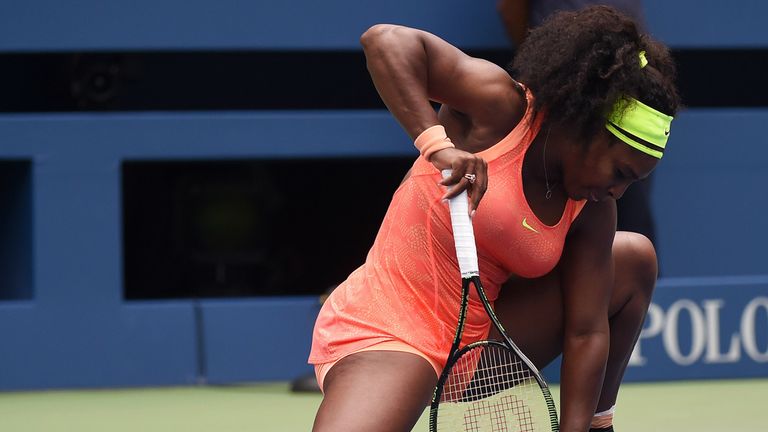 Williams has been forced to cope with growing expectation as she targeted her fourth straight title in front of her American fans in New York.
The nervous tension finally took its toll on the home favourite in the closing stages of the match, according to Croft.
"Her own mind got in the way and for me, her biggest problem for her was that movement," said Croft.
"When you are nervous and have that adrenaline running through your body it's extraordinary how it takes over your body and you cannot shake it off.
"You almost need to go for a sprint to try and get rid of those nerves, but she was so many times rooted to the spot and towards the end she could hardly move at all.
"Vinci was ignoring what was going on down the other end of the net, the decibel levels and the screeches were getting louder and louder, but she did not let it effect her at all
"She just continued with her play, tactics and rhythm and everything she did turned to gold." 
Watch the women's singles final between Roberta Vinci and Flavia Pennetta on Saturday, from 7.30pm on Sky Sports 3.