Fernando Llorente scored the goal that set Tottenham on the road to victory against Swansea on Tuesday night, but after the game Mauricio Pochettino made no secret of who will lead the line when they return to action against West Ham on Thursday.
Harry Kane was only fit enough for a 22-minute substitute appearance at the Liberty Stadium having picked up a cold last week, but for Pochettino it was enough. "We saw it was difficult for him to run, but I think it was a good training session for him to prepare for the next game," he told Sky Sports. "We hope he will be well in the next 24 hours and he can be ready to play against West Ham."
Earlier, Llorente had marked his first Premier League start for Spurs by scoring the opener from Christian Eriksen's free kick. It was a reminder of the Spaniard's qualities - only Romelu Lukaku has scored more headers since the start of last season - but while the goal was well taken, the game also showed how much Spurs depend on Kane.
Pochettino denied that he had introduced the 24-year-old earlier than intended in his post-match interview, but the reality is that the flow of the game forced his hand. Spurs had only managed seven shots in 68 minutes when Kane stepped off the bench. Swansea were threatening to snatch an equaliser, and Llorente had barely touched the ball since half-time.
"I think it was difficult for the team and for him, too, to play in these conditions," acknowledged Pochettino afterwards.
Tottenham needed some inspiration and even in his half-fit state, Kane was able to provide it. The stunning cross-field pass which set up Dele Alli's late goal was a standout moment of individual brilliance in a game which lacked quality. After a nervy second half, it banished fears of a late Swansea leveller and sealed an important win.
"If he's not on the pitch they don't score it," said Sky Sports pundit Graeme Souness afterwards. "He's got his head down so he shouldn't be seeing that pass, but he does. That's how good he is."
"He doesn't only score goals," added Pochettino. "He can assist, he can play, he can build. He's a very complete striker."
Kane's contribution was a continuation of a campaign in which he has taken his game to the next level, and the stats underline that completeness. Of his 18 Premier League goals this season, only eight have been scored with his stronger foot. He has added a further seven with his supposedly weaker left foot and three more with his head.
Kane did not get an opportunity to add to his tally on Tuesday night but even after Llorente and Alli took Tottenham's overall total to 41 for the season, he has still accounted for a 44 per cent share. No Premier League player has made a more significant individual contribution to their team's season and the numbers prove it.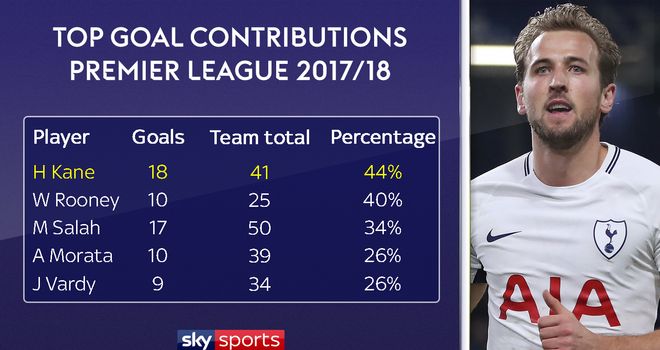 His brilliant form has put Llorente in the unusual position of being a fully fit £12m signing who has had to wait four months to make his first Premier League start of the season. And despite marking the occasion with a goal, he will now prepare for Thursday's game against West Ham knowing he will be back on the bench.
"Who can you compare with Harry Kane at the moment?" added Souness. "It's unfair to compare him and Llorente because Harry is such a special player. Llorente can't be fully up to speed because he's not played enough games. Strikers have to be bang on it, they have to be sharp, and only playing games gives you that. So you're going to miss Harry any day of the week."
It is why Pochettino will be so happy to welcome him back into the team at the earliest opportunity. Kane has scored seven times in his last six Premier League appearances against West Ham. And after a successful "training session" in South Wales, you wouldn't bet against Tottenham's talisman adding to that tally on Thursday night.
Watch Tottenham v West Ham live on Sky Sports Premier League from 7.30pm on Thursday