The Sky Sports pundits were universal in their praise of Manchester City midfielder Phil Foden after the youngster scored the winner against Tottenham on Saturday.
There was an element of surprise when the teams at the Etihad were announced at 11.30am, with Foden handed a rare Premier League start in what was a crucial game for the champions.
Both sides understandably freshened up their line-ups after their exertions in the Champions League on Wednesday night, with the visitors making five changes, while City boss Pep Guardiola made three alterations.
One of those was the introduction of Foden, who was handed the unenviable task of replacing David Silva in the centre of the park, just the England U21 international's second Premier League start after a recent outing at home to Cardiff City.
The playmaker did not let his manager down, though, scoring the winning goal after just five minutes to propel City back to the top of the table and now within only four wins of retaining their title.
Former Manchester United captain Gary Neville backed Foden's selection, claiming City could no longer keep a youngster with such potential on the bench.
"Foden's selection is an indication of faith, but it has come to the point where they cannot hold him back," said the Sky Sports pundit ahead of kick-off.
"Guardiola has reached the point where he's realised this is the moment, and he's handed him his second Premier League start in such a massive game.
"The feedback I've been getting from the club over the past few weeks is that they may as well stop having an academy if this lad doesn't get his chance!"
After the full-time whistle, Guardiola praised his young charge.
"Phil is an incredibly talented player, but we had to handle him in the right moment and today we needed his capacity to press high," he said. "He is a guy who has the capacity to arrive in the box.
"His ability in small spaces, because it is not easy to play against Eric Dier and Victor Wanyama or Dele Alli or Christian Eriksen, so it was an amazing experience for him. But I trust him a lot."
However, Steph Houghton thought it was a big call to start with the 18-year-old in a match of such magnitude.
"It was a massive decision to pick him, but he [Guardiola] has always said this season he will get his minutes and he has full confidence in him," said the Manchester City Ladies defender.
"And no bigger confidence than today as it was a crucial match and Phil came in - he maybe tired a little bit towards the end of the second half, but that was probably due to the lack of football at this level and the heat and the pressure.
"But I am really pleased for him and as Pep said, he is a genius!"
Graeme Souness, though, believes Guardiola will have seen enough of the midfielder in training to know he was ready for such a challenge.
"He trains with him every day and sees the quality of him," said the former Liverpool captain.
"The boy has a great chance to be a star, with the one proviso - that he turns up every day and wants to learn.
"And at this football club he has a great chance of that with the senior players that are here. There is no doubting his qualities, he wants to get in there where the goals are scored.
"He is neat and tidy on the ball and at 18, the emotion of today, the heat of today and the lack of games at this level will all have caught up with him today."
Meanwhile, Foden's ability to get into the box and threaten the opposition goal is one of the many qualities that mark him out as a young player to watch, according to Jamie Redknapp.
"I like him a lot and there are so many elements to his game - he takes the ball in tight areas, a bit like Bernardo Silva and David Silva," said the one-time Spurs and England midfielder.
"But there is an element to his game which I really like when he gets into the box and I said before the game that he really wants to score goals, he is hungry to get into the box.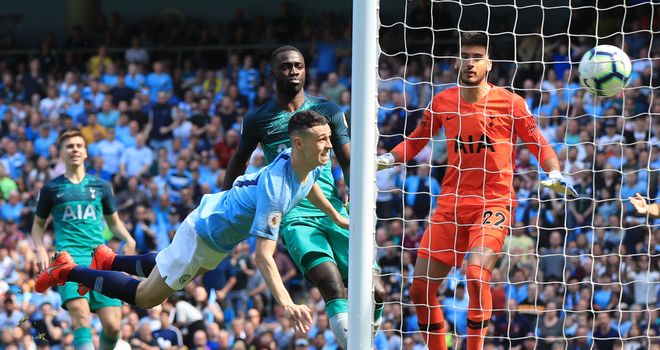 "So if you have got that as a midfield player…. because so many midfield players now tend to keep the ball, they pass it, they go sideways.
"But he wants to get in there, he will score goals if he carries on doing that.
"He is not the biggest player in the world, but he has got huge heart and I thought he did well today. He did tire a little bit towards the end, but what a moment for him, the winning goal in one of the biggest games of their season."