Javi Gracia hopes midfielder Abdoulaye Doucoure will stay at Watford for many years amid rumoured interest from Tottenham.
Mauricio Pochettino is understood to have watched the Hornets' 4-1 win against Premier League champions Chelsea at Vicarage Road on Monday, a match in which Doucoure impressed.
Gracia, who has picked up four points from his opening two Premier League games in charge, was asked about the performance levels of the French player but preferred to highlight the cohesiveness of his team's display against Antonio Conte's side.
"I think he is playing well like the rest of the team," Gracia said at his pre-match press conference ahead of the visit of West Ham on Saturday.
"We got the victory in the last match because we played like a team and won as a team. I don't like to speak only about one player - of course all the players play at a high level because you need it if you want to win against Chelsea.
"I think he [Doucoure] is in a big club at Watford. I hope he will be with us for many years to come. I am happy with their level and would like them to stay with us."
Watford scored three goals in a seven-minute spell at the end of a free-flowing performance on Gracia's home debut in charge and the Spanish manager is optimistic the manner of the success will provide greater "credibility" for his personnel.
"I think it was a great game but it is in the past," said Gracia, who led Watford to their first league victory since December 26.
"Now we try to be focused on the next game against West Ham. The last match gives us motivation, credibility, we believe more in our work.
"We know if we don't work a lot, run a lot then we will not win against anyone."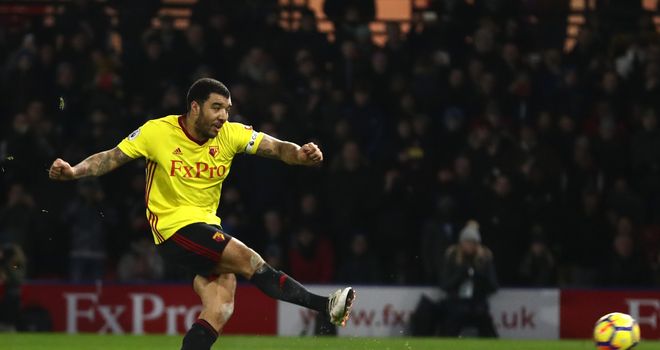 Troy Deeney avoided formal retrospective action for his gesture to fans after he scored the opening goal in the match against Chelsea but Gracia says he has not specifically spoken to the club captain about the incident.
Gracia said: "I spoke with him and all the players every day about all different situations but not especially that.
"Troy is our captain - he knows what the best behaviour is and I am sure he will do better in the future."
Gracia, who says he continues to choose from 17 players as his depleted squad return from injuries, replaced Richarlison during the second half of the Monday Night Football encounter before the Brazilian was seen in tears on the bench.
When asked what it said about the 20-year-old's commitment to the Hornets, Gracia said: "He explained with me that he wanted to play more time, to play better and to score goals.
"He accepted my decision and I tried to explain to him that it was a very big risk for him to stay on the pitch because he had a yellow card and the referee had spoken to him.
"I had to take a difficult decision because he is playing really well but the team needed a change."